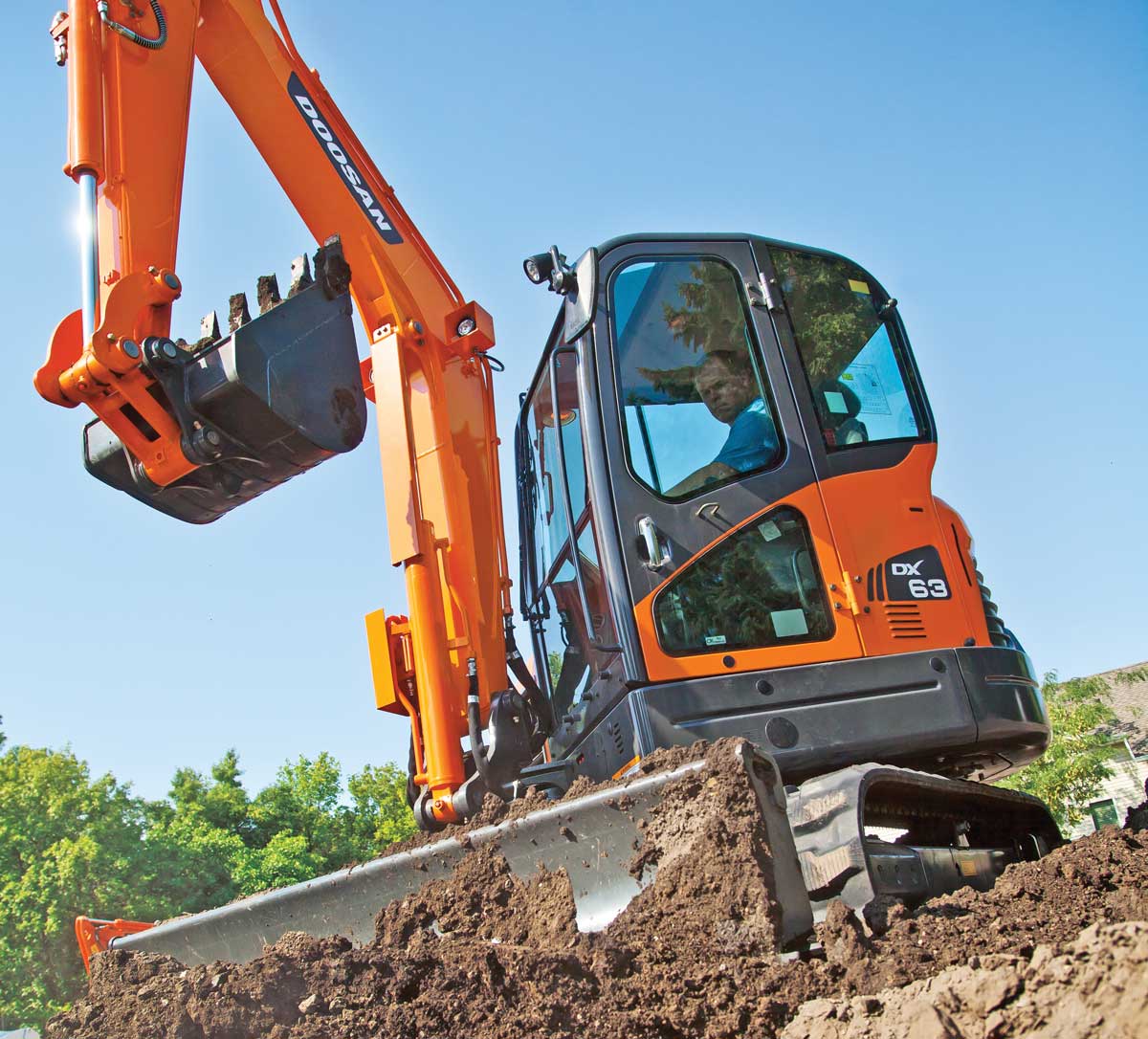 Packed with tech, power and creature features galore, 5- to 6-metric-ton compact excavators have increased in popularity with both manufacturers and customers. These bigger compact size units can work in a variety of sectors, ranging from residential and commercial development to landscaping and rental. Models in this size class offer both big power and consistent precision, digging footings to foundations with ease. Landscape and hardscape pros employ them to spearhead retaining walls or design/build projects. Vegetation management contractors fix a gnarly brush cutter to the boom and tackle hard-to-reach shrubbery.
Equipped with a variety of attachments from buckets to breakers and a slew of features from grade control to backup cameras, these 5- to 6-ton units offer a significant upgrade in power, technology and comfort for companies and crews. Let's learn how.
Models and Markets
First off, 5- to 6-ton mini excavators are an instant upgrade in power from smaller units. Today's bigger mini excavators feature sophisticated hydraulic systems capable of providing enough power for digging big projects (say a pool), lifting heavy objects (like traffic barriers) and operating intensive hydraulic attachments (like a brush cutter). On 5- to 6-ton mini excavators, diesel engines usually range from 35 to 50+ hp, dig depths are around 11 to 13 ft and auxiliary flow to the attachment seems to hover around 24 gpm for these bigger diggers. Many of these units are also defined as conventional or reduced tail swing models vs. zero tail swing excavators. Why are they gaining in popularity?
"A 5- to 6-metric-ton size machine has the ability to do work previously required by a larger machine," says Aaron Kleingartner, dealer and product marketing manager at Doosan Infracore North America LLC.
Doosan offers three units in this size class — its DX50-5K, DX62R-3 and DX63-3 mini excavators. When it comes to doing more work, the features-heavy, conventional tail swing DX63-3 highlights this class's ability to do impressive lifting, especially over-the-side lifting. Cool tech abounds. On the DX63-3, selectable auxiliary flow rates and the detent (continuous flow) mode allow for more precise attachment performance The DX63-3 also comes standard with Auto-Shift travel, which shifts the excavator out of high range or low range automatically.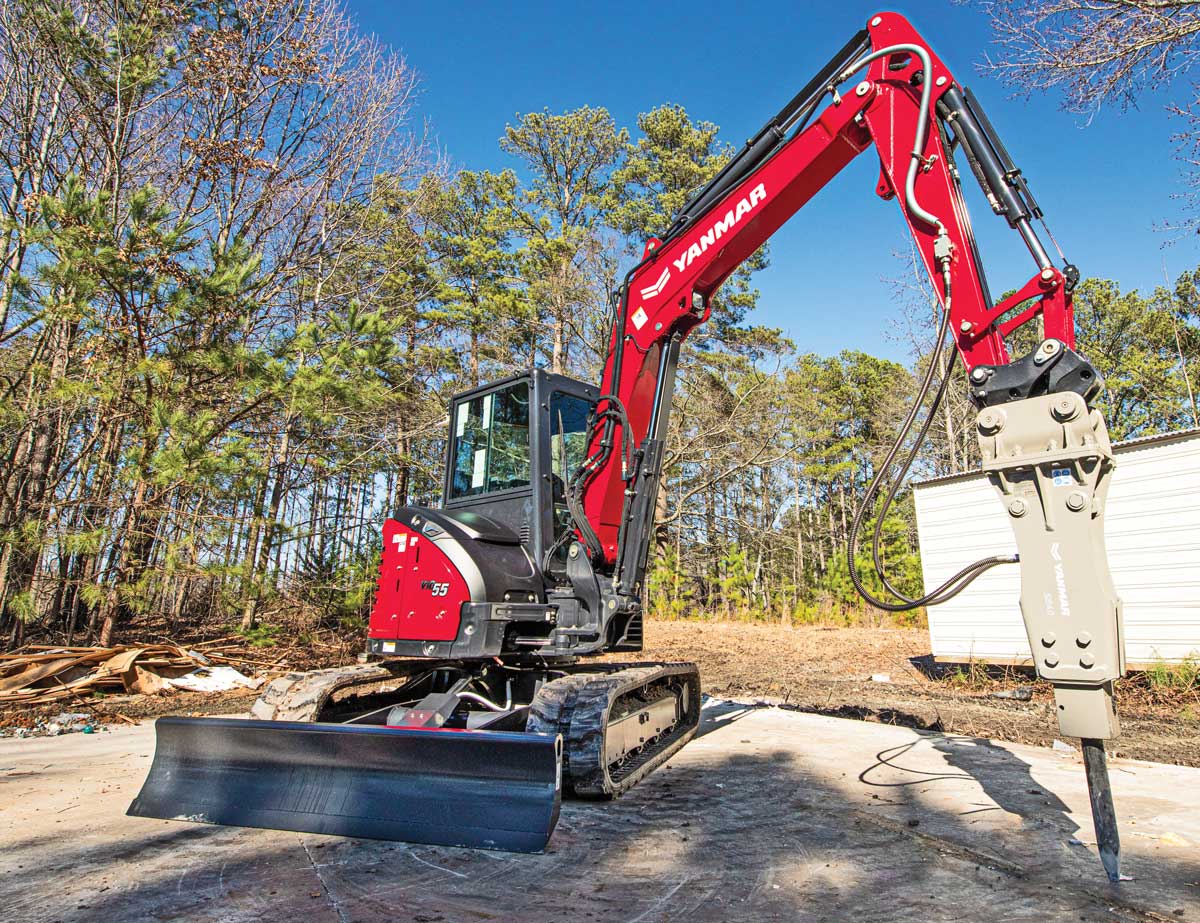 In the 5- to 6-metric-ton size class, excavator experts at Yanmar are building and selling the ViO55-6A, which it touts as one of the most rugged, flexible machines you can have to work effectively in extremely tight spaces. The zero tail swing ViO55-6A has an operating weight of 12,247 lbs (cab), a 47.6-hp diesel engine and 13-ft, 6-in. dig depth. Technology, again, abounds. The standard hydraulic quick-coupler makes changing buckets fast and easy. A second auxiliary circuit is available for additional attachment control and an angle blade option allows for quicker back and trench filling projects. The ViO55-6A comes standard with Eco Mode, Auto-Deceleration, backfill blade and switchable automatic shift travel. Plus, you get an innovative LCD monitor, showing key operating information and maintenance notification intervals. Double plus: Yanmar's SmartAssist Remote telematics system gives owners and operators peace of mind with theft prevention and maintenance management tools as well as other remote monitoring services.
Jeff Pate, director of sales at Yanmar Compact Equipment North America, notes that having the versatility offered by an excavator in this size class provides new opportunities that translate to an increase in bottom lines.
"Versatility opens up earning potential," Pate says. "Versatile equipment provides the ability to bid or compete on different types of jobs and projects, such as projects where there are restrictions on ground pressure, size and noise levels. Contractors can use the equipment in tight quarters where hydraulic attachments are more efficient than hand shovels or handheld tools. It can also be applied to mulching, mowing or land clearing work that may be necessary to complete the job. Being versatile and being able to tackle any opportunity that comes your way opens up new revenue paths."
Excavators in the 5- to 6-metric-ton class often come standard with features customers find extremely useful, according to Justin Steger, solutions marketing manager at John Deere Construction and Forestry. All of Deere's compact excavators, including those in this size class — the 50G and the 60G — feature rubber tracks with standard pattern changers. Power and economy work modes allow operators to match engine speed to the application. Backfill blades, mechanical quick-couplers and powerful auxiliary hydraulics with selector values are all standard. "Even though these machines are Tier 4 Final and extremely fuel efficient, customers love the Auto Idle Shutdown to conserve extra fuel," Steger says.
How Much Do These Units Cost?
So, you'd like to add a 5- to 6-metric-ton machine to your fleet … what's it going to cost you? Like most major purchasing decisions, bells and whistles drive the price north. "Initial purchase price and cost of ownership are two major financial considerations when purchasing a piece of equipment," says Blane Burroughs, product specialist, Kubota CE. "These costs can vary depending upon machine configurations, attachments and user customization. A basic price distinguisher would be a ROPS vs. cab model. A cab model that includes AC and heat will be more costly at initial purchase when compared to a canopy model which offers no protection from the environment. Operators who may not need this class of machine everyday tend to rent these units vs. buying them." Expect to spend between $70,000 and $110,000. That's a range that includes all brands (not just Kubota), and it depends upon machine purchased and options selected.
Takeuchi offers three machines in this size class — the TB250-2, TB257FR and TB260. According to David Caldwell, product manager for Takeuchi, one of the most significant reasons for the growing popularity of this class is the machines' increased capability and performance versus smaller excavators.
"Excavators in this size class feature higher horsepower engines that can provide more power for tougher applications than smaller machines," he says. "Also, high-flow auxiliary circuits on some 5- to 6-ton models like the TB250-2, TB257FR and the TB260 can handle a wide range of hydraulically driven attachments for enhanced versatility and greater ROI."
The TB257FR is Takeuchi's newest excavator in the 5- to 6-ton weight class. It has an operating weight of 12,675 lbs (canopy) to 12,930 lbs (cab), a dig depth of 12 ft, 9.4 in. and a max reach of 20 ft, 4.6 in. It features Takeuchi's patented side-to-side (STS) boom design coupled with a short tail swing that allows it to perform well in applications that may often require a smaller 3- or 4-ton machine. Three auxiliary circuits are standard equipment and include a primary circuit capable of delivering up to 27.7 gpm, a second auxiliary circuit that is ideal for installing a hydraulic thumb and a third auxiliary that serves as a dedicated pin grabber coupler circuit.
Overall, the 5- to 6-ton class boasts greater working ranges than smaller models, ensuring greater dig depth, reach and dump height for more applications and a broader range of jobsites on which they can work. Kubota introduced two new models in this size class in 2021 — the reduced tail swing U55-5 and a conventional tail swing KX057-5. Both models have not only improved comfort and power features but also technological advances compared to their predecessors, the -4 Series models.
"The new -5 Series includes a 7-in. LCD Jog dial display, allowing operators to easily scroll through machine settings, service reminders, auxiliary configurations and much more right at the tip of their finger or jog of their dial," says Blane Burroughs, CE product marketing specialist with Kubota. "Customers can opt for a rearview camera, which will appear in a 60-40 split, allowing operators to conveniently view what is behind them but never losing sight of their machine's diagnostics. Another feature Kubota offers with the new monitor is keyless start. No more keeping up with various sets of keys. Set a passcode and on you go. Day in and day out."
Choices Galore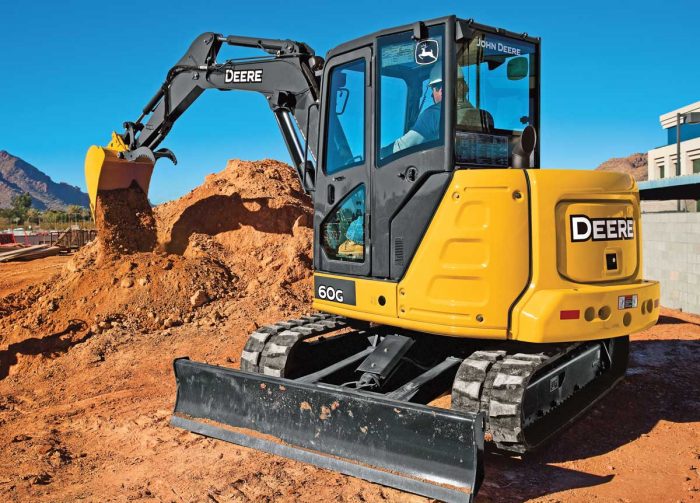 There are many factors to consider when renting or buying a 5- to 6-metric-ton excavator. Specs and project figures are important steps in narrowing down a search. Most applications for compact excavators are project-based, so what will the dig depth of the job be and what are the installation specs of the product (drainage pipe, tree transplants, big boulders)? Also, determine the amount of material you are going to be moving and the time frame you need to move it in. Then, match those measurements to a machine by determining the capability of the machine, factoring in specs like dig depth, bucket breakout force, auxiliary hydraulic horsepower, operating weight, lifting capability, reach and travel speed.
No matter which unit in the 5- to 6-metric-ton size class you select, you are sure to find numerous options designed to help you enjoy the workday.
"There's more awareness today on the stresses an operator experiences," says Yanmar's Pate. "The industry has made leaps and bounds to address those issues that cause operator fatigue. There is a better understanding of how vibration and noise affects the body and how to eliminate or minimize them. New seats offer better support and minimize the impact felt on the body, specifically on the lower back and hips. Some machines now include sound proofing for the cab or canopy noise reduction."
Operator stations can be tricked out with enclosed cabs with heat and AC, backup cameras, telematics, radios, heated seats and grade control and other automation features. A wide variety of attachments is available for 5- to 6-metric-ton compact excavators as well, which is a big part of their attraction. According to Kleingartner, beyond trenching buckets, some of the most popular attachments with Doosan customers in this excavator size class are hydraulic thumbs, augers and hydraulic breakers.
A Tad Smaller? Let's Check Out Kubota's New 4.8-Metric-Ton Machine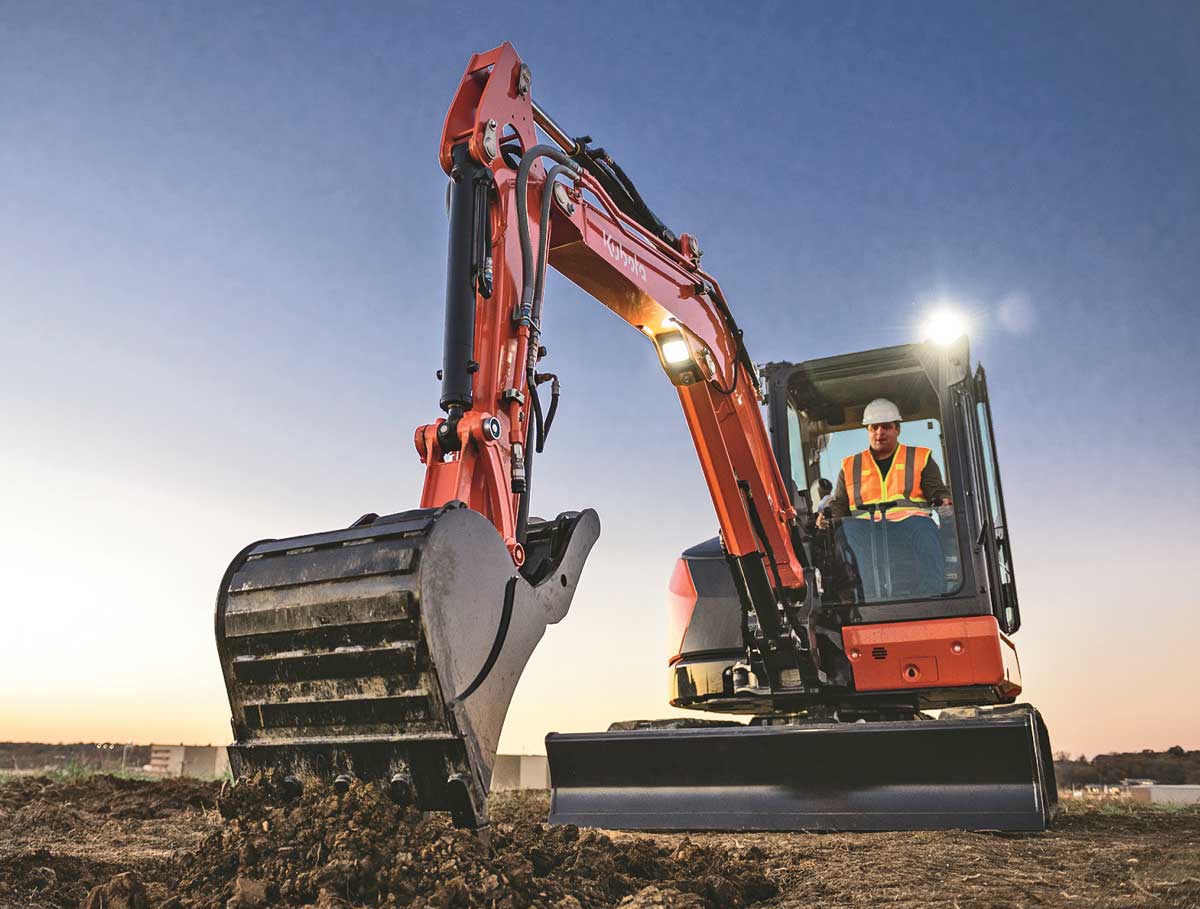 Kubota Tractor Corp. just announced its newest compact excavator, the U48-5, a brand-new tight tail swing model that builds upon Kubota's U Series with a powerful 5-ton (4.8-metric ton), technology-forward machine packed with advanced features that deliver superior performance, enhanced comfort and tech options for ultimate operator customization. The new U48-5 offers a technology-packed cabin space for smart, instinctive functionality right at the operator's fingertips, including a full-digital, full-color, 7-in. LCD screen with an intuitive and easy-to-use jog dial for single-glance access to various functions such as AUX flow adjustment and important maintenance functions. The new U48-5 boosts its strength with 11,057 lbs of operating weight, 40.4 gross hp, a working range that includes a max digging depth of 10 ft, 8 in. and an impressive bucket breakout force of 9,304 lbs. An optional keyless start is available on the U48-5 and all new Kubota excavators, where the engine can be started with a four-digit code and holds up to 10 user passwords for easy start and anti-theft functionality. For more info, visit kubotausa.com.
"Customers who regularly change attachments are likely to invest in a quick-coupler system for simplified attachment changes," he says. "Pin-on attachments are ideal if the customer leaves the attachment, like a bucket, on the machine for an extended period."
If you're planning on using attachments, oil flow should be another point of consideration. Auxiliary hydraulic power to the implement is measured in gallons per minute (gpm) and pressure (psi), and each excavator will have a max gpm and psi. Match those hydraulic specs to your unit as well as consider the weight of the attachment and lifting capacity of your excavator tool carrier.
These units are all about expanding earning potential. The power, versatility, technology and comfort features on these 5- to 6-metric-ton units have made them increasingly hot commodities. According to Deere's Steger, the entire size class of machines is growing at a similar rate as that of the 3- to 4-metric-ton size class. "I feel like customers, businesses are expanding to the point where they want more power. They want more dig depth," he said. "They don't want to get rid of their 3- to 4-metric-ton machines, but they have the need for the 5- to 6-metric-ton machine. As their business expands, so does their equipment. That's what's really driving the popularity of this size class."
Amy Materson is a freelance writer for Compact Equipment.
For reprint and licensing requests for this article, please click here.
Tags:
Doosan
,
John Deere
,
Kubota
,
September 2021 Print Issue
,
Takeuchi
,
Takeuchi-US
,
Yanmar America