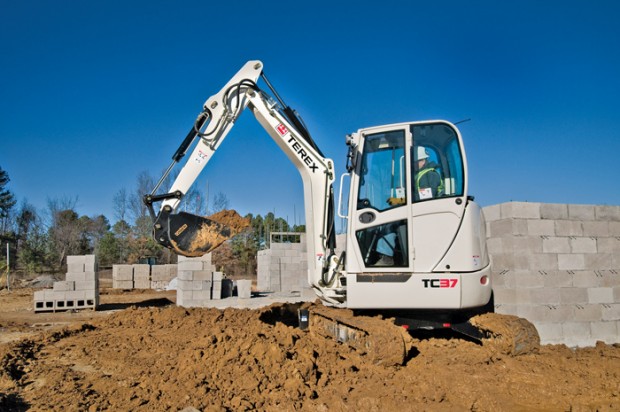 Earth movers need solid steel to tackle tough terra firma. The shovel, the backhoe and the excavator have all made an impact in the applications of digging and construction, but when it comes to urban excavation, easy transportability and popular rental models, the compact excavator still reigns supreme. Usually defined as an excavator under 6 metric tons (we usually cover 8 metric tons and below), these diggers offer everything from pressure sensitive rubber tracked undercarriages to minimal tail swing technologies to a dig depth between 5 and 20 ft.
Helming the two joystick controls, construction and utility contractors, landscapers and homeowners can make quick work of large tasks with these mighty minis. In addition to an excavator's many features (opulent cabs, six-way dozer blades, extendable sticks and retractable undercarriages for starters), a plethora of attachments are readily available to take on tasks beyond digging (hydraulic thumbs, breakers, specialty buckets, augers, grapples, mowers and more). The increasing popularity of compact excavators in recent years has brought with it a vast selection of models too, and those units have found lots of work inside of rental fleets.
"Roughly one third of the compact equipment market goes through the rental channel, and the market shift toward rental continues to grow," says Derek Betcher, rental marketing manager with John Deere Construction & Forestry. "With compact excavators, the rental penetration is even higher, roughly 40 percent. The rental industry has grown a lot in size and sophistication the past 10 years, and renting equipment is easier, more available and more affordable than it's ever been."
The manufacturers certainly see a lot of potential for more mini excavator usage, especially in rental. In fact, the compact excavator market has more than 20 unique manufacturers (yikes), and a lot of them make a lot of great products. And we mean a lot — as in most big brand manufacturers — John Deere, Caterpillar, Kobelco, Terex, Takeuchi, Kubota, Bobcat, Case, New Holland and beyond — often have up to 10 units, plus or minus. JCB alone recently announced plans on eventually having 25 models in its New Generation Series, though we're not sure how many of those models will be differentiated by options rather than size. Luckily, the cool thing about rental lots is you can actually go test 25 different models before you even consider buying a machine. The rental lot is a great venue for comparing and even buying a compact excavator (some are used, but hey, it's new to you).
"Rental rates for compact excavators vary depending on several factors, including the length of the rental contract, the age of the machine, the need for additional attachments, the area of the country and the time of year," explains Jonathan Ferguson, Terex regional sales manager. "Rental contracts are always negotiable. You should negotiate your rate based on how much present and future business you plan to give to the rental dealer. Also, make sure you negotiate renting additional attachments into the rental rate."
Mini excavators can be rented to dig basements, bury downspout lines, install electrical service, trench service lines, auger holes for trees or grapple obscenely big, decorative rocks. Most applications for compact excavators are project based. Compact excavators are not normally rented to dig miles of trench, so first off determine your application. What will the dig depth of your job be, and what are the installation specs of the product (drainage pipe, fiber optics, tree transplants or burying dead people)? Check to see if there are any site constraints such as weight limitations, confined worksite complications or sensitive ground conditions (consider the level of ground pressure required). Weigh those project details with the particular specifications of the compact excavator you're eyeing. Popular mini ex specs include: operating weight, digging depth, bucket breakout force and maximum reach. Also consider zero-, near- and short-radius units.
"Kobelco was the first manufacturer to introduce the short-radius machines to the North American market in the 14-ton machine class and soon moved it to the mini excavator class," says George Lumpkins, national service manager of Kobelco Construction Machinery USA. "Today, Kobelco does not offer conventional tail swing machines from the 14-ton and down to the 1.7-ton size. Zero tail swing means that the counterweight does not extend past the outside of the crawler track pads when the machine is swung over the side. Minimal tail swing usually means under the same condition, the counterweight might extend a few inches outside the width of the lower track pads. This is usually as a result of an optional heavier bolt-on counterweights for the North American market. Contractors who specialize in landscape work and pumping service installation near residential houses would most benefit, but often you see them working next to a road, with no concerns about swinging the counterweight into the line of traffic."
Realizing rental store customers don't want to sacrifice performance for size, equipment manufacturers are packing their smaller excavator models with more power. Even smaller compact excavator models can feature bucket breakout forces that can top 6,000 lbs (the overall range goes from 2,000 to 18,000 lbs, depending on how you categorize compact). As mentioned above, maximum dig depth can range from 5 to 20 plus ft, and renters can choose compact excavators with long-arm or extendable-arm options.
In addition to size, power and tail swing options, popular compact excavators have a slew of features that range from dozer blades and easy-to-use attachment mounts to high-tech digital control panels and keyless start. The cab, your office, will certainly be a big decision. Unfortunately, many rental excavator cabs are quite basic, but there's still a lot to judge. Step onto the house structure of the compact excavator, which contains the operator's compartment and get a feel for its comfort and utility. Are the controls intuitive? Is there enough space to stay comfortable for 10 hours? Is entry and exist quick and uncomplicated?
Work both the boom and backfill blade to determine the smoothness, accuracy and featherability of the joysticks and their control patterns. Ensure that switching from pilot controls to the traditional backhoe configurations (ISO to SAE) is simple (this writer is old and prefers backhoe pattern). Jump off and kick the rubber on the undercarriage, inspecting the tracks, drive sprockets, rollers and idlers. Do you need steel tracks or maybe even a wheeled unit? Those might be available as rental options. Also ask about the diesel engine under the hood. It's changed quite a bit in the last few years.
"The engine emissions regulations have certainly been a game changer for users, owners, renters, dealers and yes even the OEMs," notes David Steger, product manager for Takeuchi-US.
"Most machines have similar technology until you get in the 3- to 4-metric ton size. This is where you see the engine power threshold for exhaust aftertreatment requirements. Engines with aftertreatment are also computer controlled and have more complex fuel systems so fuel quality and cleanliness is more important than ever. Also the aftertreatment approach may differ slightly by manufacturer. Some use a diesel oxidation catalyst [DOC] to control emissions while others use the DOC plus a diesel particulate filter [DPF] to further scrub the exhaust."
Like its diesel power plant, compact excavators are changing. The options, brands and technologies seem endless, so there should be a perfect unit for you. Do you want an enclosed cab with heat, air conditioning and satellite radio? Ask about it. Do you need a four- or six-way dozer blade to make backfilling a synch? Simply inquire. Hey, what about strobe kits, travel motion alarms or secondary auxiliary hydraulic kits? Ask nicely, and you'll be surprised what you can get.
Look Like a Pro: Inspect Your Rental
When you rent, you're working with used equipment, so inherently there will always be a certain degree of wear and tear to observe and judge. It's also important that you understand daily maintenance. Dust levels, outdoor temperatures and soil conditions, for example, all affect the machine's performance, so if you're renting a unit for let's say demolition, the machine's air filters will need to be serviced more frequently. If these filters are clogged, the restricted air flow can increase fuel consumption and cause excessive engine wear. It's also imperative to service cab and HVAC filters in dusty conditions or operators will be subjected to poor air quality and diminished heater and air conditioner performance. Ask where all those filters are and inspect to make sure they're clean.
"Because the undercarriage on a compact excavator works as a system, wear is unavoidable," explains Ferguson. "All of an undercarriage's moving components — sprockets, idlers, chain and pads — are wear items. Because these components are vital to the productivity of the machine, operators should inspect and maintain their rented compact excavator daily. One way to avoid premature or excessive wear of the undercarriage is to make sure that the compact excavator's track chain is adjusted for correct tension. Renters should check the track chain's tension every 10 to 15 hours of use or at least every day. Tracks that are too tight can cause excessive roller and idler wear and can tear the tracks."
The hydraulics and attachment system are just as important as tracks. Check for any leaks or cracks in the excavator's hoses, the attachment's hoses and the fittings, as well as make sure the fittings are not loose. Also, check that the hoses and fittings are clean and free of contaminants. Make sure all of the attachment's critical points are lubricated and functioning properly. Inspect your compact excavator's attachment system to make sure the locking mechanism is operating properly. Complete a walk-around of the excavator to spot wear and tear, including a check of the attachments you plan to rent as well. For example, on buckets, the edges and teeth will wear over time. These wear points must be fixed or replaced as needed because good edges and teeth increase productivity.
While temperatures inside the cab certainly impact operator comfort, extremely hot and cold temps outside can take a serious toll on excavator engines. Ensure the renter explains routine tasks — like making sure the antifreeze, engine oil and hydraulic oil haven't froze or gelled. Before startup, clean out any ice or snow from the tracks and around the engine. Before starting work each day, preheat the machine first. The hydraulic response time will also be delayed until your compact excavator has warmed up completely. Keep that in mind when you try going hard at the beginning of a job. At the end of the day, it might be wise to give the compact excavator a good bath to clean off any salt or other small debris that could encourage corrosion. Renting is a partnership, between a fair and hardworking rental house and a fair and responsible renter.
"It is important for a contractor to understand the specifics about the compact excavator, as well as the agreement details before signing a rental contract," says Ferguson. "Renters should ask questions. How old is the machine? You want to rent the most current machine available because it will have the latest technology and productivity enhancements. A machine that is less than three years old is ideal. Another question to ask: Who is responsible for daily machine maintenance? The machine you rent should be rental ready. That means your dealer should have performed all the necessary maintenance tasks and tune-ups before it is delivered to your jobsite. Rental dealers keep inspection reports on every unit. It is within your rights as a renter to ask for a copy of those reports to make sure you are getting a machine that is fully functional."
Keith Gribbins is associate publisher of Compact Equipment, based in Brecksville, Ohio.