The electric-powered mini excavator market is still in its infancy, but it's growing up quickly. A variety of models and technologies have entered the market over the last few years. In late 2018, Volvo Construction Equipment announced it was aiming to be the first company to release both commercial electric wheel loaders and mini excavators by mid-2020. The Volvo ECR25 Electric mini ex replaces a combustion engine with 48-volt lithium-ion batteries and an electric motor that powers the hydraulics to move the machine and attachments. The batteries store enough energy to power the machine for eight hours in typical applications, and an onboard charger enables overnight charging via a regular household plug socket. A fast charging option, requiring more powerful grid access, will also be available.
The ECR25 is boasting zero emissions (great for indoor work), higher efficiency, lower noise levels and reduced total cost of ownership with no engine. Of course, brands like Takeuchi, Caterpillar and JCB already offer electric compact excavators to the North American marketplace. Available since last September, JCB's entry in the electric mini excavator segment is the 19C-1E. It operates on the strength of four lithium-ion batteries with 20 kWh of capacity. The use of lithium-ion batteries, low voltage magnetic motors and LED displays combine to let the machine power through a typical work day on a single charge.
"Our customers are looking for cleaner emissions and cleaner production work," says Chris Lucas, product manager for compact excavators at JCB North America. "In keeping up with that demand and looking into the future, we decided to get a step ahead of the curve. That's what generated the push to create the all-electric 19C-1E."
The 2-ton 19C-1E is ideally suited to construction and excavation applications within enclosed or urban jobsites or noise- and emissions-sensitive environments such as hospitals and schools, equipped with a retractable undercarriage to get through doorways and gates. It's basically an electric variant of JCB's diesel-powered 19C excavator (with a maximum dig depth of 9 ft, 3 in.) yet produces zero exhaust emissions and one-fifth of the noise.
Asked about a typical work day for these units, Lucas says that means "four to five hours of continuous use," which, he says is "typical of how much the machine is actually used in a day's work." The unit's onboard charger will recharge the batteries in 12 hours plugged into a 110-volt outlet or eight hours from a 230-volt socket. A fast-charge option will fully revive the batteries in just two hours.
There is no tether on JCB's 19C-1E as you will see on other electric models of mini excavators — like Caterpillar's 300.9D VPS (versatile power system) — which features Dual Mode Selection for a choice of diesel or electric via a 13-hp Yanmar diesel engine or a tethered hydraulic power unit (which looks like a little generator). The tethered 480-volt unit not only provides the electric power, it pumps hydraulic oil through a 40-ft cord to power the excavator's digging functions.
"Caterpillar was born and bred on diesel, but certainly this is a market opportunity and one that continues to grow, and we continue to monitor it," says Greg Worley, senior project engineer with Caterpillar.
For starters, work production of the dual modes is identical. "There is no disadvantage to running electric. Using a 100-lb hammer with one power source or the other, the performance is exactly the same," Worley says. He can be seen on video operating the machine in electric mode, demonstrating how the umbilical lifeline, attached to the machine on an elbow, is kept from being backed over or otherwise entangled in the machine's tracks.
The 2,400-lb 300.9D VPS is a lightweight compared to Takeuchi's electric compact excavator, the TB216H, with nearly a ton more operating weight. It simply is a bigger machine, with 3-ft-longer reach and a couple more feet of digging depth. Its Yanmar diesel engine is slightly larger, but like the Cat VPS model it must be plugged into an electric power source to run its onboard electric engine.
"The TB216H stands out from the competition in that it provides both a diesel engine and an electric motor on board," says Lee Padgett, product manager at Takeuchi-U.S. "This allows the operator to trailer the machine to the jobsite, then navigate to the work area in diesel mode where it can switch to electric mode. Some other machines require a separate pack for electric operation or are completely electric and have to tow a generator to the work area."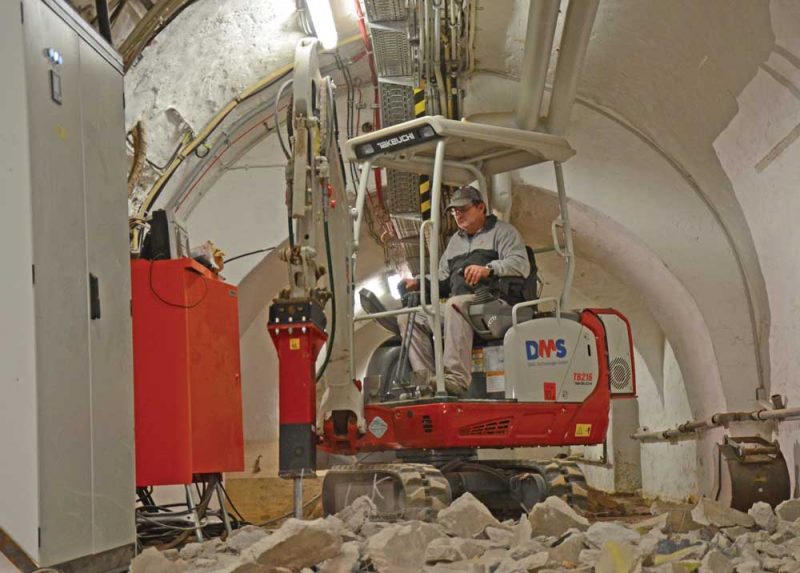 Once again, performance is not determined by choice of power source. Padgett says both modes "have nearly the same horsepower and have two separate pump groups of the same type so that breakout force and cycle times are equal whether in diesel or electric mode."
Does this duplication of components and multiplication of power systems mean the 216H is more expensive than the diesel equivalent? In a word, yes. "There is a slight increase in price for the electric option to be added," Padgett says, "but the added expense is often offset by the price per hour this machine can demand based on the growing need for emissions-free operation."
Speaking of cost, Worley touts it as one of the pros of the tethered 300.9D VPS: "In the zero emissions market, our solution is very affordable compared to some other high-dollar options." Batteries are also a challenge. "That's what it comes down to — battery technology," says Worley. "The way we see it is, while the tethered system is a good one, customers really like the idea of the untethered battery-powered model."
Technology will likely evolve quickly, making electric compact excavators definitely worth watching — one of the few earthmoving equipment categories capable of conquering the electric hybrid space. JCB is seeing niche demand for electric units with indoor work, tunneling and some mining in Canada — places where the 19C-1E's zero emissions and untethered operation are especially appealing. "The underground industry definitely has taken an interest," says Lucas.
Other environmental concerns include lower noise levels. Lucas says, "The quietness of the machine, the silence of it came across as a wow factor for customers. It is 6 decibels quieter than a diesel counterpart, 10 decibels quieter in the operating station. In tradeshow demonstrations, we turn the machine on and customers would be standing there waiting for it to start. They couldn't hear it running over the conversations going on around them."
As for the price differential between electric and diesel machines' upfront cost, JCB calculates fuel costs will be 50 percent lower for an electric model than for a comparable diesel-powered machine over three years, and servicing costs could be as much as 70 percent lower. For all of these reasons — environmental, operation costs and versatility — both electric and hybrid mini excavators are starting to show up on lots and jobsites.
Giles Lambertson is a freelance writer for Compact Equipment.
Check Out Doosan's Smallest Mini Excavator (DX35-5) at CONEXPO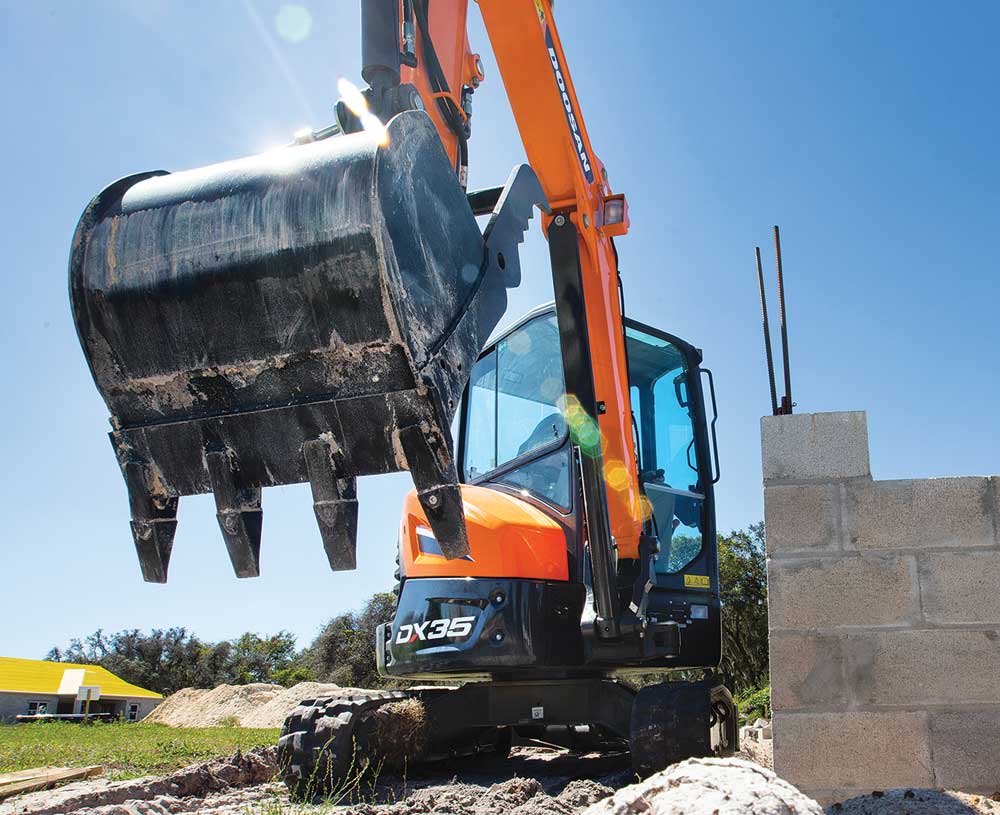 As the smallest Doosan mini excavator, the 3.5-ton DX35-5 pairs a roomy cab with a highly compact machine tailored for congested jobsites and up close conditions. Designed with zero tail swing, the DX35-5 features a dual-flange track roller system that provides good slewing and a smooth, comfortable ride. DX35-5 customers can choose between a standard arm or a long-arm option. The long-arm option gives operators more dig depth and reach and reduces the amount of machine repositioning for enhanced productivity. A blade comes standard with the DX35-5, and an angle blade is available as a factory option. An angle blade makes it easier for mini excavator operators to perform backfill tasks more efficiently, as well as create slopes and swales. For more info, visit CONEXPO booth N10001 or doosanequipment.com.