Mini excavators are a popular addition to any construction or landscaping equipment fleet, thanks to their small size, versatility and ease of operation. These compact machines are fundamental to a wide variety of industries that rely on them to move dirt and break ground. Perfect for tight jobsites, mini excavators can maneuver in small spaces for a variety of landscaping and construction tasks. In construction projects, they're most often used for utility installations and repairs such as waterlines, electrical, sewer, as well as pool installations. Landscaping professionals typically use these machines for ditch digging, run-offs, French drains and rock removal. Additionally, the use of mini excavators is growing in the land management market, which manages forests and other land areas to remove old vegetation, minimizing fire risk and promoting the health of the land.
"Regardless of the industry and task at hand, compact excavators can help increase efficiency if used properly," says Keith Kramlich, national product and training manager at Takeuchi. "We encourage crews to review these tips and tricks, best practices and proper safety protocols to maximize jobsite productivity."
Digging Techniques
For starters, it's important that operators know the machine and its capabilities. The biggest mistake an operator can make when using a mini excavator is pushing the machine past its capabilities. Smooth, precise cuts should be made when digging, allowing the machine to perform optimally. Taking too much of a "bite" will stall the work equipment, pushing the hydraulics over relief pressure and wasting both fuel and energy. When digging, the machine should be positioned at a productive height for loading material. The bench height should be about the height of the haul vehicle's sideboards. Most experts recommend setting up for the trucks to come down the left side of the machine, which offers the best loading angle and visibility. Additionally, operators should keep the machine stable on a flat, even surface when possible, so it's not rocking or otherwise unstable.
"When digging small holes, specifically, it's almost always necessary to remove the topsoil before digging so the topsoil can be added back over the hole once it's filled to promote regrowth of any vegetation," Kramlich says. "Over time, experienced operators will be able to gauge how deep the hole is using the length of the bucket and arm."
Beyond these basic digging techniques, it's important for operators to understand how techniques differ depending on the application or project at hand.
Trenching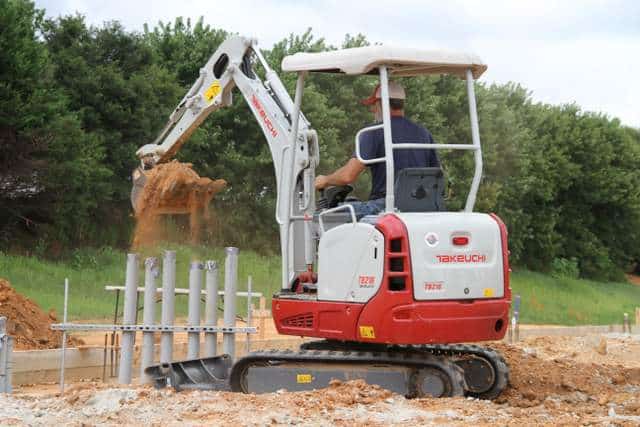 Digging a hole is one thing, but when digging a trench, different techniques will apply. Operators should follow the construction plans closely, dig in a straight line and ensure the trench is wide enough for utilities to be installed. Additionally, they should make sure the trench walls are sloped properly, preventing them from caving in. This will help keep workers safe who may need to enter the trench to weld pipe or join other utilities. When backfilling, operators should make sure large rocks do not fall on the utilities. Soft dirt needs to be carefully added to the trench, then the dirt needs to be carefully compacted once finished.
Introducing the U55-5
Kubota's Reduced Tail Swing Unit with Advanced Comfort, Technology and Safety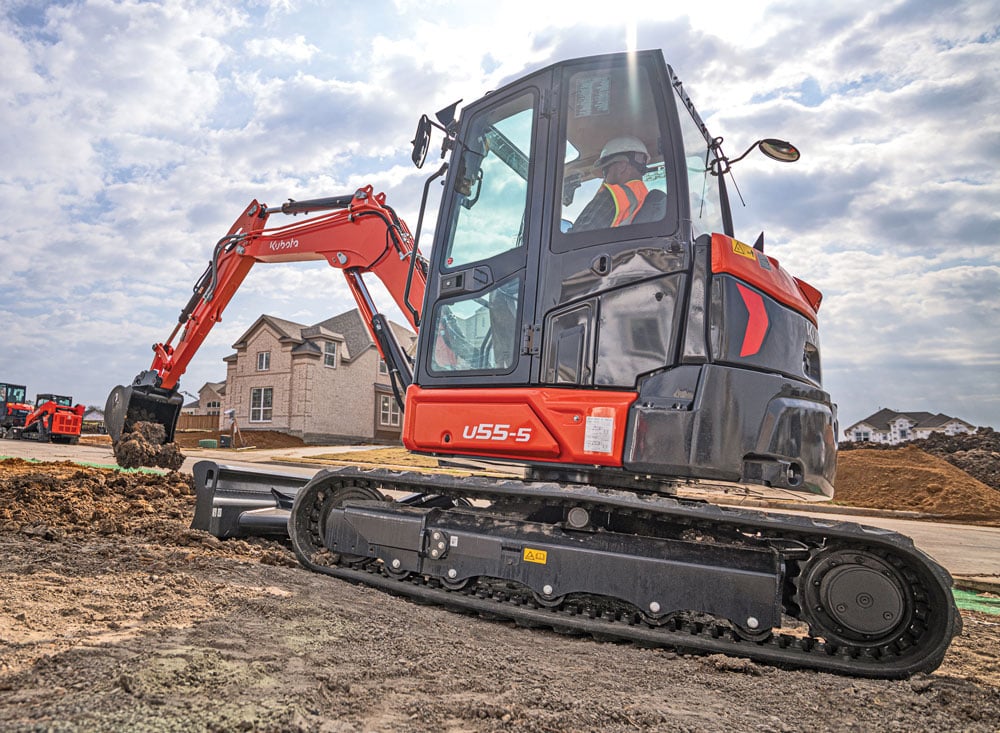 Engineered to meet the needs of contractors working in tight spaces, Kubota's new U55-5 has a reduced tail swing to maneuver in any size jobsite. The U55-5 is ideal for a wide range of jobs with ample cabin space and state-of-the-art technology. Kubota's U55-5 is available in canopy or cab models, has an impressive 47.6 hp, a working range that includes a digging depth of 11 ft, 11 in. and a max dump height of 13 ft, 2 in. A redesigned cabin features a double adjustable seat and greater head and foot space. The newly designed cab was designed to reduce noise and help protect the operator's ears. The floor plate is also thicker to reduce noise — the metal sash bars overhead were removed and a felt ceiling was installed to reduce noise and vibration. The cab pillars are thinner, further reducing vibration and noise. A new, large full-color LCD screen provides all operational information. For more info, visit kubotausa.com.
Loading
Different techniques apply when loading loose material into trucks, too. It's important for operators to know their machine's maximum dump height. This prevents them from losing material before they reach the truck's dump height. Further, they should know the size of their bucket, so they know when to stop filling the truck.
"If a bucket is 1.3 cu yds, for example, they can count the loads they need to reach the truck's maximum load," Kramlich says. "Operators: Clearly communicate with the truck's driver, making sure that they are parked in the best spot for you to reach both the loose material and the truck without moving the excavator each time."
In addition to utilizing different techniques to tackle different jobs, operators can utilize different buckets and attachment options, too. For example, there are ditching buckets in varying widths, rock buckets, grading buckets, general purpose buckets and more. The most common buckets ordered for machines are heavy-duty dirt buckets with teeth. Widths vary depending on operator preference and job requirements.
Compact excavators have a plethora of attachment options that go beyond the standard bucket and blade, further enhancing their utility. These attachments include brush cutters, mulchers, tampers, breakers, grapples and augers, to name a few. And, by adding a hydraulic coupler, operators can enjoy the simplicity and ease of changing attachments from the seat of their cab.
Do a Quick Fluid Check Today!
An effective mini ex maintenance regimen starts with a daily check of fluids, including coolant, hydraulic fluid and engine oil. If any of these levels are low, be sure to refill with the manufacturer's recommended type of fluid, paying particular attention to classifications, as well as viscosities for the operating environment. It's also important to keep these areas dirt free and use clean rags while checking levels to avoid contaminants. Today's compact excavators are equipped with various levels of emissions-compliant diesel engines that may have unique lubrication requirements. Manufacturers are matching oils to their advanced engines to ensure proper operation of exhaust aftertreatment systems.
Increasing Jobsite Efficiency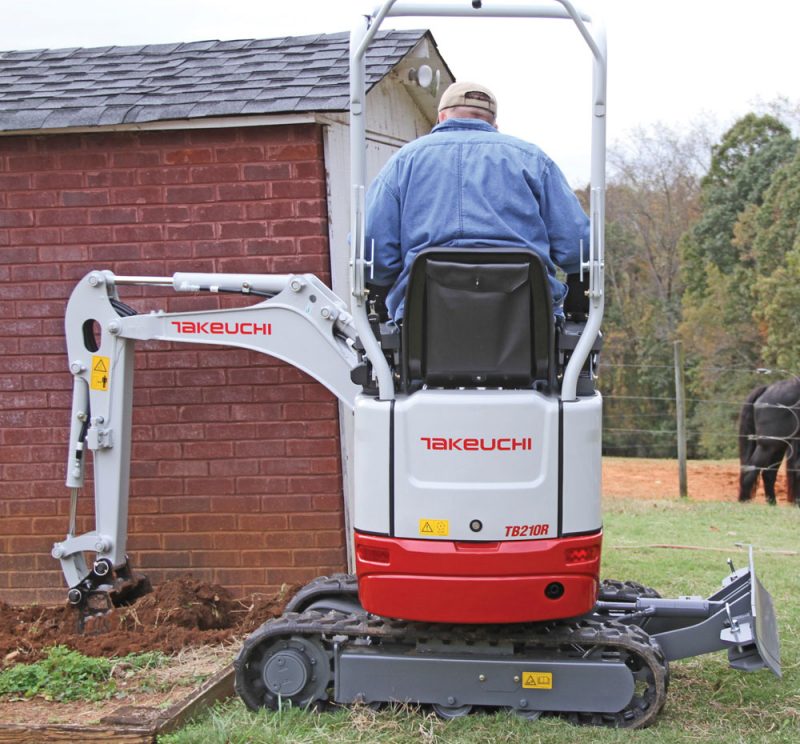 These machines can work in the smallest of places and greatly improve efficiency on the jobsite. A project that would take one person a full day to dig, a mini excavator could do in an hour or less. For instance, instead of several workers using a jack hammer to break up an old sidewalk or driveway, a mini excavator can come in with a breaker attachment and complete the job in a fraction of the time. Then, once it's done, a quick attachment change, and that old material can be scooped and loaded into a truck. Using a machine to complete the difficult tasks and move the heavy material will allow the construction workers and laborers to have more time to work on the projects where a mini excavator can't help.
Because they don't rely on traction to dig, these machines are far superior to other equipment options for digging. Their sole purpose is to dig, whereas a track loader is designed to scoop, carry and push — as well as dig. A mini excavator is most often equipped with a blade — standard on Takeuchi models — that can be used for grading and backfilling as well. With a mini excavator, a single operator can dig a trench, pick up pipe, set the pipe, bury the pipe and backfill. Every model is designed with different working ranges and dig depths. Takeuchi's smallest model, for example, the TB210, has a max dig depth of 5 ft, 9.1 in. Its largest excavator, the TB2150, has a dig depth of 18 ft.
Change Filters at the Required Time
On a mini ex, fuel, engine, air and hydraulic system filters may each have different service intervals. When dirty or completely clogged, a filter can directly impact performance and compromise sensitive components. The majority of industry excavators have air filter restriction indicators designed to alert operators to maintenance needs. To avoid system contamination, it's critical to not remove the filter until the required time. Revisit filter maintenance per the manufacturer's service schedule.
Ensuring Safe, Secure Operation
As with operating any kind of heavy machinery, hazards exist in many forms. For operators, keeping safety top of mind each day, understanding common hazards and knowing proper safety procedures are all mission critical. Employees should always perform a daily walk-around of the machine per the operations manual. Additionally, prior to operation, employees should buckle up, make sure they're wearing the appropriate PPE, ensure their rear camera is working and make sure all windows are clean for maximum visibility.
"While some of these tips may seem obvious, it's often the small, seemingly simple practices that can get overlooked," Kramlich says.
Additionally, operators should always be aware of their surroundings and their "swing zones" and ensure the digging area is safe and there are no underground utilities at risk — or at least that they're marked. When working close to utilities, a spotter should be used. Fortunately, mini excavators have a few built-in features designed to enhance operator safety. Notably, mini excavators are equipped with a hydraulic lock-out systems, which ensure all controls are deactivated when the safety bar is in the raised position. Other features include ROPS/FOPS-rated canopies, seatbelts, three-point grab handles, travel alarms, lights, beacon sockets, horns and rearview cameras.
"As technology continues to improve, these machines will only get better," Kramlich says. "Takeuchi is looking to the future, anticipating the development of more autonomous features, better fuel economy, new more powerful engines and improved hydraulic technology — all aimed at helping crews decrease downtime, increase productivity and maximize jobsite safety."
Meghan Wiedeburg is a public relations writer with Swanson Russell.
Tags:
February 2021 Print Issue
,
Takeuchi Mfg.