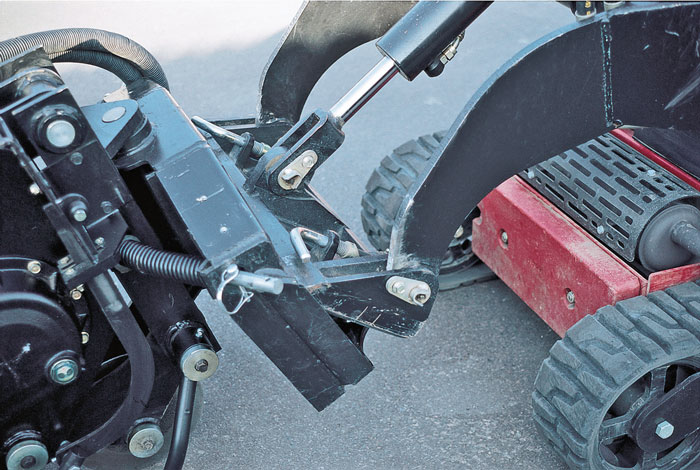 The compact tool carrier (CTC) market is made up of a wide variety of owners and operators — pros doing all different types of work. CTCs are basically rolling hydraulic power plants, employing different attachments to meet the needs of all kinds of applications. The list of CTC attachments is seemingly endless. Some are basic that many people use (such as pallet forks or sod rollers), some are big and complex (like backhoes and breakers) and some are niche implements custom built for specific applications (like a horizontal borer). Here are some of our favorites: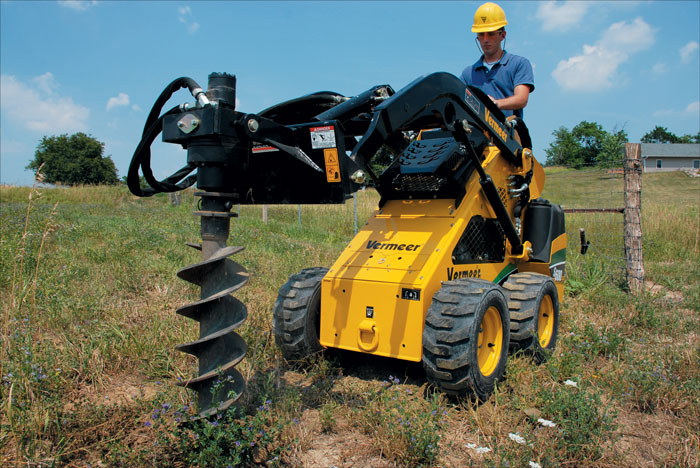 Auger drives and augers
Brooms
Backhoes
Buckets
Cement bowls
Breakers or hammers
Pallet forks
Planers
Stump grinders
Trenchers and trench fillers
Vibratory plows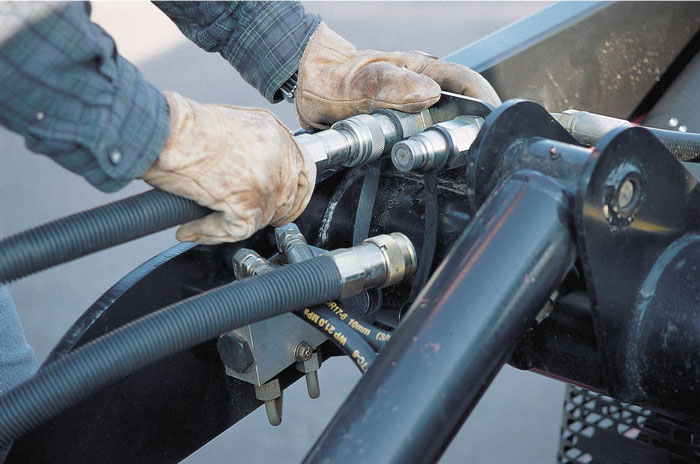 Some attachments use hydraulics, but many general purpose tools, like forks and buckets are simpler. To use them, you drive up to the attachment, hook the plate into the receiver and lock any pins, hooks or levers into place. The whole process takes 10 to 20 seconds. Hydraulic attachments require an extra step, connecting the hydraulic hoses. The hydraulic fluid in attachments provides the driving force for the action of the attachment. It makes the chain run, pushes an auger into the ground or turns a tiller. Hydraulic motors push the fluid through the system. It only takes 30 to 60 seconds to connect an attachment with hydraulics, provided it is easily accessible.
Attachments can be mounted on carriers on a trailer, which makes them convenient and secures them in a proper position for quick mounting and dismounting. If an attachment such as an auger is stored in the back of a pickup truck, it may roll around and take longer to reach and orient it for quick hookup. A custom designed trailer can save time for contractors who want easy access to multiple attachments.
How CTC Attachment Systems Work
Some hydraulic attachments separate hoses for high and low flow, and some use only high flow. Generally, a lever controls the hydraulic pump which pushes fluid through two or four lines that are coupled into the attachment through flat-faced couplers.
For example, a Harley Rake on a Vermeer mini skid steer (that's the CTC brand name) has a few options. High-flow fluids rotate the drum that spins material or cleans or pulverizes the ground, and low flow is used for cylinder or swing functions that control the direction and pivot the attachment to the left or right. Some attachments don't control flow with separate hoses, but instead use electrically actuated diverter valves to reduce the flow in a high-flow system. They have an extra power connector to control these valves that plugs in to a power port located on the machine.
What's Technically Involved
Hydraulic hoses used on attachments are made of wear resistant rubber and can withstand the operating pressures of 3,000 psi. The attachment plates are cast iron or steel. Attachment plate pins are made from steel and are located on the machine itself. The pins are rotated a half turn to secure the attachment onto the plate. Many hydraulic attachments must be put in a sleeve to minimize the chance of injury to an operator if there is a break while the hose is under pressure. Anything within an operator's reach should be covered by a sleeve.
Connectors for hydraulic hoses have a few features that allow users to connect hydraulic hoses easily and resolve environmental concerns in older couplets. The newest connectors are flat-faced, so they are non-drip and allow users to easily wipe down the front of the connector fitting. These quick-coupler fittings allow hoses to connect without the use of tools. Hydraulic port plug-ins are now offered with port relief that allows users to plug an attachment in on the fly. Pressure relief systems are an advancement over older systems that may have experienced a pressure build up in the hydraulic fluid lines, making couplers difficult to engage.
Mechanical Aspects to Consider
It may be difficult to predict the overall life of an attachment because they will be used under varying conditions. Each attachment will have different maintenance requirements. There may be wear points or tips that will require replacing, bearings that need greasing or periodic replacing if they are sealed, cup cutters that may need to be changed and chains to inspect and replace. Signs of mechanical wear can let users know when it's time to replace a component on an attachment.
When buying an attachment, it's important to make sure the fittings are compatible. Aftermarket attachments may have different fittings on the end, and there are a few variations of attachment mounting plates. When not buying directly from the manufacturer, make sure to order with the correct measurements. Another mechanical aspect to consider when buying attachments is how robust they are. They can put a lot of torque on the machines while they are lifting, curling or scraping, and it can take some investigative work on the part of a buyer to physically look at an attachment before buying it. Does it sit securely on the mounting plate? Did the manufacturer use 3-in. steel around the mounting plate? Is everything welded correctly? Did they use stitch or continuous welding? There are many factors to consider.
There are different philosophies about which attachments are authorized to be used on a machine. Some base their opinion on the Department of Safety recommendations, and some base it on manufacturer recommendations. Even if the attachment can fit on a machine, some manufacturers don't officially "allow" other types of attachments because of safety risks. Quality aspects also can affect how well and how long an attachment that wasn't designed for a specific system will work. The strength and materials used, the warranty and who backs it and other people's experiences with the attachments are all important to consider.
"Universal" Attachments
For the most part, all attachments in the industry use the same attachment hookups, which use a unique system. But, some hydraulic attachments are optimized for the hydraulic system of the machine carrying it, so they are not all interchangeable. Most hydraulic attachments are specified by the flow rate of the hydraulic fluid (in gallons per minute — gpm) and pressure (psi). But, just because an attachment fits on a machine's mounting plate and the hydraulics operate at the pressure and flow rate the CUL was designed to handle doesn't mean that attachment is optimal to use. It may function, but could run too slowly or too quickly, and it could not be as powerful as one designed for that machine.
Some systems with multiple hydraulic pumps offer one dedicated to the attachment for users to maintain productivity. While there is still one closed loop for the hydraulic fluid, having a separate pump allows the attachment to operate without robbing power from the main unit. For example, when using a trencher utility on Toro's Dingo CTC, the unit is constantly moving and trenching at the same time. Without dedicated pumps, if you moved the unit faster, you would reduce the power to the trenching tool, slowing it down and slowing down the operation. With a dedicated pump, the trenching attachment can maintain its speed, even in softer ground. The attachment adds to the cost of the base unit, but users obtain higher productivity and easier operation.
There are also many adaptors that allow attachments for other machines to be mounted onto a CTC. For example, Bobcat offers an adapter that allows skid steer attachments to be used in on their CTCs. There are many options on the market. The best data can be mined by visiting your local dealer and operating a variety of different products and brands.
Debbie Sniderman is a contributing editor to Compact Equipment, based in Charleston, S.C. She can be reached at www.vivllc.com.  Tags: backhoes, Trenchers