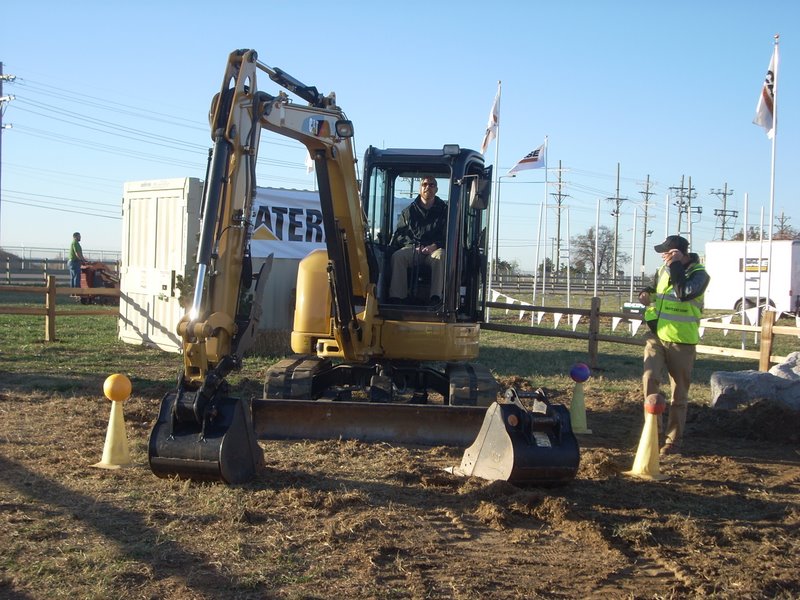 As the sun was rising, the cool Louisville air began to warm up at the outdoor Caterpillar booth at GIE+EXPO (the largest landscape trade show in America, held last week – Oct. 28-30). Editors and writers crowded onto grand stands, listening to presentations from Cat product managers, while other press members ran the company's newest landscape-focused construction equipment.
Myself (CE managing editor Keith Gribbins) and Pete McNeil (CE marketing manager) got the opportunity to test out the new Cat skid steers and track loaders, as well as some new Cat compact excavators (all impressed with their power, efficiency, comfort and easy of use).  First off, Cat launched what it called its B-Series 3 loaders (not to be confused with its new C Series loaders). The B-Series 3 models include skid steers (216B3, 226B3, 236B3, 242B3 and 252B3) and multi-terrain loaders (the 247B3 and 257B3), all incorporating design refinements that make them even more capable, safer and easier to operate. In addition, a larger engine and more powerful hydraulics for the 242B3 and 257B3 make these models "power-dense" machines that maintain a nimble size and excellent maneuverability. All of which we could see and feel as we moved these loaders through the dirt.
The  specific design refinements for all these new B-Series 3 models include a redesigned "dead-engine lower valve" (allowing safer exit from the machine and its lift arms when a machine dies) and single electronic control module (ECM), which provides easier access to fuses, relays and the Cat Electronic Technician port. A heavy-duty battery (880 CCA) is now standard equipment on larger models, and a headliner is added to the optional Comfort Package. New features enabled by the ECM also include automatic glow-plug activation, expanded diagnostic capability and use of an optional on-demand cooling fan that spins the fan only as fast as required by the machine. The optional fan improves fuel-efficiency, reduces sound levels and provides faster warm-up. For the model 226B3, the new ECM also allows automatic activation of the optional high-flow auxiliary-hydraulic system when a high-flow work tool is connected.
Cat also introduced new Cat D Series mini hydraulic excavators — models 303.5D CR, 304D CR, 305D CR and 305.5D CR — which are more powerful, versatile, compact-radius machines that work comfortably in confined spaces and build on the quality design and reliability of their C Series predecessors (the 303C CR, 303.5C CR, 304C CR and 305C CR). With model designations that closely reflect their operating weights (3.5 to 5.5 metric tons), the new machines feature enhanced stability for greater productivity, a redesigned work-tool coupler, load-sensing hydraulics and engines that meet U.S. EPA Tier-4 Interim and E.U. Stage-3A emissions regulations.
Models 303.5D CR and 304D CR are zero-tail-swing machines that keep the radius of the upper body within the width of the tracks; models 305D CR and 305.5D CR are compact-radius machines that limit upper-body tail swing over the tracks to 5.5 in. (140 mm) or less. Both designs reduce the machine's operating footprint and simplify the operator's job. This was all easy to see and feel when we operated these mini diggers at the Cat booth.
Perhaps what impressed the most was the excavator's Cat Quick Coupler, which makes tool changes fast and easy, without leaving the cab. The new pin-grabber-type coupler (with the new optional hydraulic operation) also combines positive work-tool retention with a design that maintains tight tolerances between coupler and tool, significantly reducing wear. A standard-equipment two-mode auxiliary-hydraulic system, complete with lines and quick connectors, can be switched between single-direction and bi-directional operation for effectively using work tools ranging from hydraulic breakers to augers. The implement hydraulic system is a responsive, load-sensing system resulting in low-effort pilot controls for optimum control and fast cycle times.
We'll preview more cool new products released at GIE+EXPO throughout the week at the Machine Works blog.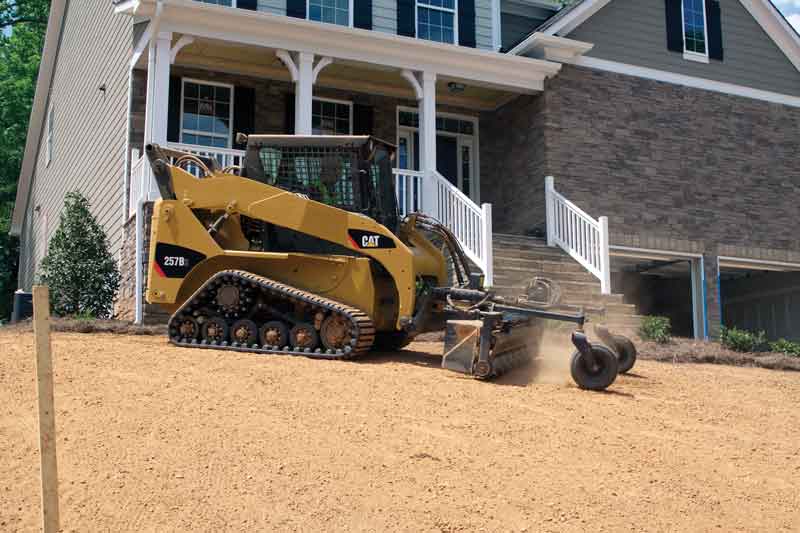 Tags:
Caterpillar