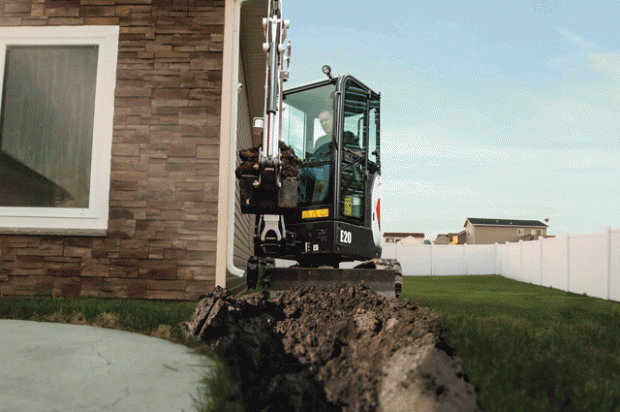 13 Models, Including Conventional, Zero and Minimal Tail Swing
Bobcat Co. introduced compact excavators to the market in 1986 and today continues to be one of the few manufacturers building compact excavators in the United States. In 2009, Bobcat introduced a significant design change with the launch of its M-Series line. Bobcat offers 13 excavators to match different operating conditions and worksite needs — four conventional tail swing models, five with zero tail swing and four with minimal tail swing.
Dig depths range from 6 to 15.5 ft, and a long-arm option is available on many models. A unique feature of seven Bobcat compact excavators is an extendable-arm option that allows the use of a hydraulic clamp in the extended position. The option provides operators with an additional 30 in. of reach, when fully extended, giving them more reach and dump height without having to purchase a larger machine. Bobcat also says it's the only compact excavator with an extendable-arm option that is clamp-compatible.
The optional deluxe instrument panel provides a multi-language, full-color display that resembles instrumentation found on larger earthmoving equipment, providing a quick visual of function and machine vitals. The home screen displays fuel level, coolant temperature, day/time and engine rpm. Operators can select auxiliary hydraulic flow rates from the panel for more efficient attachment operation. For increased security, an integrated password protection system may be used to help prevent theft.
New for 2015, an optional depth check system utilizes the deluxe instrument panel to help operators prevent under digging and over digging, thereby reducing costs and increasing overall efficiency. The depth check system is available for Bobcat E32i through E55 models. A laser receiver is available to allow operators to "bench" off a laser signal for increased flexibility on larger jobsites.
M-Series compact excavators feature auto-shift travel, which boosts the machine's productivity by shifting the machine in and out of high range automatically, and the auto-idle feature, which can be enabled at the operator's discretion and automatically causes the engine to return to idle if the excavator's functions are not used for approximately four seconds, saving fuel and reducing sound levels.
Advice to Buyers
"Excavators are increasingly replacing larger equipment as the preferred machines for excavating, grading and site preparation projects, and a compact excavator offers remarkable utility far beyond its conventional role," says Tom Connor, Bobcat excavator product specialist. "The right attachments and a coupler system that allows for quick and easy exchanges can provide business expansion opportunities in applications you may not have considered."