Every three years the biggest event in the construction equipment business happens in Munich. It's called "bauma" and it's actually the largest trade fair on earth. Machine manufacturers from Caterpillar to Komatsu, engine makers from Perkins to John Deere Power Systems and OEMs from Michelin to McLaughlin will all be exhibiting their latest construction equipment and technologies at the new Munich Trade Fair Centre from April 15-21, 2013.
Three years ago, Compact Equipment was one of the few American magazines to actually attend the show because of the erupting Eyjafjallajökull Volcano in Iceland. After battling volcanic ash, a sea of attendees and our rusty German, our CE crew mingled with contractors, engineers, manufacturers, journalists, industry professionals, gear heads and even curious kids and families, touring 16 enormous halls and hundreds of acres of outdoor exhibit areas promoting equipment, engines, parts, services, associations and trade commissions.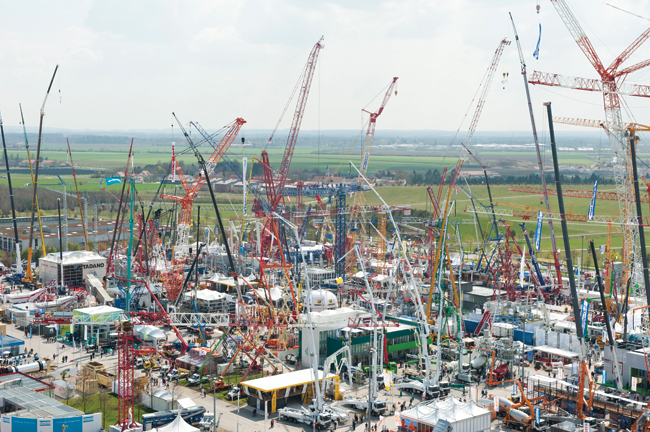 While the last show in 2010 attracted 3,256 exhibitors from 53 countries and more than 420,000 visitors from more than 200 nations, bauma 2013 is expected to yet exceed those numbers once more. Covering a total of roughly six million square feet of exhibition space, bauma 2013's available exhibition space was fully booked as early as May 2012 (eleven months before the show). This international trade fair for construction machinery, building material machines, mining machines, construction vehicles and construction equipment has a waiting list for all sections of the exhibition. And this is even despite the fact that another 160,000 sq ft have been added in the north-west corner of the exhibition site.
American contractors interested in big international opportunities should plan on attending. We suggest booking soon, as the hotels in Munich fill up quickly. All the key international manufacturers will present their machines and products at bauma 2013, and it's a great venue to make contact with fellow CEOs, managers, investors and buyers from around the world. Online pre-registration will be available in October 2012. As a pre-registered visitor you enjoy exclusive service. You gain admission to bauma 2013 without having to wait in line, and your print@home ticket ensures easy access to the fair grounds, where day-of lines are crazy.