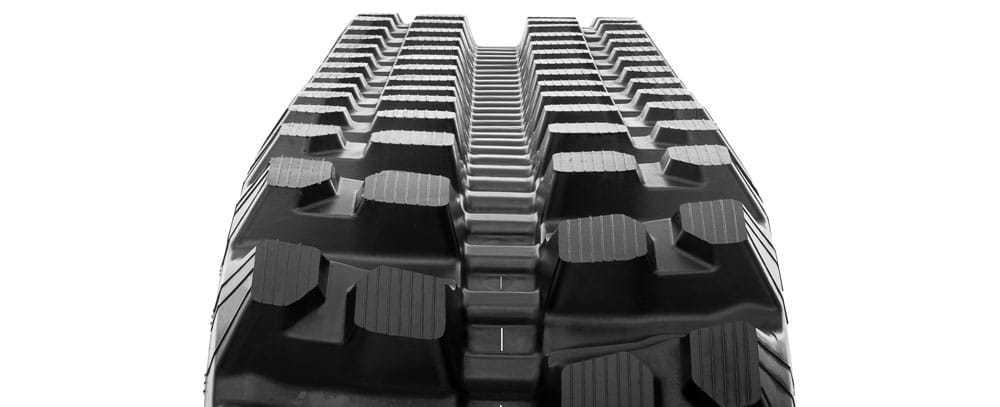 Compact excavator operators know that their success rides on good rubber tracks, which is why excavator manufacturers sell their machines with tracks that optimize the equipment. But when the tracks eventually wear out, what then? Aftermarket track suppliers are one solid solution.
When the popularity of compact equipment became evident, numerous track suppliers entered the market with tracks designed for specific excavator undercarriages. Consequently, compact excavation customers with broken tracks have many good options — if they are smart shoppers. Smart shopping begins with the excavator owner knowing how often the piece of equipment is cranked up and for what specific tasks.
"We help a customer find out which track is the right one for him," says Andy Gaffney, product line manager of construction tracks for Camso, the new name for Camoplast (and) Solideal, two rubber track and tire companies started in the early 1980s that merged in 2010. "If a user is only getting an excavator out a few times a year, we can plug in the track that makes sense for him. That will determine whether the user should buy a standard-duty track or heavy-duty track."
That sounds like there are A-grade and B-grade rubber tracks — something like Sears' old Good, Better and Best standard. "Absolutely," says Gaffney. "It's worth considering a lowest operating cost solution. And if a customer is willing to pay more, he will get a track with a thicker carcass and superior rubber compounds." He hastens to add that both standard- and heavy-duty Camso tracks are entirely work-worthy, as evidenced by the company's recent upgrading of warranties: All Camso tracks for compact excavators come with either a 24- or 36-month guarantee against faulty construction. "These are great tracks with great warranties."
Don Chambers is sales manager for KTSU America, headquartered in Mississippi. This track supplier dates to just 2010, but is an appendage of Kushan Kensetsu Buhin Co., a half-century-old Sino-Japanese joint venture operated from China's Jiangsu Province. Chambers agrees that the key to choosing a track is how an excavator will be used day in, day out. He cites two applications as examples: forestry and landscape. "Forestry work is very aggressive, which means you need a track that is a little thicker and heavier. The track on a forestry track loader is going to be stressed more than one that just carries skids of sod into backyards."
Chambers also advises compact equipment owners to perform due diligence to verify that companies and products are as advertised. "You need to know if a rubber track that's identified for construction use is built for the North American market instead of, say, for agricultural use in Asia. The latter track doesn't need the density and hardness on outside layers of track that are needed in North America. There's a difference."
He notes that some track manufacturers use the same compound of natural and synthetic rubber in all of their products. "Not us. Each application requires a different compound. Using the correct compound helps eliminate delamination and early breakage." Chambers adds that proper vulcanization of the rubber and secure bonding of the rubber to the steel cording running through it are essential for long track life.
The tread — where the rubber track meets the road — is an important consideration. A dozen or more tread designs are common on tracked equipment. However, they are mostly variations on three basic patterns: a straight edge-to-edge bar, angled cleating or designer cleats such as the familiar C-shaped tread.
Bryan Maul, parts manager for Dominion Equipment Parts LLC, says the choice of treads for compact excavators is closely tied to the excavator manufacturer. "Usually the tracks for compact excavators match as close as possible to the OEM tracks," he says. After all, engineers roll out a new excavator on tracks specifically designed to enhance the machine's performance, so it makes little sense to sub a different design. Even so, one tread or another might be more suitable for a particular application.
Dominion began in 1998 as the U.S. distributor for Yanmar Construction Equipment. While retaining its relationship with Yanmar, Dominion began marketing 15 years ago a proprietary line of rubber tracks. It now has 300 dealers across the United States delivering products — in most cases, the next day — from eight warehouses in the United States and Canada. Maul came aboard the company at the same time it launched its track business. In his 16 years working with rubber tracks, he says he has never seen one wear out. "Before they wear out," he goes on to explain, "there's a failure of some kind in the rubber or a break in the steel."
These failures result from such things as a cut in the rubber that allows water to seep into the track and weaken the buried steel cables. Oily work surfaces in industrial areas can speed deterioration of rubber. Cold temperatures don't seem to affect the life of a track, but hot temperatures can. Salt contaminants in soil or in sand can weaken the integrity of the tracks.
For all these reasons, track suppliers look to compact excavator operators for help. "Operator issues affect the life of tracks," Gaffney says. "The way excavators are operated makes a difference. Mini excavators sometimes operate in severe conditions, so following operational guidelines will ensure good performance and track life." Climbing hard-edged surfaces like curbs can stress the tracks. Running tracks too tight or too loose shortens track life. Not keeping an undercarriage clean damages sprockets and rollers, which negatively affects tracks.
Chambers cites a customer in a concrete manufacturer's yard who regularly had undercarriages wear out. Turns out the operator had too much tension on the tracks and was not cleaning the undercarriage daily. "There was a buildup of concrete each day that, little by little, wore out roller and sprockets, which didn't engage correctly with the tracks. You have to have all the parts working together. It is crucial and essential for guys in the field to analyze why undercarriage parts are wearing."
Ignorance of track care is not bliss. It is expensive. Treads for compact excavators can cost anywhere from $150 to more than $2,000, with most in the $800 to $1,000 range. If a track's failure is from poor maintenance or operator practices, the best warranty in the world won't cover replacement.
How long should a compact excavator track last? "That's the golden question," says Chambers. "The answer is driven 100 percent by application. If a forestry machine is well-maintained, a track will run for 800 to a 1,000 hours in most cases. If you are just doing material handling or trenching or something, you might get 1,200 to 1,500 hours out of it."
When a track finally fails, switching it out is a step-by-step process. Because a compact excavator track can weigh up to 900 lbs, the machine's hydraulics are utilized. With the tensioner released and tracks collapsed, the excavator's blade and boom are used to lift one side of the machine. With a steel bar, the track is wedged free of the undercarriage frame. The replacement track is then "basically muscled on," using the bar again, says Maul. "A couple of men can do it in an hour or so."
And if that new track is taken care of, it won't have to be replaced for quite some time.
Giles Lambertson is a freelance writer for Compact Equipment.
---
Try Some Trojan Tracks
With over 30 years of experience, Trojan Tracks is a trusted supplier of rubber tracks, solid skid steer tires and undercarriage parts for customers throughout North America. The company's rubber tracks and wear parts are designed to OEM specifications for a seamless match to your machine and are protected by a two-year warranty. Trojan rubber tracks and wear parts are used on compact track loaders, mini excavators, directional drills and crawler dumpers by ASV, Bobcat, Boxer, Case, Caterpillar, Ditch Witch, Gehl, Hanix, Hitachi, IHI, JCB, John Deere, Kobelco, Komatsu, Kubota, Morooka, Mustang, New Holland, Takeuchi, Terex, Volvo, Wacker Neuson, Yanmar and more. Trojan Tracks offers a wide variety of tread patterns, so you can tackle any terrain with confidence. For more info, visit trojantracks.com.