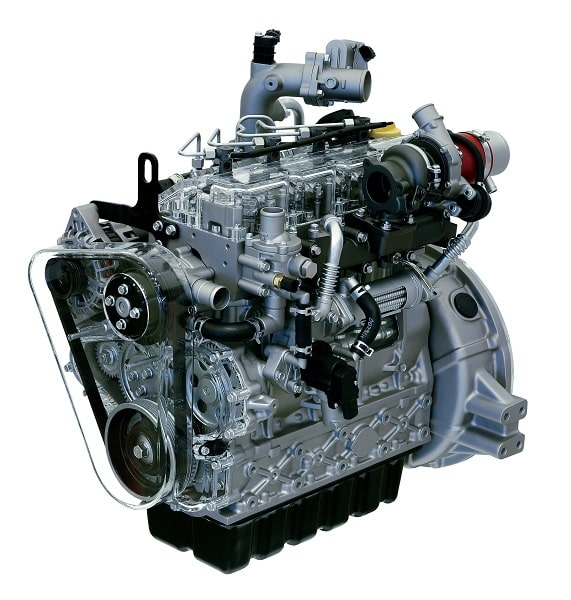 Today at World of Concrete, Doosan Portable Power announced it will begin integrating Doosan engines into its product lineup (beginning with the P185 T4F air compressor), enhancing machine performance, productivity and lifespan.
Development of the Doosan engine-equipped machines is a collaboration between Doosan Portable Power and parent company Doosan, which has 50 years of engine-building experience, developing engines across several industries for construction and industrial equipment, power plants, ships and automobiles.
"Doosan Portable Power is the only air compressor manufacturer to include a proprietary engine in its machine design," said Josh Goodman, assistant product marketing manager, Doosan Portable Power. "This allows us to control the overall quality and the design of our products, passing those advantages on to our customers."
The new P185WDO air compressor is powered by a Tier 4 Final-compliant Doosan D24 engine with a diesel oxidation catalyst (DOC) aftertreatment system, which is virtually maintenance-free. The high-performance engine provides the P185 with reliable power and improved cold starting capability, while delivering a 7 percent increase in fuel efficiency compared to previous models.
Proving that power doesn't have to mean loud, the P185 offers one of the industry's lowest sound levels at 74 dBA. With the Doosan D24 engine at the helm, the P185WDO delivers
10 hours of runtime at 100 percent load and 500-hour service intervals.
The P185 is the most widely used model in the Doosan Portable Power air compressor lineup. With 100 psi at 185 cfm, the P185 meets the needs of a variety of applications, from powering handheld air tools, to sandblasting, sprinkler and irrigation line blow-out, cable laying and pipeline testing.
The P185 equipped with the Doosan engine will be available in March 2015, and includes a promotional 3-year/3,000-hour Doosan engine warranty.
Doosan Portable Power plans to release more details on Doosan engine-equipped Tier 4 Final machines over the next 18 months.
Airend Manufacturing
Doosan Portable Power also announced it will begin manufacturing airends for insertion in portable air products, starting with the introduction of the HR350 airend in March 2015.
Designed and manufactured at the company's facility in Statesville, N.C., the HR350 will be available in the new XHP1170 air compressor and as a drop-in replacement for the previous HR2.5 airend.
The HR350 is the first Doosan-assembled airend to be installed in the company's industry-leading air compressors and available to the OEM market.
"Our goal is to continually provide our customers with the best air compressors in the market," said Rus Warner, global air products manager, Doosan Portable Power. "By designing and manufacturing our own airends, we ensure the key components that contribute to our customers' machine performance are of the highest quality."
Volume and pressure are the two most important attributes of any air compressor or drill rig. The Doosan HR350 airend offers a highly efficient rotor profile that produces greater cfm output with less horsepower, resulting in lower fuel consumption compared to previous airends. In addition to lower fuel costs, the HR350 also reduces the potential for downtime with strengthened internal castings that eliminate cracking and flexing, ultimately ensuring a longer machine life.
The Doosan HR350 airend will be installed in select Doosan air compressors with additional models scheduled for installation at a later date. The HR350 airend is also available for direct purchase to the OEM market.
Tags:
Doosan Portable Power
,
Engines
,
World of Concrete