Briggs and Stratton Commercial Power developed and patented the Vanguard TransportGuard engine feature to prevent damage caused by oil and fuel dilution during transportation. The innovation effectively reduces maintenance and increases productivity as it addresses a top problem faced by rental centers. TransportGuard's simultaneous fuel/ignition shutoff ensures that fuel stays in place during transport, preventing fouled plugs, hydraulic lock, oil dilution and other costly problems.
"Our focus is always on enhancing the productivity of our customers. TransportGuard prevents downtime by effectively addressing a major problem occurring in rental fleets: fuel contamination," said Jim Cross, marketing manager for Briggs and Stratton Commercial Power. "Rental centers can be confident that engines are protected from potential damage caused by oil dilution, and they can eliminate the costs and downtime associated with unnecessary oil changes."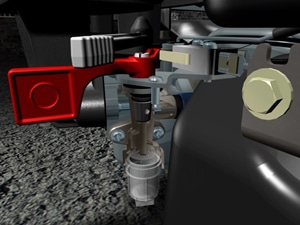 In as little as 30 minutes, as much as 5 ounces of fuel can flow into an engine during transport due to jostling. This causes oil dilution, a costly problem in the rental industry that increases downtime and reduces revenue. It only takes a few ounces of fuel to dilute the oil and reduce its viscosity, which leads to more friction, increased wear and a shorter engine life. Fuel leakage can also foul plugs, create varnish, erode parts and saturate filters.
TransportGuard comes standard on all Vanguard single-cylinder horizontal engines, which boast gross horsepower ratings from 5.5 to 10 horsepower*.
*All power levels are stated as gross horsepower at 3,600 rpm per SAE J1940.