Vanguard recently expanded its lineup of electronic fuel injection offerings to include a horizontal-shaft Small Block V-Twin engine. The Small Block engine features an open-loop EFI system with electronic governing engineered for the demands of the commercial construction and rental markets. With the addition of this engine, Vanguard EFI is now available on four engine platforms across nine horsepower ratings varying in output from 23 to 37 gross horsepower*.
Vanguard's Small Block V-Twin engines join the BIG BLOCK EFI engines for use in industrial and utility applications. The Small Block engines feature an open-loop system, reducing costs while still providing the core benefits of EFI. Vanguard engineered the Small Block system to deliver fuel based on operator throttle inputs, shifting the system's primary benefits to power delivery and throttle response, making it ideal for generators and general purpose equipment.
"Our application approach to EFI, coupled with our service and support network, make it possible to deliver highly productive and reliable EFI solutions to nearly any commercial market segment," said Jim Cross, marketing manager, Briggs & Stratton Commercial Power. "The open-loop system with e-governing developed for these engines is excellent for industrial applications since it emphasizes power delivery and throttle response."
Vanguard designed the electronic governing system to optimize usable power while providing more responsive and efficient delivery. The e-governing also improves shock load acceptance and speed control, reducing engine droop to near zero.
The Small Block EFI engines feature a battery-less backup recoil start for ultimate reliability, even if the battery is dead. The recoil start uses energy generated by the recoil system to power the engine control unit and fuel system as opposed to relying only on the battery for electricity. Additionally, the open-loop EFI system is calibrated for automatic altitude compensation.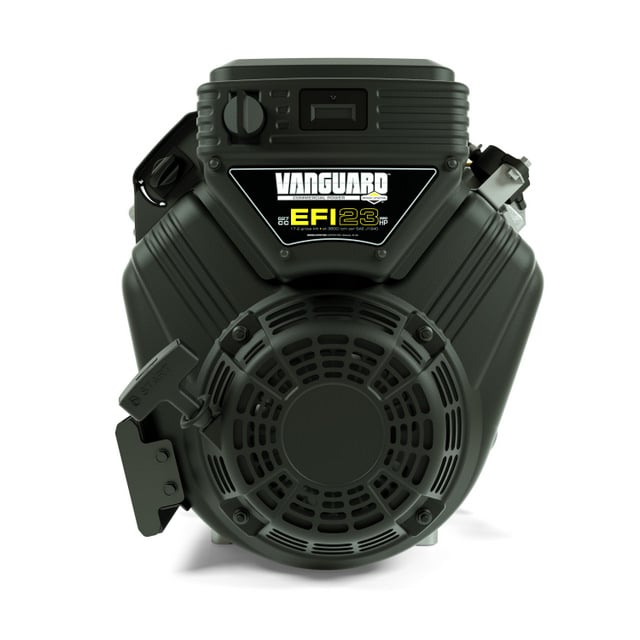 Vanguard's approach to EFI is a comprehensive solution that combines customized applications of the technology with in-depth training and support, including hands-on training, online testing and access to a library of diagnostic videos. Training sessions are offered at the Briggs & Stratton service education center and various locations throughout the U.S. The sessions can also be live streamed.
As a further commitment to productivity, Vanguard's robust service and support network delivers the parts and technical support customers need. Through a single national distributor with nine locations in the United States, Vanguard provides next-day delivery of more than 50,000 genuine parts and replacement engines to their commercial dealer network. Training resources are available both online and in person, with 11 training centers providing on-demand certifications and advanced EFI training. And with online technical support, a commercial telephone Answer Center and the industry's only global three-year commercial limited warranty**, Vanguard delivers the enhanced productivity commercial markets deserve.
*All power levels are stated as gross horsepower at 3,600 rpm per SAE J1940.
**See www.vanguardengines.com for complete warranty details.
For more info on Vanguard, click this link. We promise quality content.