How Perkins-Powered Flameless Heaters Deliver Reliable Comfort for Cold Oil Work
Unless you're a physics geek, the Lenz principle may not mean much to you — unless, of course, you are working on an oil rig in the Canadian arctic, Alaska's North Slope or the Alberta oil sands in mid-winter. Then its practical application can mean the difference between working in a warm, comfortable, fume-free environment or enduring the bone-chilling cold.
The Lenz principle says that moving a non-ferrous metal object through a magnetic field will induce electrical eddy currents in the metal that, in turn, produce heat. The engineers at Central Plain Industries in Clark, S.D., worked with the Cahill Heating team of Red Deer, Alberta, to harness the Lenz principle to produce high volumes of clean, flameless heat for the construction, oil and energy industries.
It's a really clean and efficient way to produce a lot of heat with no flame. That means we can supply heat in environments where an open flame represents a significant safety hazard and also heat places where people live and work without introducing unpleasant and potentially dangerous fumes.
Cahill Heating's newest heater, the Heatmeister FC780, is powered by a 60-hp, 2.2-liter Perkins 404D-22T turbocharged diesel engine. It drives an axial-flow fan that also has a number of non-ferrous arms, each of which revolves between a pair of powerful permanent magnets. Heat output is controlled by changing the rotational speed and the distance between the magnets and the rotating arms.
Cahill looked at a number of different diesels when it was designing the Heatmeister, including some from Japan and other off-shore sources. In the end, the company chose the Perkins engine based on its performance, the fact that it's built in Griffin, Ga., in the United States and the support it received from Perkins master distributor, DiPerk Power Solutions in Vancouver, B.C.
"We supplied an engine for Cahill's prototype and then flew their team to South Dakota for three days of intensive testing at Central Plain Industries," said DiPerk applications and installation manager Chris Michasiw. "We verified that the engine met their performance requirements at both ends of the operational spectrum, which is an important consideration in an application that often runs 24/7 under various loads."
Cahill also did some testing on its own. The company contracted with an engineering firm from Edmonton, Alberta, to verify fuel consumption and other aspects of the engines under its application conditions. They reported that when properly loaded, the Perkins engines consumed an average of 2.3 gal of diesel fuel per hour, which is extremely efficient. Proper loading is very important. There is a sweet spot at 80 to 85 percent loading, and Cahill tries to operate just under that value to optimize both fuel efficiency and reliability.
Since the engines will be used in both hot and cold environments, cold-starting capabilities and high-temperature cooling were also tested during the audit. No special engineering was required because Perkins' development protocols include literally thousands of hours of cold weather testing in both test chambers and at sites within the Arctic Circle, as well as operation with minimal cooling in high ambient temperature environments. Satisfied that the Perkins 404D-22T met all of its application requirements, Cahill placed an order for 30 engines to power the initial production run of Heatmeister FC780 heaters. These are standard Perkins Industrial Open Power Units that are delivered complete with radiators and emissions packages.
The Perkins 404D-22T is a four-cylinder, turbocharged, direct-injection diesel that produces between 31.6 and 44.7 kW (48.7 to 60 hp) at 2,800 rpm.
The Cahill CH12MS package includes a 120-gal fuel tank that will allow the unit to run 40 hours between re-fills compared to eight to 12 hours for typical flame-type space heaters. The CH12MS also comes equipped with a heavy-duty, marine-type sparkless alternator, block heater, inverter and a specially engineered cooling package.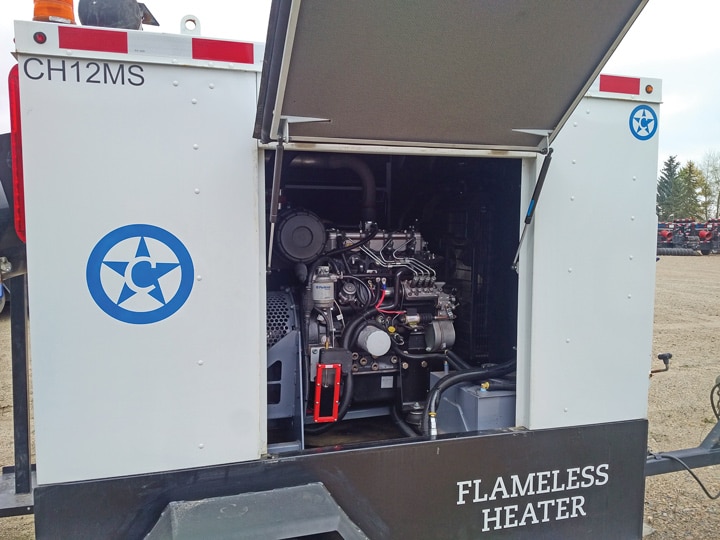 Considering the remoteness of the locations where many of these heaters are used, reliability and low-maintenance requirements are extremely important. Cahill also monitor performance in the field with a system from Skywave Mobile Communications that gives real-time feedback to support proactive maintenance programs. All 30 of the Heatmeister FC780 heaters in the initial production run were immediately rented by Cahill customers in Canada and the United States. They were put to work in the Canadian arctic, Alaska's North Slope and the Alberta oil sands, as well as refineries on the U.S. east coast and the Chicago area.
Cahill has had nothing but success with the Perkins engines. One customer on the North Slope told the company it was the best piece of equipment on their jobsite, and the fact that all 30 of the initial units were immediately rented speaks for itself.
It's also important to Cahill and its customers that the Perkins dealer network is available to supply service and support virtually everywhere these units are working. The service partnership with Polar Industrial in Edmonton is an excellent example of the kind of support Perkins delivers. Cahill is looking to add more Perkins-powered FC780 heaters to its rental fleet next year. As the deadline for Tier 4 Final emissions standards approaches, the company is working with Perkins and DiPerk to make sure the new technology will be seamlessly integrated into the flow of production.