Like it or not, the summer is quickly coming to an end and the cold winter months of early 2011 are just around the corner. But this year, Kris Kringle is dropping a sack full of emissions standards down your machine's chimney. Many manufacturers are preparing for the Tier 4 Interim engine standards, and Volvo is among those ranks.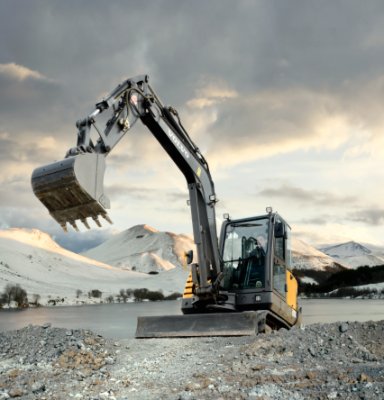 Volvo Construction Equipment has received Tier 4 interim emissions certification from the Environmental Protection Agency (EPA) for its D11 (11 liter) engine.  Implementation of Tier 4i emissions regulations begins January 1, 2011 for engines in the 175-750 hp range. These regulations require a 90 percent reduction in diesel particulate matter (PM) and a 50 percent reduction in nitrogen oxide (NOx).
"Volvo Construction Equipment is meeting the emission requirements of the new standards by continuing to engineer and develop engines of the highest quality and reliability and with the greatest performance and productivity accomplishments on the market today," said John Bartz, Director, Product Assurance and Regulation, Volvo Construction Equipment North America, Inc.
The new EPA-certified Volvo D11 Tier 4i engine with Volvo-Advanced Combustion Technology (V-ACT)  is built with ultra high pressure variable fuel injection systems, super efficient cooled exhaust gas recirculation (EGR), precise variable-geometry turbo (VGT) turbocharger controls, a powerful new engine management system (EMS), and an integrated exhaust after treatment system, equipped with a particulate filter and thermal regenerator.
At the heart of Volvo's technology is its new generation of electronically controlled diesel engines, using the highly acclaimed V-ACT system with enhanced engine monitoring, greater control capabilities, and higher torque.  The EPA-certified engine features exhaust gas recirculation (EGR), which lowers the amount of oxygen in the combustion chamber.  This reduces combustion peak temperatures, which lowers the formation of nitrogen oxides (NOx) by at least 50 percent – a key requirement of the new regulations.  Ultra-low sulfur fuel, required by Tier 4i regulations, permits the safe and efficient use of a new cooled EGR system, designed to allow more exhaust recirculation than previous generations of engines.
The reduction of particulate matter (PM) from diesel engines is the major target of the EPA Tier 4i regulations.  The new Volvo system uses an advanced exhaust after-treatment system that reduces particulate matter by 90%.  A special filter traps the particulates (black soot from the exhaust) and holds them to be removed by oxidation or what is called 'regeneration'.  Volvo's regeneration system operates while the machine continues work, keeping productivity high.
EPA Tier 4i regulations also require the use of Ultra Low Sulfur Diesel (ULSD) fuel of 15ppm of sulfur, down from 500ppm of sulfur.  This fuel is critical for the emission control technology, since high levels of sulfur can poison catalysts and result in excessive formation of sulfuric acid in cooled EGR systems.  The ULSD fuel is the same fuel required from 2007 for on-highway truck operation and became effective for off-road use in June of 2010.
Tags:
Volvo