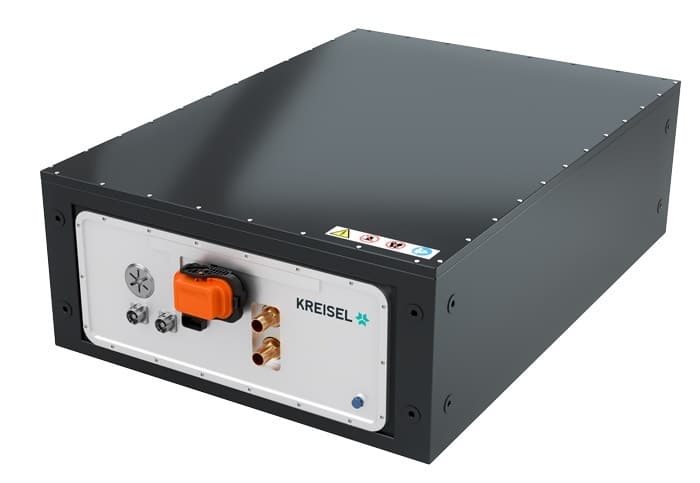 CONEXPO cometh. We're talking about the biggest tradeshow in America by physical size. It only happens every three years, and it's all centered around construction equipment. CONEXPO-CON/AGG will happen again March 14-18, 2023, in Las Vegas. We'll be there. So will everyone else. Follow our coverage right here. Here comes more important CONEXPO news…
As the off-highway industry further embraces electrification and the many benefits it offers, John Deere is growing its battery portfolio to include more modular power options as well as new electronics hardware solutions. These new innovations will be on display in the John Deere booth (West Hall, Booth W40844) at CONEXPO-CON/AGG from March 14 to 18 in Las Vegas, Nevada.
"We see the clear and growing need for battery and charging solutions for the off-highway industry. Because of this, we are leveraging our world-class engineering expertise to innovate on our customer's behalf and bring the most robust and durable products to market," said Jennifer Preston, global director of John Deere Electric Power. "Together with Kreisel, we are expanding our battery portfolio to include even more versatile, scalable power to meet a wider range of application needs as we continue to work toward a future with zero-emissions propulsion and pursue our goal of demonstrating viable low- and near-zero-carbon power solutions by 2026."
The Electric Future of John Deere
As more of the industry looks to go electric, John Deere is investing significant resources in advanced battery and charging technologies for off-highway equipment applications. Together, John Deere and Kreisel Electric (Kreisel) are working to expand the production capacity of Kreisel and accelerate the development of the company's innovative battery technology.
In addition to the 63 kWh Kreisel KBP63 battery that was displayed at bauma 2022, three new concept Kreisel batteries will be on display at CONEXPO-CON/AGG, including 20 kWh and 40 kWh power options. These new models offer industrial and marine customers increased packaging flexibility and utilize the battery technology provider's scalable, modular architecture and patented immersion cooling technology. The KBP63 continues to be a great power option for a significant number of off-highway applications, but with the addition of 20 kWh and 40 kWh power options, John Deere and Kreisel can offer OEMs even more versatility for unique application packaging and enable smaller vehicles to take advantage of the high performance of Kreisel batteries.
Just as important as building out a diversified battery portfolio is developing a reliable charging ecosystem that can be scaled and sized to meet operating conditions on a variety of jobsites. Like the use of batteries, charging requirements will differ by market segment and applications — from needing both stationary and mobile options to versatile ranges and charge times. John Deere will have a number of concept charging platforms on display in both its indoor (West Hall, Booth W40844) and outdoor (Silver Lot, Booth S5020) booths to illustrate the company's ongoing commitment to bringing versatile charging solutions to market.
"John Deere recognizes the important role and opportunity charging infrastructure presents when it comes to the successful progression and adoption of battery power as an industry. We are working to develop comprehensive charging solutions our customers can invest in and reliably run in the rugged environments they work in day in and day out," said Pierre Guyot, senior vice president of John Deere Power Systems. "We will continue to be a leader in the evolving off-highway electrification space as we prioritize the development of a robust charging ecosystem and battery portfolio that can support and sustain the long-term adoption of electrification across a wide variety of equipment sizes and applications."
Rugged, Reliable Electronic Solutions
As an OEM itself, John Deere knows how to make components work effectively within electric drivetrain systems and how to engineer those systems to run reliably in harsh operating environments. John Deere has leveraged its deep understanding of off-road equipment to design a family of rugged electronics hardware that enables seamless connection to help deliver a complete system solution for OEM equipment — from integrated displays and telematics that present and collect critical information to power electronics that support hybrid and battery electric equipment.
The newest addition to the John Deere electronics lineup is a Gb Ethernet Switch. This module manages the transfer of controls information, high-quality images, and more to multiple devices in a system — all in real time. CONEXPO-CON/AGG attendees can check out John Deere electronics hardware that's proven to complement smart equipment.
To learn more about John Deere powertrain and electronic solutions, visit the John Deere booth (West Hall, Booth W40844) at CONEXPO-CON/AGG in Las Vegas from March 14 to 18.
We'd love to keep in touch! Check us out on Facebook, Twitter and LinkedIn!