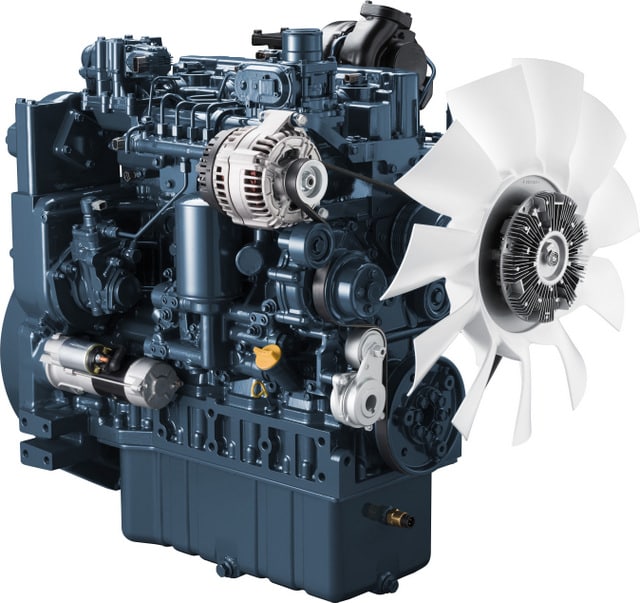 The world's leading engine manufacturer of compact diesel engines below 100 hp, Kubota Engines, unveiled a groundbreaking product at this year's CONEXPO-CON/AGG show in Las Vegas last week. For the first time, Kubota is expanding its diesel lineup to include engines up to the 200-hp class. The first model in its new Kubota 09 Series is the 5-liter V5009.
Kubota has spent years proactively developing engine solutions to meet the latest emission regulations in the United States, Europe and Japan. With looming Stage V requirements set to hit Europe beginning in 2019 or 2020, Kubota is now excited to be one of the leading manufacturers to announce Stage V ready diesel engines. While mass production of the V5009 will not begin until 2020, Kubota plans to have all engineering and supply work completed ahead of the upcoming emissions standards.
Kubota's compact, 4-cylinder V5009 will be Tier 4 Final and EU Stage V ready, with an output of 157.3 kW and after treatment devices including a Diesel Particulate Filter (DPF) and Selective Catalytic Reduction (SCR). Like all Kubota engines known for high performance and reliability, the V5009 is no exception. It is designed to optimize combustion for high outputs and has top rated fuel consumption efficiency compared to other competing engines in the same power range. It will also feature a variety of power take off options for different accessories such as hydraulic pumps.
By unveiling its first solution to impending EU Stage V regulations and enhancing its diesel lineup to include the Kubota 09 Series, ultimately expanding offerings from 100 to 200 hp, Kubota continues to prove itself as an innovative, reliable answer.
Tags:
CONEXPO-CON/AGG
,
Kubota Engines
,
Stage V
,
Tier 4 Final