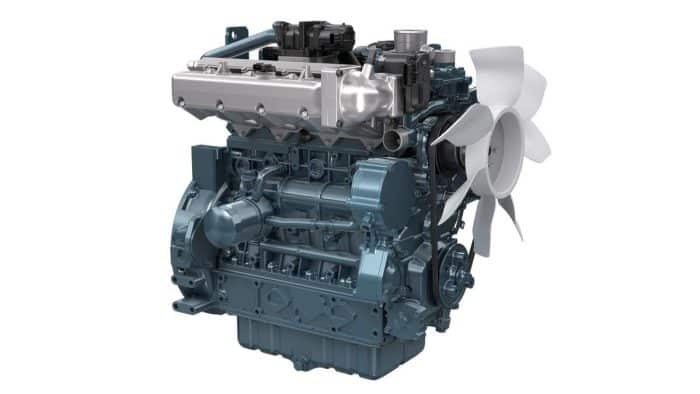 Kubota engines are in a lot of compact equipment, and the brand had a busy booth at CONEXPO-CON/AGG last week. Like other engine makers and equipment manufacturers, Kubota is focused on creating carbon-neutral engines. The company was excited to showcase its newly developed 3.8-liter hydrogen engine concept at CONEXPO. Development of power solutions for industrial machines with greater fuel efficiency and the use of carbon-free fuels, such as hydrogen, are underway at Kubota as part of the company's initiatives to create a carbon-neutral society.
"Kubota is committed to innovation that leads to a cleaner environment," Tomokazu Matsushita, president of Kubota Engine America stated: "This hydrogen engine is a step toward a future with less reliance on carbon intensive fuels."
Similar to gasoline engines, the 3.8 liter hydrogen engine offers spark ignition while packing a punch at 85 kW — which is also the power required for a 45kVA generator. This development is making inroads within the high-volume sector of portable power generation and aims to establish a dedicated hydrogen-fueled generator into the market for early hydrogen adopters. Specifications of the engine include a 3.8L displacement in an inline 4 cylinder for multiple applications.
In support of developing a global hydrogen infrastructure, Kubota's innovative technology underlines its commitment toward achieving a sustainable and carbon-neutral future with less CO2 emissions.
Kubota Engine America (KEA) started as an engine division of Kubota Tractor Corporation in 1982. The Engine Division was dedicated to the sales and reinforcement of technical support of the expanding industrial diesel engine market in the United States. Kubota Corporation and KEA pioneered the compact, high-density diesel market as an alternative to small gasoline engines. In response to the continued rise in diesel engine demand in the US market, KEA was formed in 1998 as an independent company and a subsidiary of Kubota Corporation and is headquartered in Lincolnshire, Illinois.
Compact tool carriers, compact utility loaders, mini skid steers. Whatever you call them, we can all agree these machines pack a lot of productivity in a small package. Learn more about them here!
Tags:
Kubota
,
Kubota Engines