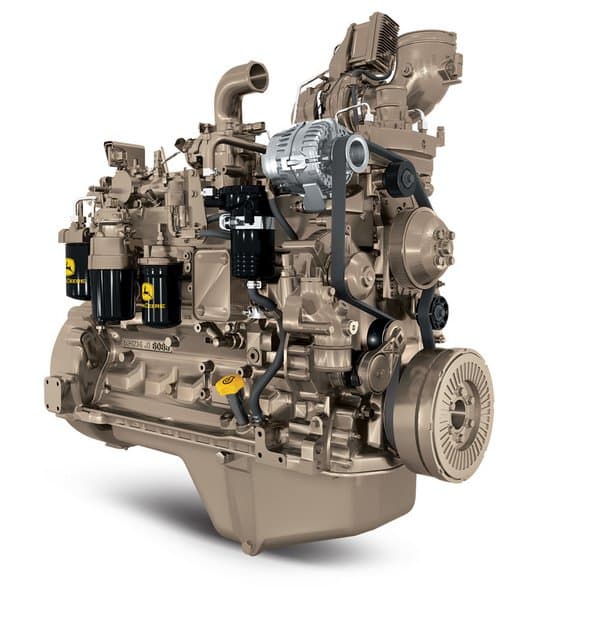 John Deere Power Systems recently announced that PowerTech Final Tier 4/Stage IV engines will power three new air compressors from Atlas Copco, a world leader in the manufacturer of portable compressed air machines. The Atlas Copco XAS 750, XAS 1800 and XATS 1050 JD models are designed for sustainable productivity on demanding jobsites.
Production of the new units will begin in 2015. The Final Tier 4/Stage IV XAS 750 air compressor will feature the PowerTech PVS 6.8L engine, rated at 187 kW (250 hp), while the Final Tier 4/Stage IV XAS 1800 will be driven by the PowerTech PSS 13.5L engine, rated at 393 kW (525 hp). The all-new XATS 1050 JD will include the PowerTech PSS 9.0L engine, rated at 242 kW (325 hp).
The new Final Tier 4/Stage IV compressors will join the lineup of Atlas Copco compressors with John Deere engines. Atlas Copco and John Deere have partnered on air compressor solutions since the 1990s, when Environmental Protection Agency (EPA) off-highway diesel engine emissions regulations were first introduced. Throughout the transitions between tiers, John Deere has worked closely with the OEM to select and integrate engines optimized for the application.
"We are pleased to continue our long partnership with Atlas Copco, the global leader in compressed air solutions," said Carl J. Micu, Manager, OEM NA/SA Engines Sales and worldwide drivetrain sales at John Deere Power Systems. "We're confident that our
Final Tier 4/Stage IV solutions will not only meet stringent emissions regulations, but also provide the responsive performance, reliable uptime and low cost of operation that Atlas Copco customers need to have success."
To meet increasingly stringent regulations, John Deere has systematically adopted technologies to meet each regulatory tier. To meet Final Tier 4/Stage IV requirements in the 93 kW (125 hp) and above power range, John Deere configured an Integrated Emissions Control system with cooled exhaust gas recirculation (EGR), a diesel oxidation catalyst (DOC)/diesel particulate filter (DPF) and selective catalytic reduction (SCR).
In addition to emissions compliance, the John Deere Final Tier 4/Stage IV solutions offer Atlas Copco improved transient response time, proven reliability and very low diesel exhaust fluid (DEF) consumption (1 to 3 percent) compared to diesel fuel consumption. Also, John Deere variable-speed fan technology contributes to less noise, lower fuel consumption and improved durability of belts and pulleys.
"John Deere Final Tier 4/Stage IV technology is ideal for our new air compressor solutions," said Mark MacInnis, engineering manager with Atlas Copco. "SCR used in tandem with EGR is the best approach to reducing nitrogen oxides (NOx). SCR and the DPF collectively provide better transient response time compared to solutions that do not use a DPF."
"John Deere took a building-block approach in the development of emissions technologies over the years," MacInnis added. "It was a gradual approach that made integration from tier to tier straightforward. For an OEM, that's an advantage."
For more information, visit John Deere Power Systems at www.JohnDeere.com/jdpower.
Tags:
Atlas Copco
,
John Deere Power Systems
,
Tier 4