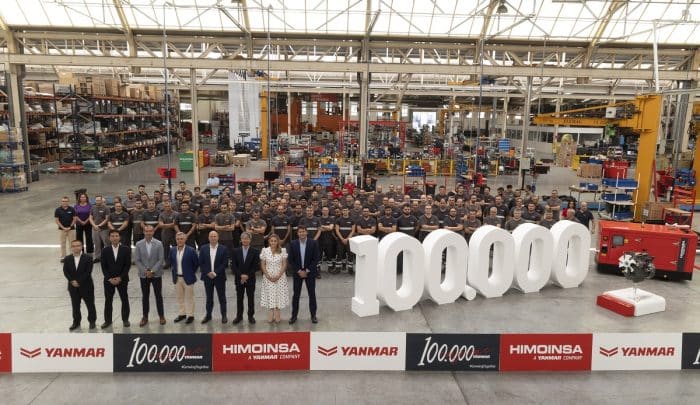 HIMOINSA, an international leader dedicated to the design and manufacture of power technology solutions, commemorated the production of its 100,000th generator set with a Yanmar engine in an event that took place at its Spanish headquarters and brought a large part of the staff together with the members of the company's Board of Directors. The facilities chosen to celebrate this event correspond to one of HIMOINSA's three production centres in Spain. The company structures its production process by product type (generator sets, lighting towers, battery power storage systems), locating production lines strictly defined by product series and power ranges in each factory.
Himoinsa and Yanmar began their partnership in 2006, with the latter becoming one of the main engine suppliers for the manufacture of HIMOINSA generator sets. This business relationship intensified in 2015 when HIMOINSA became part of the Yanmar Group by integrating into the Yanmar Energy System business unit. From that moment on, the two companies have collaborated on new projects and product development, further reinforcing their growth strategy.
"I'd like to congratulate all HIMOINSA employees for reaching the manufacture of the 100,000th generator set with a Yanmar engine. Thanks to their efforts, we have propelled Yanmar to a solid position in the power generation sector, and I am sure that this figure will grow significantly every year," explained Takehito Yamaoka, Chief Executive Officer of Yanmar Holdings Co., Ltd., who addressed these words to the entire staff through a letter of thanks.
HIMOINSA and Yanmar have been working closely in recent years to reinforce their leadership role in the power generation sector (up to 45kVA). This year they expect to reach the cumulative figure of 110,000 generator sets with TNV engines, due to the fact, among other things, that HIMOINSA has further reinforced its Yanmar series production lines, currently reaching 60 units/day, in order to meet the high demand for generator sets in this power range.
"We are very happy to celebrate this achievement, which is just one of many to come. We are 'A Yanmar Company', and teamwork and innovation are in our DNA," stated Francisco Gracia, President and Executive Director of HIMOINSA, who added, "we are immersed in various new product development projects that will allow both companies to grow together and explore new market niches in the power generation sector."
Generator sets with Yanmar engines have always been HIMOINSA's main focus in a power range up 45 KVA, even reaching up to 600kVA in the Asia Pacific market. The TNV series has historically been well received in HIMOINSA's Industrial Range (HI), as well as recently in its Stationary (HS) and Telecom (HT) ranges.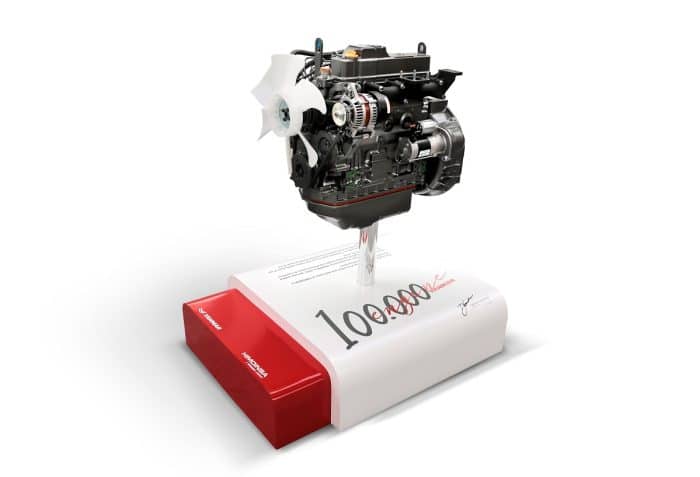 One of the main drivers of this growth has also been its line of lighting towers, fully equipped with Yanmar engines. Both companies have worked on developing an engine exclusively for lighting towers, guaranteeing the Best Efficiency point (BEP) and optimising the "power curve/specific fuel consumption" ratio, which ensures lower operating costs than other options on the market. Resulting from this joint project between HIMOINSA and Yanmar, there have been competitive advances like the extension of maintenance intervals up to 600 hours in lighting towers with 2TNV70 engines.
Tier 4 and Stage V Certifications. Reducing Emissions.
Yanmar engines with T4F and Stage V certifications have been selected for HIMOINSA Mobile Power generator sets up to 45kVA in order to minimise environmental impact. Yanmar has become the top global manufacturer of 19 to 56kW diesel engines meeting Tier 4 standards to be certified by the California Air Resources Board. Yanmar also simultaneously received Tier 4 compliance certification from the Environmental Protection Agency, and was the first company to obtain certification for 19 to 37 kW engines by the Swiss Federal Office for the Environment under the Ordinance on Air Pollution Control, the strictest diesel engine standards in the world.
In this regard, the Japan-based Biwa factory, founded in 1995, has become the leading Yanmar plant in the manufacture of water-cooled diesel engines and incorporates state-of-the-art equipment and patented technologies to guarantee an efficient production system that complies with the strictest international standards. Currently, Biwa and Ibuki, both located in Japan and dedicated to the manufacture of TNV engines, reach a production of 550,000 units/year.
New Projects for Power Over 1 MW
With the goal of continuing to intensify the presence of Yanmar in the HIMOINSA product portfolio, the company recently incorporated the Yanmar AY40 engine for power ratings over 1MW, offering the market one of the most efficient solutions for mission-critical projects. Engines featuring exclusive Yanmar patented 'ASSIGN' combustion technology which ensures best-in-class fuel consumption with a highly reliable mechanical injection system with electronic speed control that reduces noise emissions and minimises impact on the carbon footprint.
The goal of both companies is to work together on a strategic plan that allows them to continue offering the market a top product with regard to quality, efficiency, competitiveness and service.
We'd love to keep in touch! Check us out on Facebook, Twitter and LinkedIn!