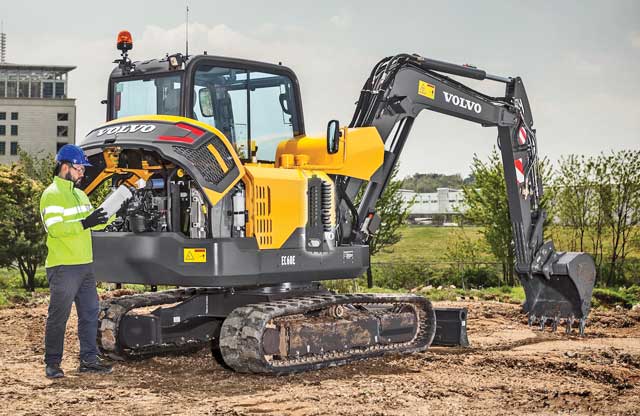 The lifeblood of a compact hydraulic excavator is its hydraulic fluid (pressurized oil) that flows through its pumps and motors, but those motors wouldn't animate anything without a diesel power plant beating at the heart of a machine. In a mini excavator, for example, the powertrain consists of a diesel engine which is hooked up to a set of hydraulic pumps. Together, they generate the critical gallons per minute (gpm) of hydraulic fluid that energize the undercarriage, cab swing, bucket curl, attachment operation and everything in between.
Long-time technicians can attest that the care of compact excavator engines has evolved over the last two decades. Off-highway diesels have become more powerful and efficient but also more complicated. The EPA mandated some complications through a succession of emissions edicts for off-road diesel equipment, rolled out in Tiers 1 through 4 Final. Manufacturer engineers responded to the mandates by incorporating emissions control add-ons such as diesel particulate filters (DPF), diesel oxidation catalysts (DOC) and extra liquids like diesel exhaust fluid (DEF). This re-engineering wasn't always pretty, certainly wasn't cheap and has kept a few technicians awake at nights.
Duncan Riding, business development engineer for Perkins Engines, sees similarity in manufacturers' engineering emissions solutions but only to a point. "Significant differences still exist within the details: Design of air and combustion systems, fuel system control strategies, exhaust gas recirculation [EGR] layouts and even power and torque density varies significantly."
That's not all. "Aftertreatment systems utilize different ceramic substrates, catalyst technologies and diesel exhaust fluid delivery systems," Riding says. "There may be additional features, such as two-state and variable turbocharging, intake throttles, exhaust back-pressure valves and more sensors." In short, shop technicians should remain alert.
Nick Grez, regional sales manager for Kubota Engine America, calls today's emissions treatments for compact excavator engines "a mixed bag." He notes, for example, that "there are both DOC and DPF systems. Some manufacturers are going with particulate filters in view of coming Stage V requirements and also because they want to have one engine for the North American and the European markets." Different engine applications still require different treatment choices (no one tech fits all power and application ranges), but non-DPF technology does seem to be a selling point for some engine and excavator makers, which they relate to less maintenance because a DPF needs to regenerate or burn off collected soot from the exhaust.
Despite this ongoing variety, the industry has come together about one thing: engine size. No longer is bigger better. A prime example is diesel engines under 25 hp. Because they are not subject to the same EPA regulations imposed on larger engines, manufacturers have down-sized where they can, sometimes by upgrading the efficiency of hydraulics.
"It used to be that more and more horsepower was wanted," Grez says. "Now we're trying to get the most out of a system but stay below cutoffs to avoid additional emissions control requirements. Kubota offers a variety of engines in that under-25-hp category."
This is not self-serving for manufacturers. It results in cost savings for compact excavator buyers because an engine with less costly engineering is less expensive. "There are significant savings in staying under that 25-hp point where manufacturers are meeting Tier 4 Final standards without the emissions controls," says John Comrie, utility product manager with Volvo Construction Equipment. Technicians also don't have to wrestle with emissions control components.
Excavators that need a little more horsepower fall into the 25 to 75 hp EPA category, and the full array of emissions devices comes into play at that point. For example, Perkins addresses the EPA requirements for the 25- to 75-hp engines with EGR and DOC systems and turbochargers. In the 75 hp-and-above category, Perkins opts for selective catalytic reduction (SCR) systems along with DEF and, in some instances, DPF add-ons. Stage V has already shown up in Europe, which means Tier 5 in America may be around the corner and entail re-engineering engines even further, mandating a DPF for instance.
What does all this mean for maintenance techs? Will the job get more complex yet? Comrie offers a welcome perspective. "Technology always catches up with industry requirements," he says. "It catches up and finds better and easier ways to do things. Components get better and simpler. We learn we can eliminate some of the processes and achieve the same thing."
Comrie believes that when Tier 5 arrives — and it is just over the horizon — the ensuing maintenance demands will be "a relatively smooth transition" for techs needing to keep diesel engines running optimally. "For technicians, increasing their learning may be just a little bit easier."
In the interim, compact excavator maintenance technicians can keep on doing what they are doing — except when they are trying to do too much. "As long as the mechanics are properly trained on the new systems, they can work on the engines," says Grez. "They need to be trained. They have to have the ability to read error codes that come up. In some situations, a code may show up they can't access, and they will have to take it to a dealer and plug in and see what it is."
Comrie agrees that any qualified shop tech with appropriate equipment can handle maintenance of Tier 4 Final excavator engines. "The general maintenance of the engine is not all that different. It is only a problem if you have an issue and the mechanic doesn't have the proper diagnostic equipment to handle it." That being said, Comrie draws a line at tweaking the computer on the engine. "Any repair of the machine's software that controls the diagnostic function or regeneration process should be done by a trained technician in a dealership, or it will end up costing the contractor a lot of money."
It almost feels like Tier 4 Final engines are becoming too delicate for a construction workplace. Work site experience disproves that notion, of course, and Comrie absolutely disputes the very idea.
"We don't have any issues as far as integrity of the engine. There obviously are a few more technical requirements than with a conventional engine, but if a technician does correct maintenance, if the regen system is maintained, if the engine is monitored to make sure it is operating properly and fluids are changed on time, the engine should give long, reliable service."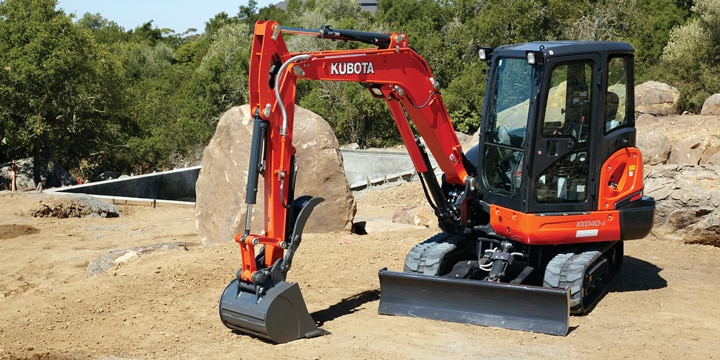 And if a venerable diesel power plant with Tier 4 Final components seems too costly, there's another option: non-diesel. Kubota has a lineup of traditional spark-fired engines powered by gasoline and other fuels. The engines use the same platforms and components as their diesel counterparts and offer the same interface and service points for technician familiarity. They also produce the same torque and power.
"This is something new for this market. None of the engines are in mini excavators at this time that I am aware of," Grez says, "but we are seeing a lot more interest in spark-fired engines because of cost savings. The emissions controls obviously increased prices for diesel engines. We expect interest in the engines to continue growing as we get closer to the Tier 4 Final deadline."
Giles Lambertson is a freelance writer for Compact Equipment.
---
XPRT Genuine Parts for Gehl and Mustang Excavators
XPRT Genuine Parts maintenance kits are the perfect solution for performing routine scheduled maintenance on Gehl and Mustang compact equipment, including those companies' stellar mini excavators lines. XPRT Genuine Parts maintenance kits come with genuine OEM parts that are guaranteed by the XPRTs. Get it? A typical filter kit includes components such as engine oil filters, air filters, fuel filters, hydraulic oil filters, transmission filters and cabin air filters if necessary. XPRT Genuine Parts maintenance kits offer up to a 10 percent cost savings by purchasing one kit rather than purchasing each of the kit components separately. For more info, visit gehl.com or mustangmfg.com.
Tags:
EPA
,
home
,
June 2017 Print Issue
,
Kubota Engine America
,
Perkins Engines
,
Volvo Construction Equipment