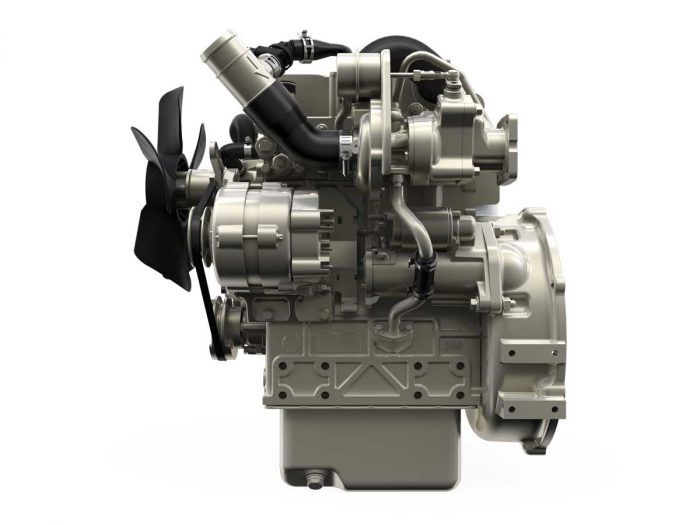 Today's off-highway diesel engines are impressively sophisticated and small. Engineered into equally intricate and compact construction equipment, these diesels are powerful, efficient, cost-effective and clean. Advancements like electronic control systems with high-pressure common rail systems deliver unparalleled performance and precision — faster responses and more optimized power. A variety of high-tech aftertreatment systems with acronyms like SCR, DPF and EGR are now incorporated to clean pollutants. Multifaceted options like silent packs, intelligent turbochargers, radiators and air cleaners can be included. Have we mentioned hybrids? We shall. Engine insights and news have been pouring into the CE offices. Let's start with some quick tips from Perkins.
Winter Do's and Don'ts
Whether you've got a diesel-powered skid steer, gen set or mini excavator, your machine's engine depends on high temperatures created by compression to ignite the injected fuel, and that makes them harder to start in cold weather than a gasoline engine. In fact, starting a diesel engine at 0°F (-17°C) is five times harder than starting one at 80°F (26°C). Gelled fuel, cold cylinder walls and batteries with diminished output at low temperatures all can contribute to the difficulty which makes planning for cold weather operation critically important. Here are some tips to help get the most from your diesel-powered equipment's fuel during the winter:
Do
Do use winter blended fuel which is less likely to gel.
Do store full portable fuel cans in a temperature-controlled area to avoid condensation.
Do drain the water from the fuel filter daily, preferably when the machine is shut down for the day so the water does not sit in the filter overnight.
Do fill fuel tanks at the end of the working day, as a full tank doesn't leave room for water to condense overnight.
Don't
Don't neglect the fuel filter, it's the most common place for fuel to gel.
Don't forget to drain the water separator on fuel storage tanks every day.
For more diesel engine winter tips, visit perkins.com/wintertips.
Proper Winter Storage
With winter rapidly approaching, Yanmar recommends that dealers and equipment owners start thinking seriously about fuel storage concerns. Dramatic temperature changes day to day, or even within the same day, can cause a large amount of condensation in fuel tanks. These temperature fluctuations will also bring out any dissolved water as undissolved "free water," contaminating the fuel in the tank. If fuel tanks are left half-full or even close to empty, there can be an appreciable amount of water in the bottom of the tank by the end of winter. If this water enters the diesel fuel injection system, it can cause rust and subsequent damage. Water and rust may also cause engine starting failures in cold weather and freezing conditions. You can avoid these issues and protect your equipment with regular fuel storage tank maintenance, including checking and draining your water separators. For machines that will be sitting through the winter months, you can protect your investment by following any recommendations in your operator's manual for long-term storage. This info was provided by Yanmar. For more info, visit yanmar.com.
Hybrid Power
The way we work and think about approaching new technologies has changed and accelerated into a new direction over the course of the last few years. Emerging from the pandemic is a growing interest in electrification and hybridization of standard equipment, partially due to increased requirements by EU and North American markets emissions regulations. The product scope of electrification/hybridization includes a wide range of products starting from on-highway and off-highway equipment. Many questions are raised about the challenges to make the change from a typical diesel engine to full electric or hybrid units. How can the range or battery life be extended while keeping weight and physical size at a minimum? How can the increased cost of electrical components keep your product profitable and affordable?
One solution is a permanent magnet generator (PMG) integrated developed by Hatz Diesel into a standard-fuel engine. The product expands on the decades reliable B-Series mechanical engine and converting it to electronic fuel injection controlled by an electronic control unit. The Hatz FiPMG offers extremely reliable performance for mission critical equipment. These include 5G Smart Towers, mobile light towers, solar and conventional mobile road signal equipment, mobile communications infrastructure, electrical lifts, motor homes, tradeshow trailers, battery driven equipment and auxiliary power units in construction equipment or on-highway truck applications. Instead of converting from a diesel engine application to fully electric, you can use a very small diesel engine as a battery charger that can increase range of your battery pack and reduce the size of your battery pack depending on your applications needs. One of the benefits is that you can run the engine while the machine is operating, extending the range of your machine. The Hatz FiPMG comes in 2.8-kVa and 5.6-kVa options. This info was provide by Hatz. For more info, visit hatznorthamerica.com.
Vanguard 400 Single-Cylinder Propane Engine Certified Emissions Compliant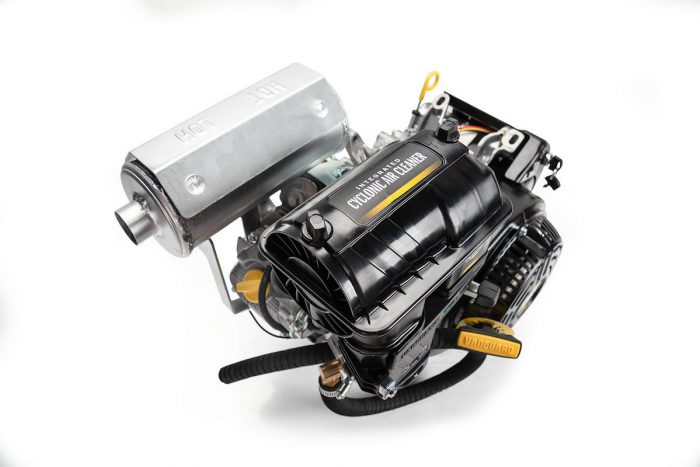 Briggs & Stratton is pleased to announce the Vanguard 400 single-cylinder engine, which has been converted to run on propane, has been certified by the Environmental Protection Agency (EPA) as compliant with the Clean Air Act emission standards. This is the first and only engine in its size class to be converted to propane fuel and receive EPA certification, with California Air Resources Board (CARB) certification on the horizon in 2022.
When converted to propane, a less carbon-dense fuel source, the Vanguard 400 engine with a catalyst muffler provides a significant reduction in carbon emissions. Propane conversion kits allow customers to take advantage of the benefits of propane with their current Vanguard-powered commercial equipment. Available through Propane Power Systems, the kits were developed specifically for Vanguard, and have a 3-year commercial warranty.
"We are the only engine in this size range that is EPA certified on propane. We've also equipped the engine with a catalyst muffler rather than a standard muffler," says Chris Davison, senior marketing manager of commercial power at Briggs & Stratton. "Using a catalyst muffler and engine tuning, we are able to reduce carbon monoxide emissions by 80 to 95% and allow the engine to pass nitrogen oxide standards. This level of emission reduction is simply not possible with a carbureted gasoline engine."
The newly EPA-certified engine is on the market today with early customers testing the engine for their specific applications. While many commercial engines that are currently on the market can be successfully converted to propane, this does not mean they automatically meet the EPA certification and safety requirements. Vanguard engines feature safety devices on every propane conversion kit. These features include special lock-offs that block the fuel when the engine is idle, an engine data analyzer that records emissions levels, and CO monitors that record carbon monoxide levels.
"These are the cleanest, safest commercial engines on the market today," says Jim Coker, director of propane applications at Propane Power Systems. "After we retrofit the engines to propane, we take the important step of running and testing their emissions levels before we send them out the door. This extra step in quality control ensures the engine is running at the levels it needs to, and that it will provide optimal performance for the end-customer. This is really where we stand out."
The Vanguard 400 joins more than 57 different configurations of Briggs & Stratton Vanguard engines. Almost all of the engines that are commercial Vanguard engines — the 203cc all the way up to the 993cc — have been EPA certified when converted to propane.
Looking toward the future, Briggs & Stratton is continuing its commitment to meeting the evolving emissions regulations to continue offering the cleanest, safest engines on the market. In 2022, the company is working toward certifying the 993 and the 810 EFI engines. These will be brand new applications — and the first commercial-sized EFI engines to be certified on propane.
For more information on products and innovations, visit vanguardpower.com.