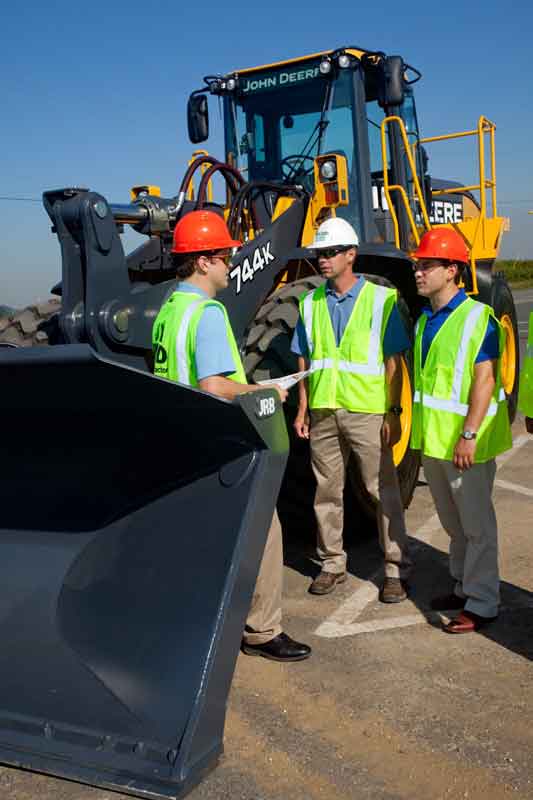 New Jersey contracting firm J.H. Reid wanted a wheel loader that would allow it to work in Brooklyn, N.Y., under current and future emissions rules. John Deere responded and offered the firm a solution: the new 304-hp 744K four-wheel drive loader, the construction industry's first IT4-certified iron over 175 hp. Reid took delivery in late August and immediately put the loader to work on a $125-million pre-cast bridge job for the New Jersey DOT in Highlands.
"The bridge job is just a dress rehearsal," said Eric Reid, president of J.H. Reid. "The loader is supporting us right now by working around the crusher with a bucket and carrying construction materials around the site with forks," Reid said.
It won't be there long. This month the 744K will head to Brooklyn, New York's Hamilton Avenue waste transfer station, where New York City Best Available Control Technology emissions rules are in effect.
"Everybody knows IT4 is the future," Reid said. "For us it's all about the ability to work in New York City, and I didn't want to invest in something that would be obsolete in six months. Deere's IT4 unit availability allowed us to think long-term."
The 744K IT4-certified engine is Deere's response to customers who need the highest emission Tier available for bid emissions specifications and green construction sites, or who work in non-attainment areas.
The John Deere PowerTech 9.0-L IT4 diesel engine for the 744K was certified by the EPA in March 2010. It uses cooled exhaust gas recirculation (EGR) technology to meet emissions regulations while producing the same 304 hp and torque as a 744K equipped with a Tier 3 engine.
Deere's chosen technology path for meeting IT4 emissions is cooled EGR with an exhaust filter. This simple solution uses a single fluid (diesel) to eliminate storage and temperature concerns. EGR has been field-proven in a variety of customer applications and is now on the job for the long haul in The Big Apple.