Understanding Emissions Tech
Mike Cullen, Marketing Consultant at Perkins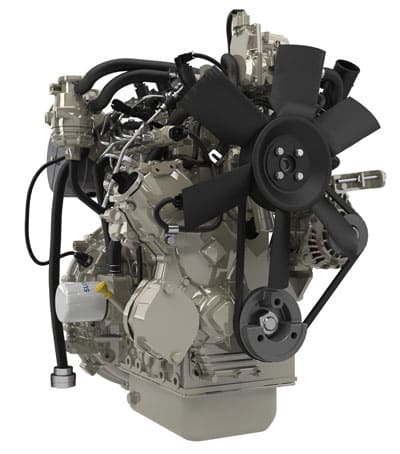 All diesel-powered machine owners know the importance of maintenance in delivering reliability and durability. With the introduction of U.S. EPA Tier 4 Final emissions standards, there are new areas that owners must consider, including additional maintenance items and fluid specifications. Although there may be a perception that additional technology drives further maintenance requirements, remember that not all systems are designed the same, and it's important to do your research ahead of a machine purchase to understand the impact to your business. Aftertreatment is often seen as an area that drives additional machine maintenance through regeneration. Options available include simple DOC-only product, which has no regeneration requirements, and DPF systems with transparent operation. Servicing can be another area of concern, and the potential for DPF ash service is certainly real. By comparing options, you will see there are systems designed for engine life and lowering overall engine maintenance costs.
Favorite Model: Perkins Syncro 1.7-Liter Three-Cylinder
The Perkins Syncro 1.7-liter three-cylinder electronic turbocharged engine for compact construction machines is 39 hp with a max torque of 120 Nm at 1,800 rpm. This diesel boasts speeds up to 2,800 rpm, common rail direct injection, diesel oxidation catalyst and a 500-hour service interval for fuel and oil filters. It also meets U.S. EPA Tier 4 Final emissions standards.
Reducing Downtime
Aaron Engels, Engineering Assistant Manager at Yanmar's Industrial Engine Division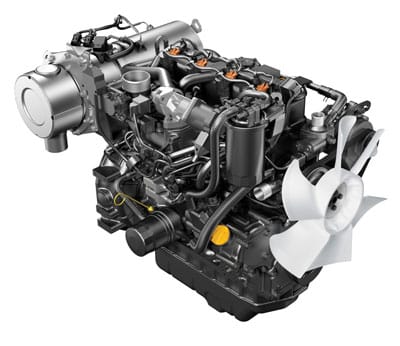 Since the inception of Tier 4, over-19-kW diesel engine driven equipment has incorporated more advanced electrical systems which have added cost and complication. As a result, equipment manufacturers have reduced engine power requirements by better analyzing needs and by reducing product performance, getting below the 19-kW threshold and keeping their engine cost as low as possible. But for those equipment manufacturers that need to have higher output engines, there is no way around a more complex electronically controlled engine. The engine control systems are rather robust based on the long history of on-highway use. However, the problems compact equipment owners most often see are electrical issues caused by machine-side electrical harnesses or illogical and complicated control panels. To this point, it's good practice to have the engine manufacturer review and test the machine harnesses and panels. A better option is to use a harness and panel designed by the engine manufacturer. This minimizes equipment downtime and speeds up any troubleshooting.
Favorite Model: Yanmar 4TNV88C
The Yanmar 4TNV88C is a naturally aspirated, water-cooled, direct-injection diesel engine rated at 47.6 hp at 3,000 rpm. The aftertreatment system consists of a high-pressure common rail, cooled EGR and diesel particulate filter. Technology used on this engine makes it Tier 4 compliant and Stage V ready. It's a favorite of excavator and skid steer loader applications.
Diesel Particulate Filter Cleaning Program
Fred Bellinder, Director of Operations at Kubota Engine America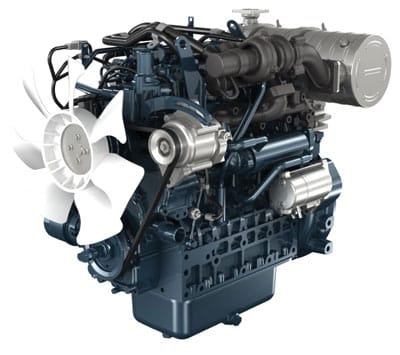 The diesel particulate filter, or DPF, is recognized as an effective way to reduce diesel particulate emissions, and there is a growing possibility that future Tier 5 regulations may require the use of them. Kubota Engine America recommends proactive cleaning at the scheduled cleaning interval for best performance, ultimately avoiding any downtime issues resulting from a plugged or dirty DPF. Getting your filter cleaned doesn't have to mean you have a long period of downtime. One option provided is the use of a Clean DPF Exchange Kit. It gives you the least amount of possible downtime for when you can't stop the job. Included with the kit are gaskets and easy-to-follow return instructions.
Favorite Model: Kubota V2403
The V2403T engine is designed to comply with the most stringent regulations. The common rail system has made it possible to optimize combustion and create a more durable, quiet and improved fuel-economy engine. In addition, the aftertreatment device is designed with minimum package impact for easy installation. This engine is available with DOC only or DPF and DOC.
Small Investment, Big Return
Jennifer Rindt, Marketing Manager of Diesel Engines at Kohler Engines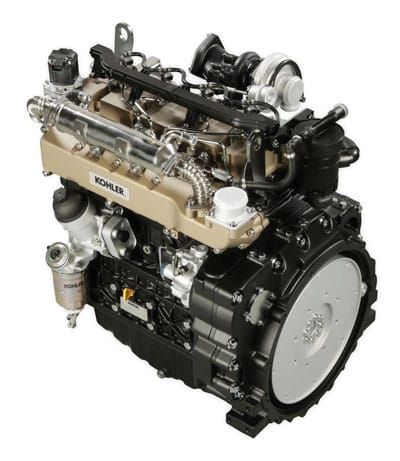 Diesel engines are powerful and cost effective. Thanks to advancements like high-pressure common rail systems and other highly-tuned components, diesels are more efficient than ever and are carefully engineered to deliver unparalleled durability and reliability. Of course, like with any machine, performing some regular maintenance will help ensure your diesel engines continue to perform at optimal levels over the long haul. Regular maintenance is an important part of keeping your engines performing at their best. So, be sure to follow the manufacturer's recommendation when it comes to oil and filter changes and also schedule time to inspect crucial engine components. Your diligence will pay off. For a relatively small investment of time and effort, you can help to extend the life of your engine and keep it running smoothly, allowing you to stay focused on what really counts — getting the job done.
Favorite Model: Kohler KDI 3404
The Kohler KDI 3404 is a powerful 3.4-liter diesel engine designed for commercial applications requiring enhanced power and torque. It's a Tier 4 Final emissions-compliant engine that achieves clean combustion, optimized fuel consumption and enhanced power without the use of a diesel particulate filter.
Read more about diesel engines here. What are you waiting for?
Tags:
home
,
Kohler
,
Kohler Engines
,
Kubota Engine America
,
Perkins
,
Perkins Engines
,
September 2017 Print Issue
,
Yanmar