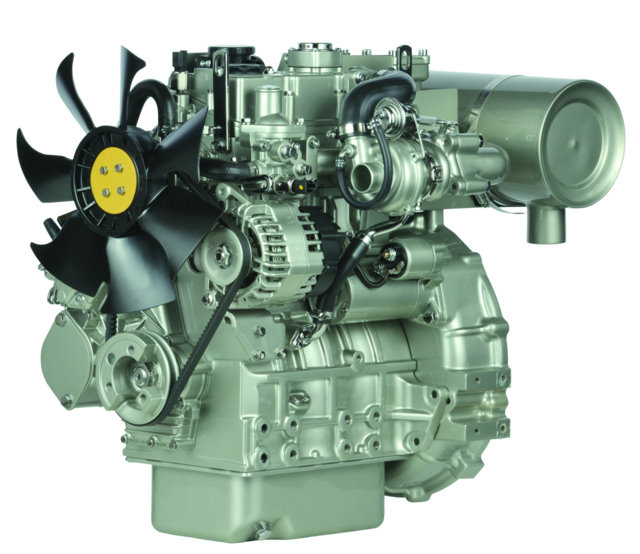 When we consider compact engines, there's really no better fit for compact machines than Perkins diesel power plants. The venerated English brand (now owned by Caterpillar) has been making innovative engines since the 1930s, powering our skid steers, mini excavators, backhoes and every compact machine in between.  
At CONEXPO, the company launched its Tier 4 products to the public with much ado (just check out the video below). The new 400F, the latest addition to the popular 400 Series range, meets Tier 4 Final/Stage IIIB regulations which come into force in January 2013 in the EPA above 19kW (25 hp) and in the EU above 37kW (49.5 hp).
"We're really excited about our first Tier 4 Final engines which, with the 400F, deliver flexibility, low cost of ownership and dependability, having built on the successful 400 Series platform," said Allister Dennis, Perkins product marketing manager.
With more than a million engines sold and two billion "first life" hours under its belt, the 400 Series can be described as a "world" engine, having earned a reputation for reliability, performance and value for money.
In keeping with its predecessors, the new 400F really gets to grips with the challenges facing today's equipment manufacturers. As they look to build small, high performance yet cost effective machines then the 400F, which runs up to 45.5kW (61 hp) is certain to become their engine of choice. Its compact three- and four-cylinder line up offers a seamless choice for original equipment manufacturers (OEMs) for their own model range development, while the transition from the current emissions legislation to Tier 4 Final/Stage IIIB has been made easy for customers with a 97 percent carry over of components from the previous Tier engine.
In addition minimum changes to the new 400F Series mean little or no machine redesign for the manufacturer, which in the highly competitive small machine market is an important consideration for OEMs. The only addition that manufacturers will see is the after-treatment which has been designed to be as compact as possible, with flexible mounting arrangements to ease installation.
The after-treatment uses passive regeneration, with systems in place to provide active regeneration capability, effectively burning the soot in the diesel particulate filter to keep performance levels at their optimum. There is no impact on the duty cycle, so machine operation will not be compromised. Although an ash service at a minimum of 3,000 hours will be a new requirement, it's typically equivalent to years of operation without servicing.
The new 400F Series also delivers improvements in fuel consumption, which minimizes running costs and heat rejection, giving improved ambient clearance. This maintains the compact engine installation dimensions so necessary in this market. Other benefits sure to delight the end-user include improved transient response, easy maintenance and serviceability, high fuel tolerance and reduced oil consumption.
The 400F will be manufactured alongside the 400D specification engines in Perkins' 400 Series plants around the world. Facilities in the UK, the USA and China provide product availability for customers in all regions of the world.
For more information about Perkins Engines, visit them online here. To immerse yourself in the CONEXPO experience, view the product launch below.
Tags:
backhoes
,
Caterpillar