The alarm started screaming at 6:30 a.m. The lazy rain pitter-pattering across the cabin's wooden roof made it difficult to throw off the comforting heavy blanket and be up before the sun. But I had to get moving to be at the lodge for breakfast, which was to be served promptly at 7 a.m. No excuses.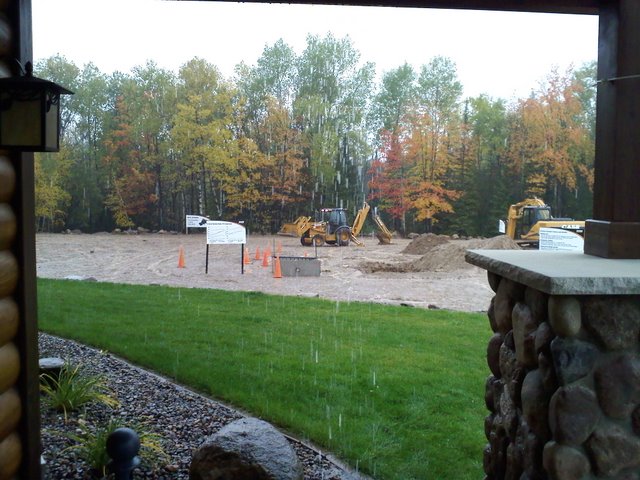 The piles of pancakes and bottomless cup of coffee lifted my spirits. I was ready to face the rain and excited to see what Case had planned for our full day at Tomahawk. The Case Construction Crews' excitement cut through the grey clouds as we met for a quick presentation before heading out to the brand new 3,000-sq ft Product Review Center. While I was excited to get my hands on the controls of the new N Series loader backhoe, there was equally important business – the explanation of Case's approach to Tier 4 regulations.
We've written extensively about the Tier 4 Interim regulations that begin in 2011, but this was the first time Case explained how it was going to approach the required reduction of particulate matter (PM) and nitrous oxides (NOx). The industry has been through three Tiers so far — resulting in an astounding 60 percent reduction in PM and NOx since Tier 1 in 1996 — but Tier 4 introduces the seemingly impossibly requirement of a 90 percent reduction in NOx and PM.
"Essentially, the air that's coming out of the engine is cleaner than the air going into it," said Brad Stemper, Case training manager and Tier 4 guru. "Case is applying the technology that achieves the lowest operating costs, depending on each model's engineering characteristics and application requirements. Our Tier 4 technology solutions integrate each model's engine, hydraulic and electronic systems to achieve the most efficient and powerful performance."
Up to this point, there have been two different camps of emissions reduction solutions — selective catalytic reduction (SCR) and cooled exhaust gas recirculation (CEGR). SCR is an  after-treatment system that creates a chemical reaction by adding diesel exhaust fluid (DEF). This transforms the NOx into nitrogen and water, which occur naturally in the atmosphere. In CEGR, exhaust gases are cooled, blended with fresh air and then returned to the cylinder, lowering combustion temperatures and dramatically reducing NOx. PM levels are then reduced through the use of an after-treatment diesel particulate filter (DPF) system. (Click here to see how SCR works. Click here to see how CEGR works.)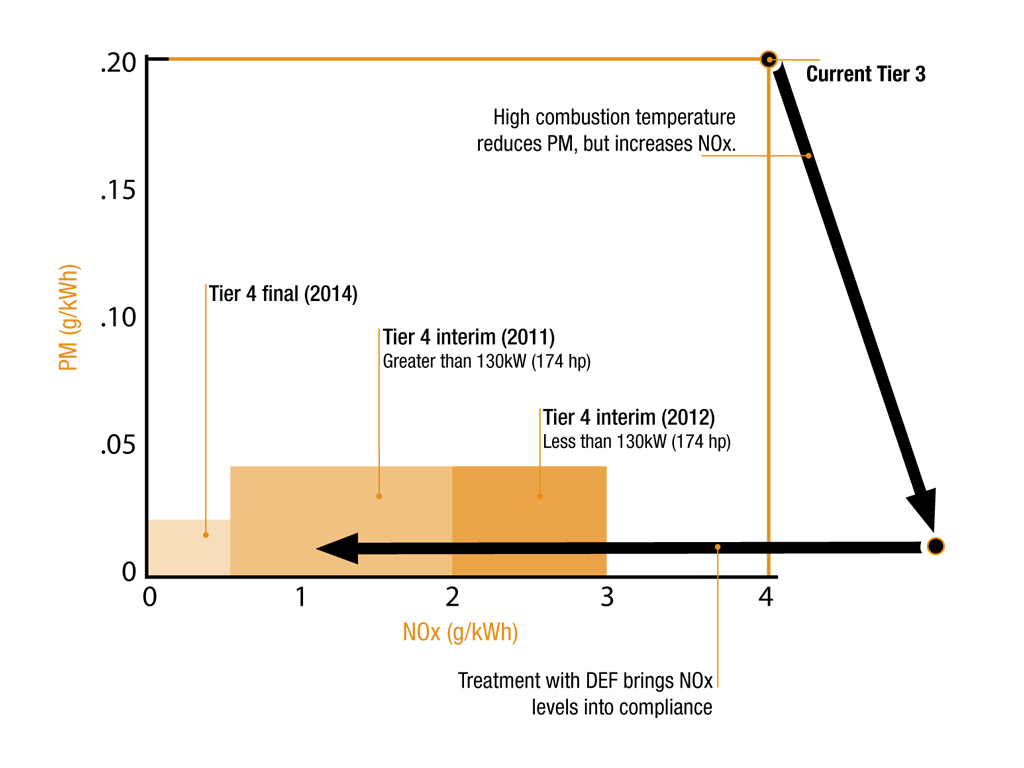 Case is planning on using a combination of both technologies for Tier 4 engines. How much of which technology has yet to be seen. Stemper explained that the design requirements will depend greatly on the machine's functional purposes, productivity requirements and intended applications.
How does this affect you? DEF is required when you use SCR, but don't panic. Refilling the DEF tank will be as simple as filling your fuel tank when you're on E. Case promises that DEF will be easy to find through your local dealer. CEGR, on the other hand, will require you to change the diesel particulate filter (DPF). You already replace your oil and air filters, so just add another box to check on your regular maintenance list. Plus, some Tier 3 engines are already using this technology. No biggie.
All these changes are for the better. With Tier 4 engines, you'll see improved fuel economy and the same power and performance you've come to expect from your engines.
For more detailed info, check out Case's Tier 4 microsite at www.CaseCE.com/Tier4_NA. The site explains the technologies used to achieve compliance, their benefits and the impact they will have on you. It also provides answers to frequently asked questions about Tier 4 standards and compliance and offers links to other related online resources.
Tags:
backhoes