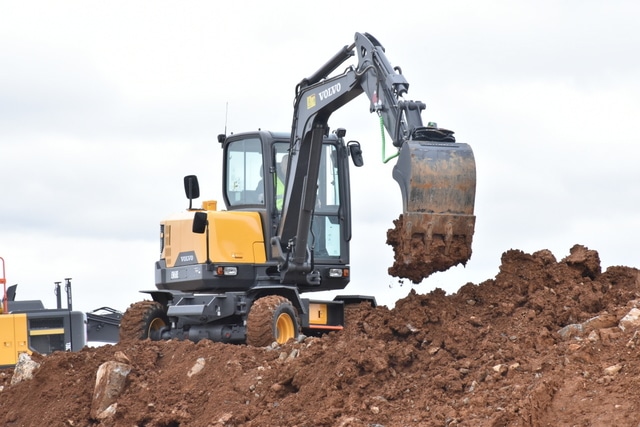 We're getting our boots muddy operating a lot of equipment this spring. As you're reading this issue, myself and other Compact Equipment editors are behind buckets and joysticks, test driving the latest additions to the machine markets. One of our big goals for 2018 was to get our staff out in the field more to operate the most interesting introductions in the off-highway equipment market and also gain valuable experience doing so. Our June print issue will be dedicated to not only running this cutting-edge machinery and giving our insights about that experience but also visiting the facilities, talking to the head honchos and vibing on the culture these iconic machine brands create.
My first stop was Volvo Construction Equipment in Shippensburg, Pa. The famous global brand was generous enough to give Compact Equipment the first opportunity of any publication to field test its new EW60E wheeled compact excavator. It was an awesome exclusive and a great chance to get behind the wheel (yes, there is a wheel) of this new equipment category coming to America (wheeled excavators are big in Europe but not here). The weather was mud and snow (see the photo above), which created the ideal environment to test this rolling digger/tool carrier in a challenging jobsite environment (and thoroughly test that heated cab).
We will have other test operation features from Kubota, John Deere, JLG and Gehl, analyzing skid steers, utility vehicles and aerial lift equipment as well as the companies behind these units. It's not just the equipment itself either. We'll also be on the road this spring visiting the industry's top engine manufacturers — brands like Perkins and Hatz — to better understand the evolving diesel industry. To ensure you get these precious print issues, sign up or renew for free at compactequip.com.
Keith Gribbins, Associate Publisher
kgribbins@benjaminmedia.com