We'd Love to Feature You — Just Like the Clementi Family Below
We want to hear more from our readers in 2017 and '18. That means you — clever contractor, successful dealer, famous equipment manufacturer and average Joes and Janes who just love the construction industries. For example: We very much appreciate the Clementi family recently dropping us a note. They love equipment. Mom Chelsea Clementi sent us all these adorable photos of her son James enjoying our trade pub and celebrating his dad's career in construction machinery. Dad Mike Clementi has been a territory manager for Synergy Equipment in Fort Myers, Fla., for the last 11 years, selling both Bobcat and Doosan brands.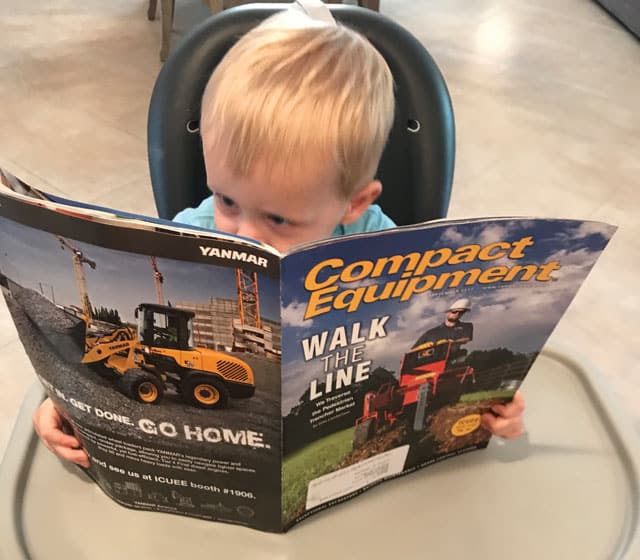 "He reads the magazine with dad when it comes in the mail," said Chelsea. "We saved the magazines for a long time and brought them on his first airplane ride to entertain him on the flight. It worked! The word Bobcat was one of his first words, and he recently started saying Doosan."
Mom is often encouraged by James to go to local jobsites to watch equipment working, and she created the foam/cardboard costume pictured above to wrap James' stroller for his first Halloween. The little guy's also a big fan of playing with dad's Bobcat and Doosan scale models, which aren't really toys. "Dad used to keep them up on a shelf, so they didn't get broken, but James loves them so much, we just gave in and let him keep them in his playroom."
We hope to get James and the Clementis involved in a story for our new kids construction magazine called Jobsite Juniors. We understand how important it is to get the next generation of construction industry professionals excited about careers in the machine operation, maintenance and dealer trades, so we're starting a bi-monthly magazine designed to teach children all about the machines and people that make up the market. Departments such as Equipment Explained, Meet the Crew, Project Spotlight and On the Go! will help make construction accessible to young readers while keeping it fun.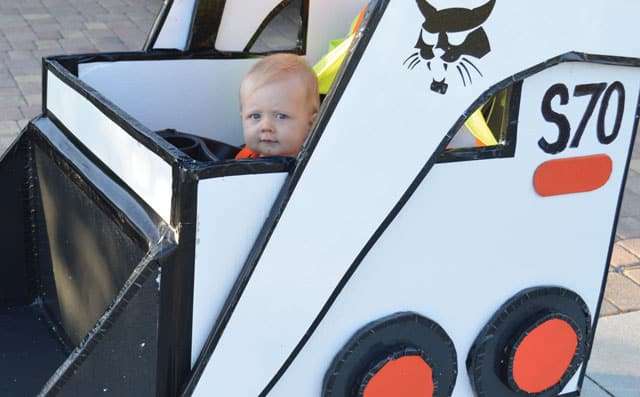 The moral of this story is: If you send us your letters, cool things will happen. Why can't we similarly spotlight your company, your crew, your company or projects in the pages of Compact Equipment or one of our many sister publications? There's only one thing you need to do: Send us a letter or email with your thoughts to kgribbins@benjaminmedia.com. Thanks to the Clementis for sharing their passion for construction equipment. It's the same spirit we embrace in the pages of Compact Equipment.
Keith Gribbins | Associate Publisher
Tags:
Bobcat
,
Doosan
,
home
,
November December 2017 Print Issue