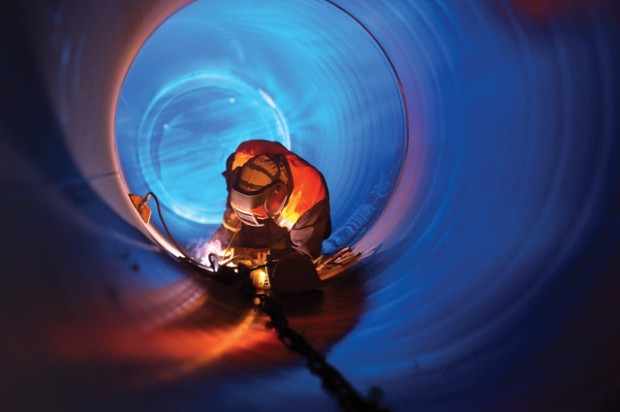 The world of construction can be broken down into many categories, continents with names like residential, nonresidential, public, oil and gas, highway and bridges, employment, material costs and beyond. Each sector  or metric has its ups and downs, but one of the most forward-looking, architecture (encapsulated in the Architecture Billings Index or ABI), is reflecting healthy and sustained demand for design services in the near future. The July ABI score was 54.7 (check it out on page 12). Along with that number, we wanted to give a quick breakdown of some key Compact Equipment-focused construction market and metric numbers in various industries.
Residential Is Steadily Improving
Led by a strong jump in single-family production, nationwide housing starts inched up 0.2 percent to a seasonally adjusted annual rate of 1.206 million units in July, according to the National Association of Home Builders. This is the highest level since October 2007.
Oil and Gas Slows Down
According to the experts at FMI, the power industry forecast has seen a sharp slowdown of negative 5 percent in 2015, a dramatic shift from the 11 percent in 2014 that brought the sector put-in-place at $100.8 billion. Growth should again turn positive in 2016.
Commercial Climbs High
Commercial construction is expected to grow at 13 percent in 2015 to $64,999 billion, then slow to 7 percent growth in 2016, according to FMI. The office construction forecast for the second quarter calls for 11 percent growth in 2015.
Affordable Material Prices
According to the Associated Builders and Contractors, year-over-year materials prices were down 3 percent in July and have been down on an annual basis for each of the past eight months. Commodity prices are softening, including production of key inputs worldwide, including oil.
Employment Is High, But Low
Construction employment in July climbed to the highest level since February 2009, but the number of unemployed workers with construction experience shrank to a 14-year low, according to the Associated General Contractors of America. The association
cautioned that a diminishing labor pool will have an impact on growth.
Keith Gribbins
Associate Publisher
Kgribbins@benjaminmedia.com