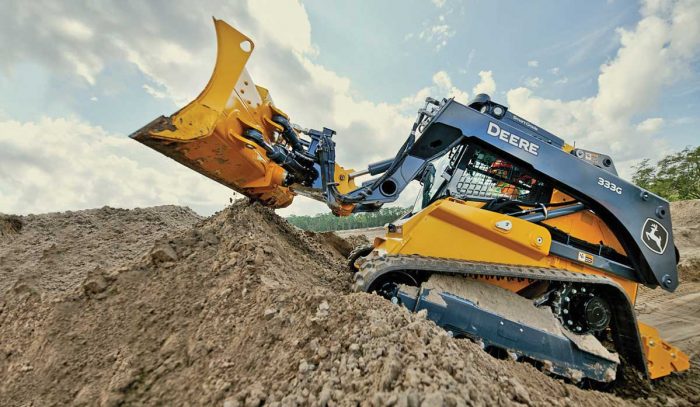 As compact track loaders continue to grow in popularity, manufacturers continue to enhance their sophistication and application focus. Case Construction Equipment boasts its DL550B — a "compact dozer loader" — leveraging the footprint of a compact track loader with the C-frame and blade of a dozer to create a powerful two-in-one machine for grading and loading applications, fitted with a six-way blade and a full complement of 2D and 3D machine control solutions. Caterpillar offers Smart Attachments for its track loaders and skid steers. Cat's Smart Dozer Blade, Grader Blade and Backhoe add significant versatility to a range of D3 Series loaders, adapting the machine's standard controls to precisely match the recognized Smart attachment and adding new functionality (like automation on the grader blade and the use of the loader's in-cab controls on the backhoe).
Up next, John Deere's SmartGrade 333G compact track loader will be on dealer lots this summer, engineered with fully integrated grade control technology. Operators will have access to DozerMode, a breakthrough control solution that enables the EH joystick control system to function like a crawler dozer with the push of a button.
"The 333G SmartGrade will expand the capabilities of customers working in applications like site development, road building and landscaping by enabling them to take on new tasks and larger jobs that require accuracy never before experienced on a compact machine," explained Luke Gribble, solutions marketing manager with John Deere Construction and Forestry, during a virtual press conference in April. "Both smaller and larger contractors will find opportunities to leverage this latest grade control technology. And what this truly means is that a fully integrated grade control feature within the structure and software of this machine allows grading tasks to get done faster and with fewer passes."
DozerMode is beneficial when operating the machine-equipped with the John Deere-designed and -built six-way dozer blade attachment that can both cut a grade and spread materials. The blade is fine-tuned to meet the performance needs of a compact track loader, accurately and automatically, cutting or finishing light materials in tight spaces with 2D or 3D grade control automation from Topcon. In conjunction with SmartGrade technology, the blade reduces the amount of operator input, ultimately lowering operator fatigue. Also, removing the blade does not require tools to change between other attachments, so yep, operators still have access to the zillion other implements made for track loaders.
It's just another example: Compact machines overall continue to improve and diversify with high technology. From telematics to AI obstacle detection to remote control, compact equipment is evolving to meet today's power and precision demands, and we'll continue to keep you updated.
Keith Gribbins, Publisher
kgribbins@benjaminmedia.com