I just tried doing a jump kick. It did not end well. Luckily, the CE team doesn't need to be great at jump kicks (though managing editor Pam Kleineke says differently) because we are awesome at creating award-winning content. Yesterday, it was announced that CE won three Azbee awards for its work in 2020. Azbees are the benchmark accolades in the B2B world, administered by the American Society of Business Publication Editors (ASBPE). Also noteworthy: CE won three awards last year and has claimed nine different awards in the last three years for our columns, special reports, outstanding print design and even our video work. Also noteworthy: It's just the beginning of award season, so we expect more to come.
Here are the three big winners for 2020 (so far) with their submittal summaries. Congrats to the entire Compact Equipment team.
COVID-19 Preparedness for Construction Pros
News Analysis
(Regional Winner, Keith Gribbins)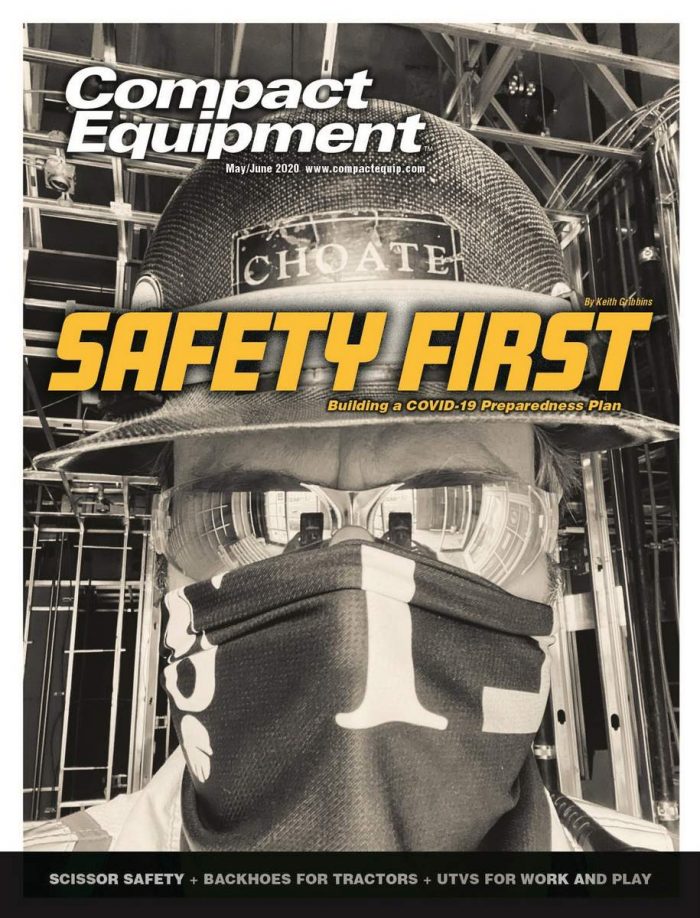 The Compact Equipment crew attended one of the last live trade shows before the pandemic shut down America — CONEXPO-CON/AGG in March 2020. The growing panic that ended that giant tradeshow of 130,000 inspired Publisher Keith Gribbins to not only dedicate his next print issue to COVID-19 safety training, but also to build a microsite that housed similar evergreen articles on pandemic protocols and safety planning. The core story of both of those projects is up for nomination here: "COVID-19 Preparedness and Protocols" in print and "Starting a COVID-19 Preparedness Plan for Your Construction Company" online (the main news feature of our microsite).
Don't let those simple, straight-forward headlines fool you. This entry is a 3,000-word deep dive into building a COVID-19 safety plan for construction jobsites and trade professionals. Working with both contractor trade orgs (like the Associated General Contractors of America) and big firms around the United States (like Atlanta's Choate Construction), this news analysis gives trade pros the tools to build a COVID-19 response plan, revamp projects for pandemic-level preparedness and deal with employees that get sick.
The main copy is insightful and emotional, and both the print and microsite story are filled with loads of sidebars on cleaning construction equipment, promoting safety awareness awards and building highly detailed lists of personal and public hygiene standards. The print edition (picture above) was teased as a cover story, using the amazing selfie taken by Dennis Lane, Choate superintendent, working on a continuing care retirement community project in Charlotte, N.C.
Room to Roam
Opening Page Spread
(National Winner, Sarah Haughawout)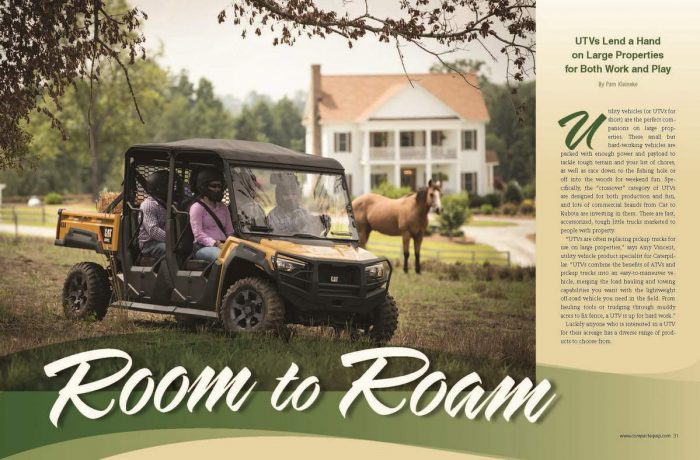 Utility vehicles (UTVs) are just one of the many machine categories we cover in Compact Equipment. The May/June 2020 feature story "Room to Roam" covered this exciting piece of equipment and how large property owners use UTVs for both work and play. Graphic designer Sarah Haughawout used an interesting headline font and complementary design elements to create an eye-catching opening spread that truly showcases the machine and nature of the article.
Machine Heads: It's Hard to Break Cat's New Smartphone
Video Tutorial
(Regional Winner, Keith Gribbins)
Keith Gribbins had zero video experience before 2020, but the pandemic kept trade journalists at home and progressive trade titles needed to find new ways to communicate with digital-first audiences quickly and economically. Grabbing an old Nikon D5100 from work, the publisher of Compact Equipment decided to experiment. He set up a studio in his basement using that camera, a Rode Videomic, tripod, two tabletop Lume Cube broadcasting lights and an old desk covered in books. The result was the curiously named Machine Heads — a video series giving in-depth tutorials for construction contractors, covering everything from off-highway equipment to worksite software and tech.
In this episode nominated, Gribbins reviews Caterpillar's S42 entry-level smartphone. What does this new, low budget smartphone offer for professionals? Watch Gribbins tool around his house with the S42, testing its durability, detailing its technology and discussing Cat's history and unique digital offerings in the smartphone sphere. The deep dive is both entertaining and educational, deftly edited for watchability and fair in its analysis. Manufacturer-supplied footage is spliced with video shot all around the Gribbins Manor. The video took a full week of production, and the episode was completely written, filmed and edited by Gribbins who, as mentioned, had no previous experience in video work before 2020.
It's a successful example of how traditional print professionals are being asked to produce new, highly complex forms of content with near zero resources.
Keith Gribbins is publisher of Compact Equipment.
Tags:
American Society of Business Publication Editors
,
Awards