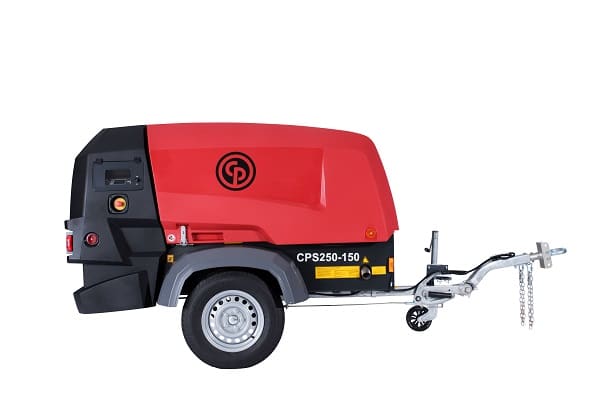 Chicago Pneumatic Power Technique  (CP) introduces the CPS 250, a single-stage, oil-injected, rotary screw portable compressor. Featuring new pressure adjusted through cognitive electronics (PACE) technology, the operator can now control the pressure of the machine.
The new intuitive XC2003 controller is coupled with PACE functionality and adjusts the pressure in increments of two PSI. The operator can also toggle between two predefined set points.
In addition to the new controller, CP increased the operating range of the compressor in the 100-150 PSI range, making the machine more versatile and user friendly.
"The increase in the operating range essentially makes this two machines in one," said Brent Sexton, product manager — portable compressors at CP. "The PACE functionality ensures the air flow matches the desired operating pressure to maximize output without compromising on fuel efficiency."
Powered by a Tier 4 Final liquid-cooled four-cylinder turbocharged Kubota diesel engine, the CPS 250 runs at 65 horsepower. The exhaust treatment system is a diesel particular filter (DPF) in diesel oxidation catalyst (DOC).
The unit's cooling system consists of an integrated side-by-side aluminium oil cooler with axial fan for optimum cooling. Designed for a higher maximum working pressure, the air and oil separator is equipped with a high pressure sealed and certified safety relief valve and automatic blow-down valve.
Portable, powerful and tough, the CPS 250 has a hard hat canopy in a sound attenuated Zincor steel enclosure. The unit comes with a spillage-free frame as standard with 110 percent fluid containment.
The machine was built with the same characteristics as the complete CP range, offering reliability, easy maintenance, user-friendly features and economical operation.
For more information on Chicago Pneumatic and its compressor lineup, visit www.cp.com.