Fellow Machine Heads, welcome back to the sixth episode of our new video series. This is Keith Gribbins, publisher and resident guinea pig at Compact Equipment, hosting this new video series curiously called Machine Heads. What's in store today? Sullair's Mid-Range Series portable compressors featuring electronic spiral valve technology. What's that exactly? Well…
The Backstory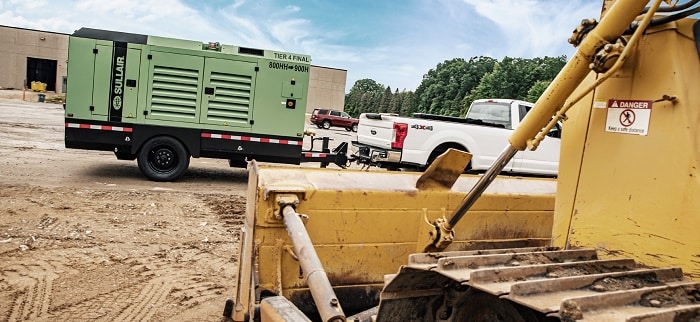 Sullair has been offering innovative air compressor solutions for more than 50 years. Let's remember that the brand was one of the first to engineer rotary screw technology into its air compressors, rotary tech being today's preferred choice for users requiring constant pressure for extended periods of time. Over the last few years, Sullair has continued to push the compressor market into new dimensions via inventive offerings — from its enhanced Sullube air compressor lubricant produced with Dow Chemical to its line of diesel-driven oil-free portables to its uber popular Sullair 185 workhorse available with a variety of engine options. Next up: Electronic spiral valve technology. Wait, what is that exactly again?
We ask Ken Cannella, director of portable sales in North America at Sullair, in the video above. Gotta watch!
The compressor experts at Sullair are introducing electronic spiral valve technology to its new Mid-Range Series portable compressors. The company has significant expertise in spiral valve tech, including 30 years in the demanding industrial market. The new Mid-Range Series includes the 800HH/900H model delivering 800 to 900 cfm at 150 to 200 psi and the 920H/1100 model delivering 920 to 1,100 cfm at 100 to 150 psi. As mentioned, spiral valve tech helps maximize fuel efficiency and extend runtimes by precisely matching air supply to demand. Operators can quickly input the exact pressure they want, anywhere between 100 or 200 psi, and the machine calibrates to give the maximum flow at that pressure. Offering both high- and low-pressure offerings and nearly infinite combos means this one compressor covers the job of nine.
The Mid-Range Series is the first portable product to offer the proven Sullair 23-Series variable capacity air end. Considering power, we've got some great engine options here. The Mid-Range Series offers two Tier 4 Final diesel power plants: a Caterpillar 7.1-liter and Perkins 1206J. The Cat 7.1-liter diesel engine replaces the previous generation's 9-liter engine, so there's also some quality downsizing going on. The 7.1-liter engine delivers the same performance but in a smaller package, providing best-in-class fuel efficiency, according to Sullair. The smaller sized engine reduces the compressor's overall weight, making towing and maneuverability easier and minimizing impacts to the environment.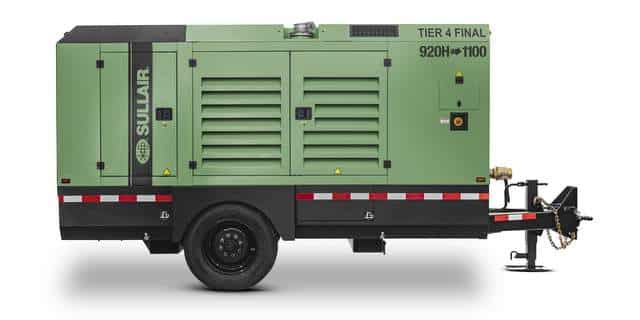 The Mid-Range Series is designed for ease of use and serviceability. Mechanics and operators will love that state-of-the-art 7-in. Sullair Touch Screen Controller allowing for easy control at the touch of a finger, even if that finger is covered in a glove. Robust push-to-close latches complement multiple service doors, providing easy access to all service components to maximize uptime and help increase worker safety. Plus, users have the option of adding Airlinx, Sullair's telematics and remote monitoring capabilities.
Of course, the Mid-Range Series is just the latest addition to the broad range of Sullair portable air compressors. Sullair offers small, medium and large portable air compressors, ranging from 185 to 1,600 cfm, with multiple engines to give customers choices. Considering that, will electronic spiral valve technology end up on smaller portable air compressors? Learn in the video above.
Keith Gribbins is publisher of Compact Equipment.
Tags:
home
,
Machine Heads
,
Sullair