There is no denying the labor shortage many in manufacturing are experiencing. Unfortunately, as economic experts agree, the shortage doesn't appear to be going away any time soon and finding quality, skilled labor will continue to be a major issue for the unforeseeable future. This dire shortage has forced some companies to get creative with staffing. One such company is Sullair, LLC, a Hitachi Group Company, based in Michigan City, Ind. which tapped into the local labor pool by investing in training for nearby high school students. Through a partnership with area high schools and the Economic Development Corporation Michigan City (EDCMC), Sullair established the first ever Compressed Air Academy to train its future workforce — and they recently hired their first graduates.
The two-year program began in 2018 and was created to give local junior and senior high school students a career path into an industry in their own backyards. Seven students enrolled the first year, but by the second school year, enrollment jumped to 45 students. And while this year's numbers are down, school instructors blame the COVID-19 pandemic and expect the program to regain traction in the coming school year. The program has not only started yielding employees, but interns and summer employment opportunities for Academy students and graduates.
"The Compressed Air Academy was a direct response to the shortage of skilled labor in our region and is a key enterprise for Sullair," said John Randall, president and CEO, Sullair. "Our hope was that the program could help ease employment shortfalls while providing our local youth with visibility to potential career paths in the industrial manufacturing segment. We are thrilled to see the initiative pay off with our first Academy graduates now a part of the Sullair team, and we are confident this is just the beginning of the program's success."
An Innovative Idea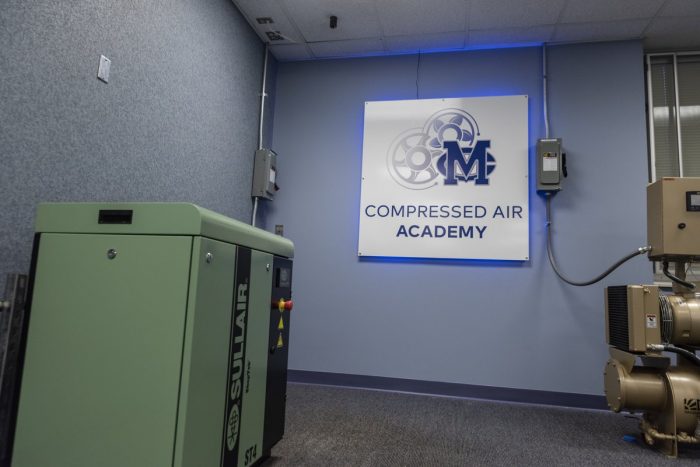 The joint effort between Sullair, Michigan City Area Schools (MCAS), EDCMC, and the LaPorte County Career and Technical Education office began when Clarence Hulse, Executive Director of EDCMC, noticed a trend among area businesses. Throughout his many discussions with leaders at local companies in the compressed air industry, like Sullair, he became aware of the need for a sustained, quality workforce. After connecting the dots, and in collaboration with the various involved agencies, the Compressed Air Academy was born.
For nearly a year, Sullair representatives sat with staff from MCAS and the LaPorte County Career and Technical Education office to design a curriculum with certification that would teach students the skills to be successful in a career in air compression manufacturing or repair and shorten the learning curve of prospective production associates. To jump start the program, Sullair donated a ShopTek compressor — part of the commercial and industrial line of air compressors manufactured by Sullair — and provided training and training materials for Michigan City School instructors on the inner workings of the compressor to then share with and educate students.
Tailored Curriculum
Unlike the broader career and technical education offered at Michigan City schools, which offers training in automotive and construction technology, welding and more, the Air Compressor Academy program was designed to provide valuable, hands-on training on the usage, operation, troubleshooting and repair of air compressors. The training even incorporates National Center for Construction Education & Research (NCCER) materials that include certificates for each level of completion. Students work with industry-grade air compressor and vacuum systems in the classroom, from the donated Sullair ShopTek, to a D-15 Industrial Electric direct drive rotary screw air compressor donated by Sullivan-Palatek, and a VMAX Oil Sealed Liquid Ring Vacuum System donated by Dekker Vacuum Technologies.
"One of the things that will come with having an actual air compressor on site is that students can actually interact with something as opposed to seeing it on a screen or hear about it second hand," says Ralph Gee III, Engineering and Technology Teacher at Michigan City High School. "They can actually get real hands on experience with something that's right in front of them."
What can we say? We love rental. So much so that we published a Digital Rental Guide covering everything you need to know when renting a machine. Check it out here!
Over the two-year certification program, students take classes in safety, precision measuring tools, pumps and drivers, basic hydraulics, installing fans and blowers and compressor and pneumatic systems, among others. Guest speakers also visit the classroom and students are allowed field trips for manufacturing facility tours, and time to attend career expos and local industry trade shows. Students who complete year one of the training are prepared for entry-level positions, while students who complete two years are not only well-prepared for an entry-level position, but also have the background and experiences to move into intermediate positions within the compressor/vacuum industry.
"The Academy gives so many students the chance to see what a bright future they have before them," explains Michigan City High School Instructor, Jeffrey Rochowiak. "Getting this kind of exposure to real-world job opportunities can start to ignite a passion and drive in students who are just beginning to figure out their future – and that is exciting to watch."
And, while the Academy is focused on the compressor industry, students learn tertiary skills to prepare them for other entry-level manufacturing positions. In 2019, the Academy moved to a newly renovated classroom with access to an adjacent flex lab. The flex lab provides space where students taking manufacturing, engineering, and compressed air courses can work and collaborate on projects. In addition to the two industrial-grade compressors and a vacuum system, the lab features a tabletop CNC system, 3D printers, computers with CAD software, and industrial robotic components.
Alternative to College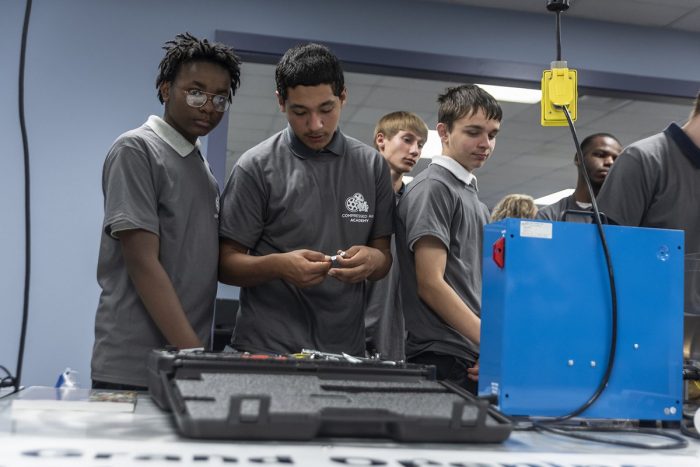 For high schoolers who don't want to go the traditional college route after high school or prefer a career that doesn't involve sitting behind a desk, the Academy provides an alternative and a path to a good paying job. With the rising cost of college tuition and crippling student loan debt plaguing many college graduates, job training offered by programs like the Compressed Air Academy help those who want a direct path to an entry-level career. And, with manufacturing, infrastructure and transportation jobs expected to rise in the coming years — the demand for these positions is real and underserved.
For those students who do want to pursue post-secondary majors in engineering and related fields, the Academy provides a strong foundation for product management and marketing positions in the industry. Options are also available for more education through local Ivy Tech Community College where students graduating from the Academy can pursue certifications in mechatronics, automation and robotics, industrial electronics or industrial mechanics, and/or an Associate of Applied Science (AAS) degree.
Local Commitment
Most importantly however, the Academy demonstrates the commitment Sullair has made to the Michigan City community. More than 2,000 individuals are employed in the compressed air industry in LaPorte County, with nearly 500 Sullair employees alone residing in the Michigan City area making Sullair one of the town's largest employers. Whether students decide to continue onto college or not, Sullair is helping build a steady pipeline of qualified labor while simultaneously serving the local Michigan City community. Giving future generations viable careers to help keep the community alive and thriving is a creative solution everyone can love.
Jennifer Ohlinger is senior communications manager with Sullair. Tags: Economic Development Corporation Michigan City, Sullair