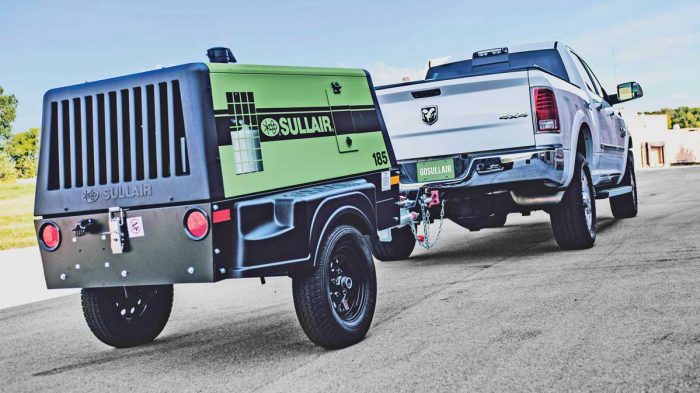 There are an impressive range of applications for towable air compressors. Units can be found winterizing irrigation systems, powering piercing tools in horizontal directional drilling, sandblasting in shipyards or employing any number of pneumatic tools (from paint sprayers to breakers). This diversity of usage keeps compressors busy on rental lots.
"Our most popular air compressors in rental are the 185-cfm or 400-cfm units," explains Clayton Jones, product marketing manager of portable air at Atlas Copco. "The most popular applications will be hand-held tools or small breakers. Other applications will be sprinkler blowouts, gunite processes or blowing shotcrete. The 185-cfm units provide 100 psi and the 400-cfm compressors can provide 100 to 150 psi. More toward the 400 cfm, some HDD is done, which is horizontal directional drilling for pulling fiber optics and cable."
We're talking about towable rotary screw air compressors in this article (as opposed to, say, piston compressors). Rotaries use two helical rotors, often call airends, to create pressure and compressed air. Towable rotary screw compressors on a rental lot can range from 90 to around 1,800 cfm. The most compact towable compressors in rental are used for processes such as shot blasting, paint spraying and general tooling, and the largest compressors are mainly used in industrial applications such as oil refineries and food processing plants. A 185-cfm at 100-psi portable air compressor is popular for compact equipment contractors because of its versatility.
"Smaller 185-cfm style, tow-behind compressors are typically used for temporary or backup air supply for a broad range of jobs," confirms Jerel Cole, senior product manager at Sullair. "This makes it ideal for renting vs. buying. My first recommendation would be to rent a reputable brand that is known for being reliable and durable."
After that, let's think about airflow rate, which is measured in cubic feet per minute (cfm), and the discharge pressure, which is measured in pounds per square inch (psi). Cfm and psi will help determine the number of tools you can operate with the air compressor and how much power the compressor can provide. Each air tool is designated a cfm and psi requirement by the manufacturer. Some power considerations include how many tools you will be running, and will they all run at the same time? Determining what tools an operator plans to use will decide whether a single- or two-tool compressor is needed. Single-tool compressors are rated around 100 cfm and the two-tool compressors around 185 cfm. Some tools will have higher pressure and air usage requirements. For instance, sandblasters may require pressure up to 140 psi and air up to 450 cfm.
Also, how far away will the compressor be from where the air is used? Know the approximate distance when renting a compressor. Pressure will be lost the further the tool is from the compressor. The diameter of the hose will also affect air pressure, as will high-altitude apps, so consult the rental center on specific distances, applications, jobsite environments and air requirements. How much will a compact rotary screw towable air compressor cost
Doosan Portable Power's Most Popular Rental Unit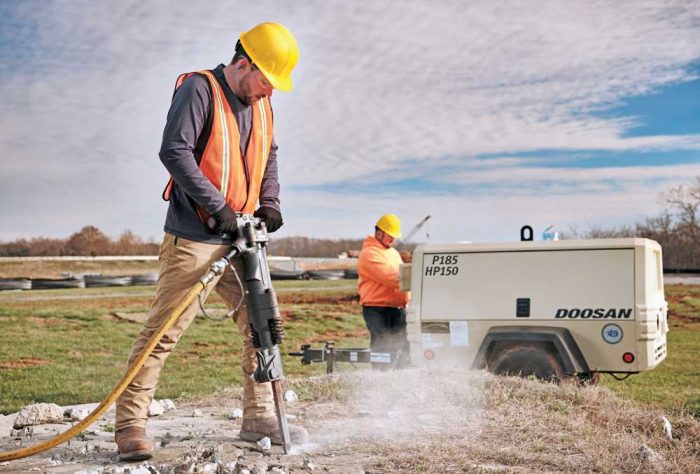 "The most popular tow-behind compressor we sell to the rental channel is our C185WDO-T4F model," says Cody Blythe, air compressor product manager with Doosan Portable Power. "This machine is our rental friendly 185 size class model and can produce 185 cfm at 100 psi. As the rental friendly model, this unit is designed to be easy to use and quick to service even if it's your first time renting an air compressor or working on one. That's what makes this model stand out in the rental space. Its simple user interface, compact size and durable construction make it the perfect machine for rental users, ensuring reliability and customer satisfaction every day."
"If you're looking at renting a 185-cfm compressor, prices will be roughly $150 a day, $350 a week or $800 a month," says Jones, "but it really depends on location and time of year."
Fuel economy is another important feature to look at, especially since manufacturers offer models with varying fuel efficiencies. Consider the control panel. The startup procedures for the air compressor are generally listed near the control panel. How easy is the compressor to start up and operate? Tough canopies and easy access to maintenance are big features for quality manufacturers. Is the unit housed in steely metal or is the canopy polyethylene? The latter is resistant to dings on jobs and low and high temperatures. This may affect weight too. A portable compressor needs to be, well, portable, so make sure the tow vehicle can handle the size and heft.
"One important thing renters need to know is that they're not off the hook for maintenance," says Cole. "Like equipment owners, renters are responsible for maintenance while using the equipment to ensure optimal machine performance. Daily maintenance should include: a safety walk-around before use; checking all oil and fluid levels in the engine and compressor and adding oil and/or fluids if necessary; checking diesel exhaust fluid as applicable; filling the fuel tank and draining any water from the fuel/water separator; checking radiator fluid; and checking the dust collectors and cleaning if necessary. Depending on the environment, renters may also need to check the coolers frequently. If operating in a dirty environment — such as media blasting and agricultural applications — coolers need to be washed and cleaned daily."
Minimum service time and simple service procedures that can be accomplished without custom tools or training are essential for a compressor rental, so look for a compressor with easy access to all parts. Considering machine health, simple operational practices can easily avoid unnecessary damage to an air compressor or employee. Follow proper startup procedures. Check the running gear. Make sure to use whip checks or air hose safety cables. Whip checks secure hoses, so that if a hose were to become detached, it would not whip around and smack your boss in the face. Let the compressor warm up before putting a full load on the engine. Check your air psi to make sure it is right for your application. Slowly open the discharge valve to pressurize the hoses and tooling. Follow proper shutdown procedures, including closing the service valves and running the compressor for around five minutes for a cool down.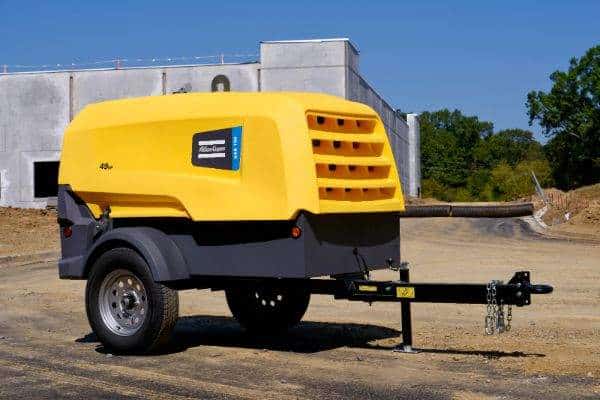 "Give the machine a visual walk-around checking both inside and out to make sure everything is where it should be and nothing like a tool for instance got left inside the package," suggests Cody Blythe, air compressor product manager with Doosan Portable Power. "This would also be a good time to check that all valves are closed on the unit before starting and that all safety items such as whip checks are in place. After loading it, adjust the pressure on the unit to your application's desired setting. It is important to do this before opening the discharge valve because the pressure setting may be set from a previous user at a higher setting that could damage your tool."
Renting an air compressor might also mean renting tools and accessories. Hoses. Breaker bars. Moil points. Drills. Grinders. Nailers. Rivet Busters. Impact wrenches. All can be rented along with an air compressor. To learn more about these subjects, surf over to compactequip.com and/or visit your local rental house.
Keith Gribbins is publisher of Compact Equipment.
Tags:
Atlas Copco
,
Doosan Portable Power
,
June 2021 Print Issue
,
Rental Center
,
Sullair