Get ready for the next powerhouse in your rental fleet. The CPS 175-100 is the newest model added to the Chicago Pneumatic air compressor lineup, upgraded and redesigned for the toughest environments. Powered with a liquid-cooled four-cylinder Kubota diesel engine, these new air compressors have the power and flow to run two 90-pound pavement breakers at the same time or multiple smaller tools. The flow rates that we list are measured according to ISO standards. (ISO 1217 ed.3 1996 annex D.)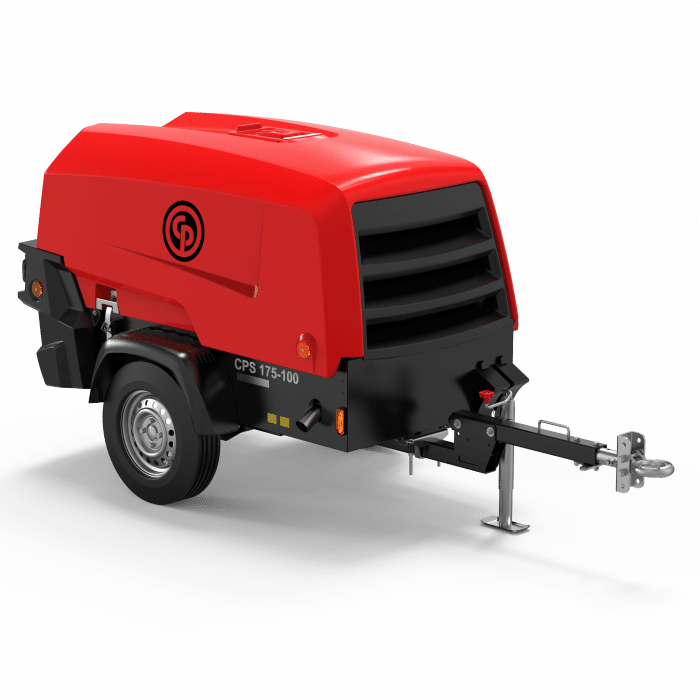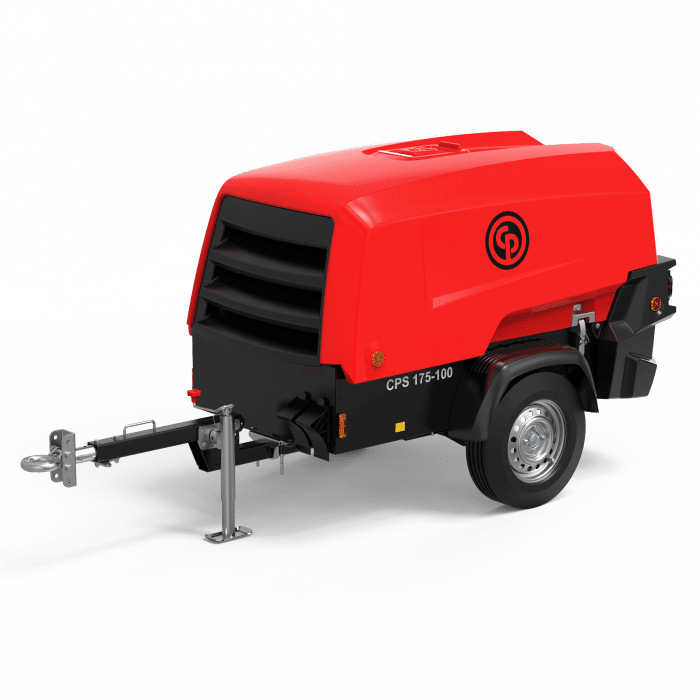 All the CP compressors are manufactured following stringent ISO 9001 regulations, and by a fully implemented Environmental Management System, fulfilling ISO 14001 requirements. The CPS 175-100 comes standard with a spillage free frame that can hold up to 110% fluid containment. Powered with a V1505, four-cylinder Kubota, T4F emission compliant engine this compressor has more than ample power to operate continuously at full load.
The new CPS 175-100 is built with the same level of fit, finish and performance as the rest of our current compressor line-up. Paired with the intuitive XC 1004 controller, this compressor is easy to operate with functionality conveniently at your fingertips.
Air pressure, RPM, fuel level, and running hours are all displayed on a 3.5" screen, as well as additional information and measurements—like engine temperatures, oil pressure and voltage—for easy diagnosis and troubleshooting. The intuitive Xc1004 controller is easy to operate and can effectively display compressor and engine measurements, alarms, operational settings, routine service requirements plus more. The controller connects to the engine ECU operating system, and displays several safety warnings, shutdowns and other various parameters. The Xc1004 controller is fully dust and waterproof, meaning it's ready for operations in most conditions.
The CPS 175-100 is a single stage, oil-injected, rotary screw type air compressors, powered by the Kubota diesel engine. With a true free air delivery of 170 CFM at 100 psi, the CPS 175-100 is the right solution for construction and industrial applications, offering the power to get the job done right in any rental fleet or construction site.
We understand the serviceability and reliability are very important to our customers. All our compressors have easy to follow service intervals with service kits available that contain all the parts needed for each level of service required. Additionally, we've recently launched a three-year and five-year extended warranty programs that includes telematic monitoring to help increase the longevity, reliability and serviceability of the compressor. Real time monitoring combined with complete service kits, and the fluids included and shipped as needed directly to the customer, the required services are performed on time. This level of care and service adds additional years of Bumper-to-Bumper warranty.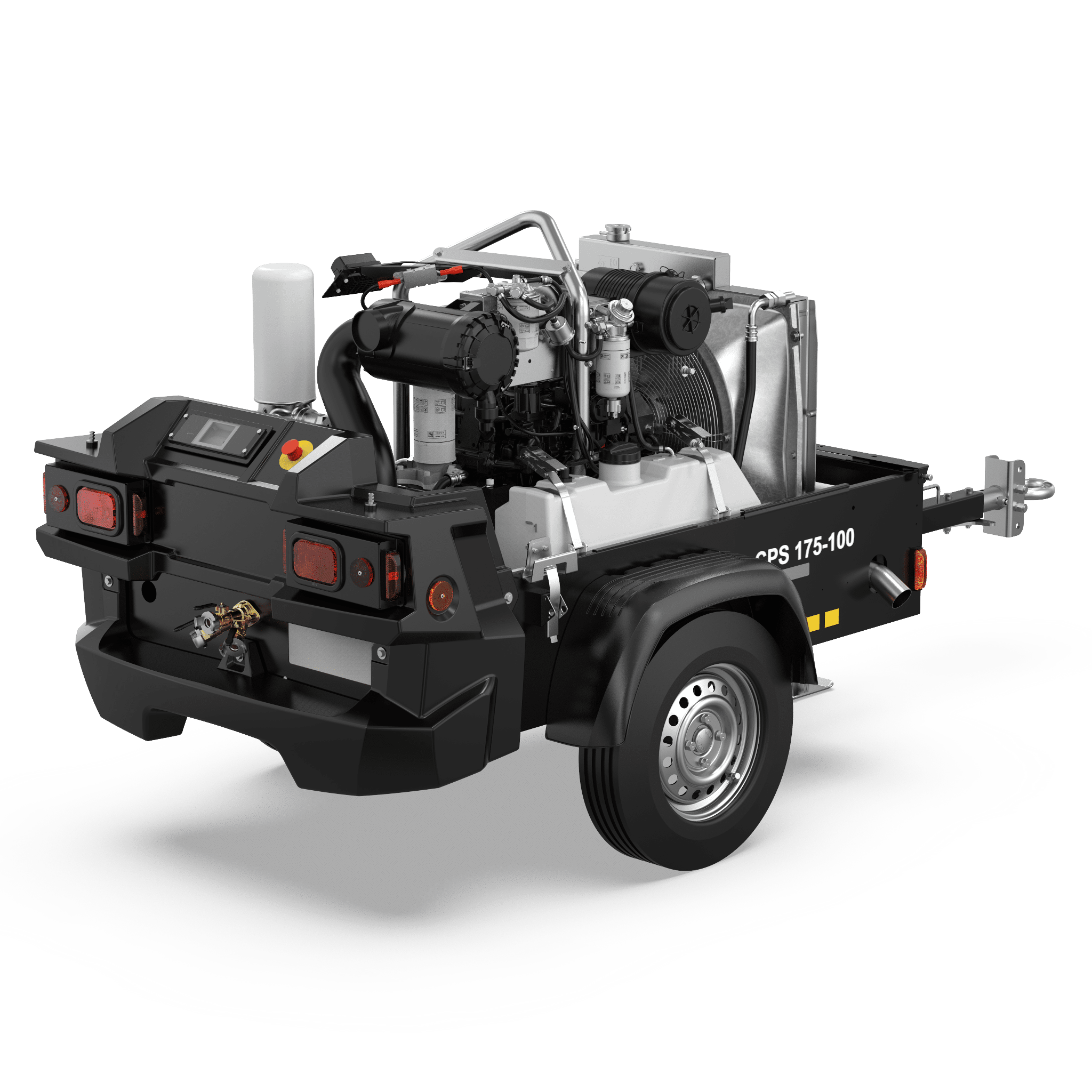 "Everything that we do starts and ends with you, our customer," said Marius Cristescu, Product Marketing Manager – Air at Chicago Pneumatic. "Before we start doing the design, we listened to our customers and then we design and build a simple, easy to use state of the art compressor that gets the job done right in any applications."
The new CPS 175-100 is built with the power to deliver the rated pressure and flow required for up to two 90lb breakers, it's the ideal compressor for general rental applications like demolition, general construction and maintenance. Its robust design with the durable sound suppressive Polyethylene hinged hood is meant for the toughest applications, like concrete blasting, telemetry, transportation systems, and abrasive blasting. Its compact design allows for easy maneuverability, saving valuable space on your job site and during transportation.
The heavy duty hinged hood opens widely to allow complete and easy access to all service points under the hood of the compressor. The engine and compressor air filters, engine fuel filters and oil filter along with the spin on compressor oil separator filter and the compressor oil filter are all easily accessed and serviced under compressor hood. You will find additional safety features under the hood including insulation, shields and protective guards to help prevent accidents from moving parts or heat.
With sustainability at the forefront of Chicago Pneumatics' philosophy, the CPS 175-100 is bringing sustainable productivity to our customers. Lower upfront cost with higher utilization increases revenue. This lower total cost of ownership improves the return on investment (ROI), with the higher resale value.
Decades of expertise in design and manufacturing of our own compressor elements offer's the Chicago Pneumatic CPS 175-100 with a lower capital investment—offering more features as standard, like the 110% fluid containment. Its vigorous design also lowers total capital investment through low operational cost and less than one-hour service time with no special tool required.
For more info, visit Chicago Pneumatic at the ARA Show, Booth #3401, or visit cp.com.