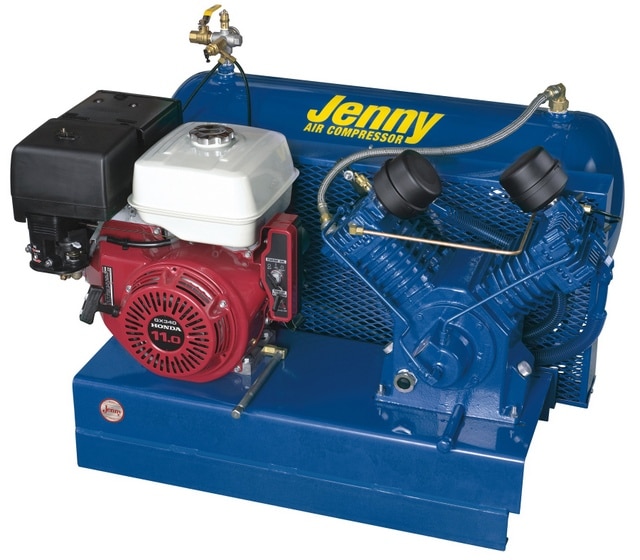 Jenny Products Inc. has four models of skid-mounted air compressors, which are offered with single- and two-stage pumps. All models are powered by Honda GX-series engines and come with 30-gallon, ASME-certified air tanks.
The product line includes two single-stage compressors, which provide 16.4 to 21.3 CFM at 100 PSI, or 16 to 20.9 CFM at 125 PSI. The two other two-stage models provide 21 to 41 CFM at 100 PSI, or 17.6 to 34.7 PSI at 175 PSI.
For long-lasting performance, all models are built with heavy-duty cast-iron compressor pumps. They also contain large flywheels and directional air shrouds for enhanced pump cooling. Furthermore, Jenny's professional-duty "Ultimate Blue" synthetic pump oil protects their pistons, crankshafts, bearings, rings and cylinders through a splash lubrication system.
Additional items have been built into the compressors to prevent damage from harsh jobsite conditions. These include protectively mounted fittings and heavy-duty, totally enclosed belt guards. Other standard features include pressure relief safety valves, large canister intake filters with replaceable filter elements, manual tank drains, special unloading valves, stainless steel braided discharge hoses, constant run control, pneumatic throttle idle control, and tank, regulator and outlet pressure gauges. Two-stage compressors are also equipped with a finned intercooler and centrifugal unloader.
Options include an oil sight glass, air line filter and lubricator. Other engine and pressure configurations can be customized upon request.
For more info on Jenny Products, click this link. Really, what else are you doing?
Tags:
Honda
,
Jenny Products