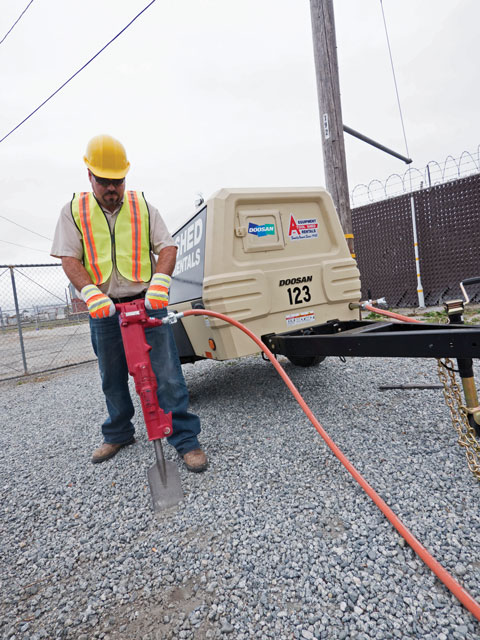 Exploration is the engine that drives innovation, so let's go exploring. Let's search through a year's worth of creative ideas in the off-highway equipment industry and see if we can benchmark the innovative exploration of the American machine market. Over the last 12 months, global manufacturers from Caterpillar to Kubota have released compact machines that have set new standards for power, versatility, efficiency and design. Our editors have traveled across the globe to meet these manufacturers, operate their new products and give detailed reports and opinions both in print and on our website (compactequip.com). We sifted through the hundreds of models and brands released in 2015 and picked 19 units that set the bar for innovation. With this article, we salute those companies (from Komatsu to Case) that have changed the commercial equipment market over the last year with their unique, interesting and innovative machines, engines and technologies.
New Engine, Better Air Power
Doosan Portable Power Reconfigures Its Popular P185
In 2015, Doosan Portable Power reached new levels of quality, competitiveness and efficiency. Here's a big example: Doosan just started making its air compressor airends in house (mostly for its bigger compressors, but small ones eventually). Here's another: Doosan Portable Power is also starting to equip its machines with Doosan engines, beginning with the P185 air compressor. The new P185WDO air compressor is powered by a Tier 4 Final-compliant Doosan D24 engine with a diesel oxidation catalyst (DOC) aftertreatment system, which is virtually maintenance-free. The high-performance engine provides the P185 with reliable power and improved cold starting capability, while delivering a 7 percent increase in fuel efficiency compared to previous models. Proving that power doesn't have to mean loud, the P185 offers one of the industry's lowest sound levels at 74 dBA. With the Doosan D24 engine at the helm, the P185WDO delivers 10 hours of runtime at 100 percent load and 500-hour service intervals. The P185 is the most widely used model in the Doosan Portable Power air compressor lineup. With 100 psi at 185 cfm, the P185 meets the needs of a variety of applications, from powering handheld air tools and sandblasting to sprinkler line blow-out and pipeline testing.
To see the rest of Compact Equipment's Innovative Iron Awards, click this link.