In the world of construction, it's amazing what a little air can do. Thanks to portable air compressors, contractors can perform a plethora of tasks — from clearing underground lines to powering a variety of tools. The possibilities are many, and selecting the right unit for your operations is a must. Here are a selection of the most popular portable units on the market.
Chicago Pneumatic Power Technique 185 KD
The CPS 185 KD T4F portable diesel compressor can be utilized for a range of general construction applications. The unit is powerful and efficient but also provides the operator with a list of diagnostics and protective shutdowns. This is all done through an intuitive controller that takes the guesswork out of the operation. Equipped with a water-cooled, 49-hp, four-cylinder T4F Kubota engine, the 185-cfm compressor delivers a versatile solution for the construction market by hosting a multitude of pneumatic construction tools on the jobsite. With a normal working pressure of 100 psi, the compressor offers a maximum unloading pressure of 125 psi and features a 20-gal fuel tank. For more info, visit cp.com.
Doosan Portable Power P185
The new P185 features increased runtime and a proprietary Doosan airend along with a Doosan Tier 4 Final D24 engine. Together, they deliver 185 cfm of air at a rated operating pressure of 100 psi. With a 34.5-gal fuel tank, the P185 runs 12 hours at 100 percent load, an increase of two hours from the previous P185 model and other 185-cfm air compressors. For storage, the P185 has the longest, deepest toolbox in the industry. The P185 compact footprint provides for easy towing and maneuverability, and the galvanneal-steel enclosure withstands harsh jobsite conditions and resists rust and corrosion. For more info, visit doosanportablepower.com.
Kaeser Compressors M58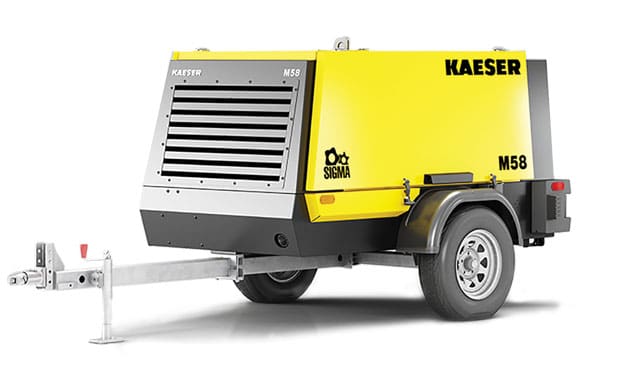 Kaeser Compressors' M58 portable Mobilair compressor delivers 210 cfm at 100 psig and is ideal for rental houses, construction, demolition, sandblasting, repair trucks and other demanding applications. The rugged M58 has a powder-coated, fully weatherproofed steel cabinet built for harsh conditions. The eye-level, curbside instrument panel features the user-friendly Sigma Control Smart electronic controller with protective metal cover. The large 28-gal fuel tank provides extended operation — up to 10 full hours. The Tier 4 Final Kubota diesel engine direct coupled to the energy-saving Sigma Profile airend produces more air with less horsepower. The wide-opening gull wing doors allow quick access for easy servicing. For more info, visit us.kaeser.com/mobilair.
Atlas Copco XATS 250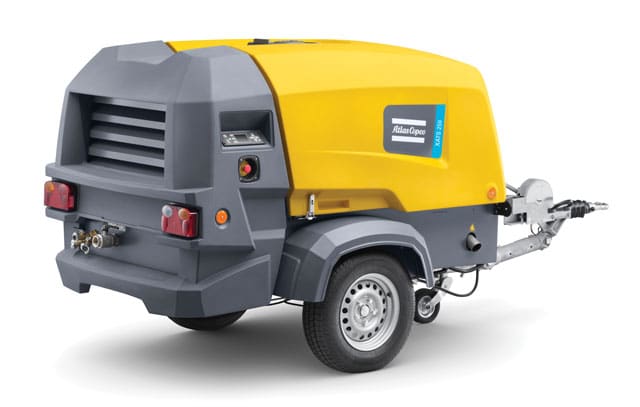 The XATS 250 portable compressor gives the operator the added flexibility to provide more pressure and flow. Featuring pressure adjusted through cognitive electronics (PACE) technology, the operator can control the pressure of the machine. This technology enables multiple pressure and flow settings, ensuring the operator matches air flow and pressure to application needs. The intuitive XC2003 controller is coupled with PACE functionality and adjusts the pressure in increments of 1 psi. The compressor can be set as low as 58 psi to 100, 112, 124, 138 and 150 psi, making the machine versatile and user friendly. The XATS 250's HardHat canopy protects all internal components, keeping the machine as good as new. For more info, visit atlascopco.us.
Allmand Maxi-Air 185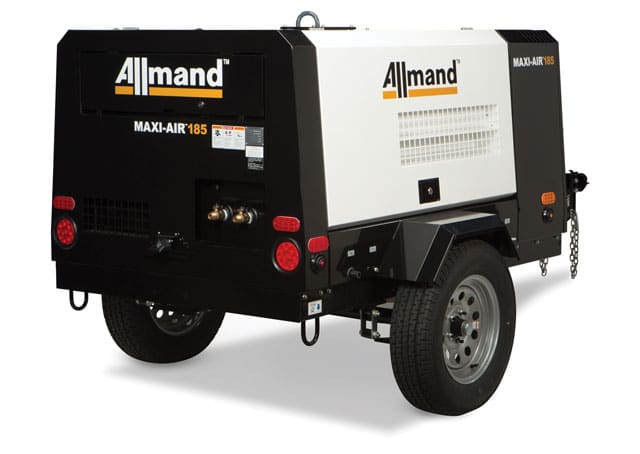 Whatever the project or jobsite condition may be, the Maxi-Air 185 portable air compressor will maximize your productivity. Its heavy-duty, over-sized rotary screw airend runs at lower rpm for longer life and fuel efficiency. Easy to use and easy to start, the Maxi-Air 185 delivers powerful airflow in all climate conditions and is popular among users for its versatility on the job. Equipped with an electric fuel primer and air-bleed (EFPA) pump, curbside fluid maintenance, a large capacity fuel tank and GPS, it's the worry-free way to keep jobsites working. Learn more about the Maxi-Air line of portable compressors at allmand.com.
Sullair 185
Sullair has expanded its 185 Tier 4 Final portable compressor lineup to include a machine powered by a Caterpillar C2.2 four-cylinder engine. The Cat engine, rated at 49 hp and Tier 4 Final emissions compliant, is turbocharged for easy start and reliable operation of the machine in both cold weather and high altitudes. The Caterpillar engine does not include a diesel particulate filter (DPF), hence no regeneration needed, allowing customers to continue working without downtime and requiring less training for end-users to manage a Tier 4 Final-related aftertreatment system. The compressor also offers improved fuel efficiency with a 27-gal fuel tank for up to 10 hours of use. For more info, visit sullair.com.
APT 110
The APT 110 powers two breakers with effortless ease. The compressor is designed for maximum performance and efficiency. The compressor is easy to transport, durable and maintenance is accessible. The unit is lightweight and easy to transport. The canopy is made from extra tough polyethylene, protecting the working parts and ensuring the compressor looks and performs to its maximum, day in and day out. It is trailer-mounted with road lights as standard. The APT 110 features a ultra-efficient oil-injected airend, and all air outlets are at the rear of the machine for ease of use. The extremely reliable Kubota diesel engine meets Tier 4 Final emissions standards without requiring exhaust aftertreatment components or filters. For more info, visit apt-tools.com.
Learn even more about compressors by clicking this clickable link.