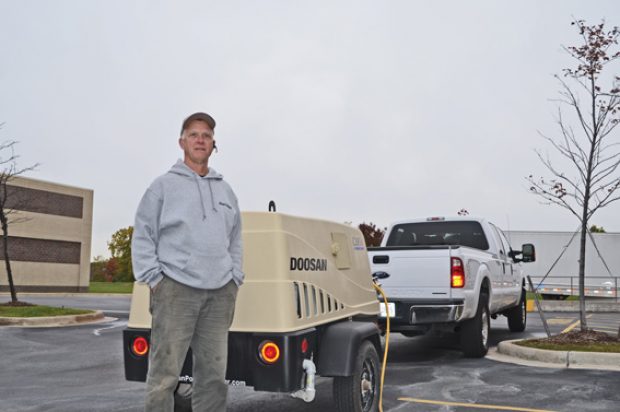 Michigan winters can be fierce. I was there in October, and it was already freezing, but the cold didn't seem to affect John Lindeman much. As owner of South Lyon, Mich.-based Aquaman Irrigation, Lindeman has been working on irrigation systems for 32 years. He has a three-person crew that winterizes more than 900 residential and commercial irrigation systems in the fall, from Detroit to Grand Rapids. Some of those systems have more than 70 zones, which can take more than four hours to winterize. This requires Lindeman to constantly be moving. He roams grounds, stomps on sprinkler heads (to clear them), routes hoses and flips on his Doosan Portable Power air compressor.
All of this must keep Lindeman warm because I'm freezing, and he's only wearing a hoodie and no gloves, walking around like it's a brisk spring day (it's below 40 and rainy).
"What's really funny is there are guys out there that charge less per hour, but they don't move very quickly," laughs Lindeman. His phone goes off. In fact, it rings constantly. A Bluetooth is hotwired to his ear, and that's also probably keeping him warm. "I shouldn't have brought my phone. Hello? How about … Are you going to be home over the weekend? Okay, I'll get you over the weekend. I've got another one right by you. They just called too. Thank you very much. Sorry, I've got to write that down before I forget after talking to you guys."
Yep, Aquaman Irrigation is working the weekend and all seven days of the week during winterization season. His tool of choice to conquer those long weeks: a Doosan Portable Power C185 gasoline air compressor producing 185 cfm at 100 psi, which he uses to blow the water out of sprinkler systems (so they don't freeze, like me). In fact, he won this very compressor in an auction — an auction Compact Equipment and parent compact Benjamin Media Inc. co-hosted at ICUEE last year (the largest trade show dedicated to utility construction).
Doosan Portable Power was a proud participant in the first-ever benefit auction at the International Construction and Utility Equipment Exposition in October 2015. The C185G received the highest bid amount of all the items at the auction. In total, the auction raised $29,575 for the Call of Duty Endowment, an organization that helps connect military veterans with job opportunities — including employment in the construction and utility sectors.
"I'm using this exclusively," says Lindeman of the Doosan unit. "My brother-in-law is using the Smith, my son is using the Sullair and the Ingersoll Rand [Doosan's old nameplate] is in the truck sitting in the garage. Actually, I should probably sell it. I keep a lot of stuff. Just ask my wife."
Aquaman Irrigation typically starts winterizing systems around Oct. 1, although this year it started earlier. The company also spends eight months of the year installing irrigation systems, relying heavily on a Ditch Witch vibratory plow. The company also plows snow in the winter, but that seems to be something Lindeman is pulling away from.
"It's nothing like what I used to do," he says. "I used to have three trucks doing 12 hours per truck. Now, I only have two trucks do snow, and I'm done at four and a half hours because I just don't want to do it anymore."
In contrast, his irrigation business doesn't seem to be slowing down. It's a lot of word of mouth, he notes, and you can see why: He's an affable, hard-working guy. He talks as he runs around a big commercial property with more than 20 zones. He quickly hooks up his Doosan C185G to that metal backflow prevention device, which can be housed outside and sometimes inside a home or building. The compressor is attached to the mainline via a quick coupler, hose bib or other type of connection. He shuts off the irrigation water supply and, with the compressor valve in the closed position, attaches the air compressor hose to the fitting. Then he finds the correct station on his Hunter controller (which looks like a big walkie talkie), activating the zones or sprinklers highest in elevation and the furthest from the compressor. He then closes the backflow isolation valves and slowly opens the valve on the compressor.
"We're blowing air through the lines at a very large volume, but it's not pressure that blows it out," explains Lindeman. "It's the CFMs that do it [cubic feet per minute]. It's not the pressure; it's the volume of air — especially on a lengthy run."
The blow out pressure should remain below the maximum operating pressure specification of the lowest pressure-rated component on that zone and should never exceed 80 psi. Each zone should be activated until no water can be seen exiting the heads; this should take approximately two minutes or more per zone. Sometimes, Lindeman needs to step on the sprinkler heads to get the excess water out.
"Step on that!" he yells at me, pointing to the sprinkler head at my feet. "Because we know the air's coming in the bottom, everything should escape, but if something is buried low, like that one up against the wall over there, what's going to happen? Well, the air's going to go in the side and go straight up and all that water that's in the bottom is going to stay there. Then they'll freeze, and they're $17 a piece, so if I bust 10 of those it'll be $170. That's $210 for the blowout, so I'm working for free."
Lindeman seems to have it down to a science. Since 1984, he's been installing and maintaining irrigation systems in southern Michigan. In the fall, he turns to pressurized air to protect the systems he's maintained and even built against freezing, cracking and other damage that can occur. After all those years, what's still his biggest challenge?
"Paperwork," he laughs, but that's not stopping him. "What's funny is people say, 'When are you going to retire?' Well, I probably won't retire, but I'll get real selective in where I go and how far I'll go. Right now, I go way too far. We go to Saline, which is past where you guys are. I go to Flint. Actually, next week I'm going to go to Grand Rapids. There's four apartment buildings, but they'll be great money to blow them out. How do you turn it down?"
You don't. Equipped with his compressor, truck, phone and customers-first attitude, Aquaman Irrigation and Lindeman aren't slowing down — no matter the temperature or locale — which is probably the reason his services are in demand all over Michigan.