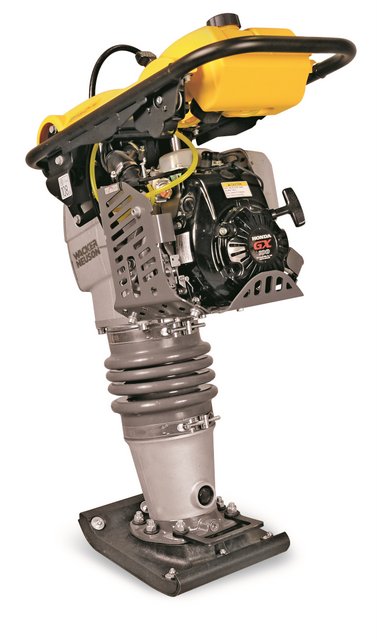 Wacker Neuson has expanded its popular vibratory rammer line to include two models powered by a four-cycle Honda engine. The BS 50-4As and BS 60-4As are equipped with a 3.2-hp GX 100 Honda engine. The new BS 50-4As and BS 60-4As offer a unique low oil shutoff technology that protects the engine. When starting the unit, a sensor will detect if machine has no oil or low oil and does not allow the engine to start. Additionally, starting the engine is easy due to a purge bulb that evacuates air from the fuel line. A compensated carburetor maintains optimum air-fuel ratio for up to three times longer air filter change intervals.
Wacker Neuson offers the most complete line of vibratory rammers in the industry. Dealers and contractors can conveniently choose the engine type to best fit their business preference. The new Honda powered models join the Wacker Neuson powered 4-cycle rammers as well as the industry's most popular rammers, the two-cycle, oil injection models. Also available are the premix two-cycle and diesel model to complete the broadest rammer line in the industry.
Wacker Neuson has set the standard for the industry with rammers designed for excellent productivity, durability and sustainability. All Wacker Neuson rammers are designed for the best compaction performance offering long shoe stroke and more blows per minute as well as exceeding all environmental emissions regulations.
Wacker Neuson's newest technological enhancement to all its rammers includes a unique four-stage air filtration system. This system includes a main element with 20 percent more capacity than the previous design and still uses the rammer's motion to self-clean, an improved cyclonic pre-filter designed for more efficient dirt removal and a fourth stage "last chance" filter that prevents dust ingestion during filter changes. Dust is an inherent enemy of engines, so this new filtration system will provide for a virtually dust free engine for longer life and improved durability.
Wacker Neuson rammers have been shaking up the industry for over 80 years. During this time, Wacker Neuson engineers have continued to make improvements that keep Wacker Neuson's signature product the best-selling rammers in the world.
Tags:
Compaction
,
Engines
,
Honda
,
Rammers
,
Wacker Neuson