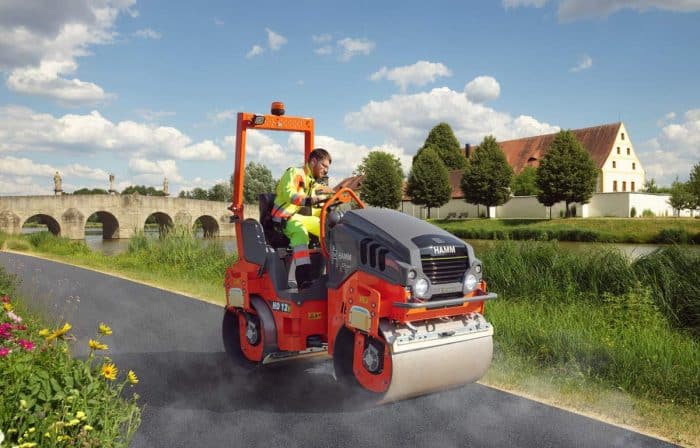 At the start of 2023, Hamm expanded its range of compact rollers to include eight fully electric models that compact without producing any local emissions. This means that Hamm offers more than 40 compact tandem rollers in the HD CompactLine as all-rounders for asphalt and landscape gardening. For earthworks, the new HC CompactLine series has included five powerful, small compactors in the range since 2022. Both series are predestined for machine rental because they are so versatile and easy to handle.
Electric Rollers in Demand for Rental Fleets
The CompactLine rollers from Hamm have been a firmly established part of the product range of many rental companies for years. Well-known in the market, popular with customers, and robust in operation, they have everything that the rental market needs. This also applies to the new electric models. Since the electric rollers were first presented at Bauma 2022, Hamm has experienced huge demand for these machines, especially from the rental sector. Currently, rental fleets support many construction companies working on specific projects that require machines that do not release local emissions. Alongside this, the share of electrically driven compact rollers will also continue to grow, partly due to legal requirements and partly to the commitments made voluntarily by builders and construction companies.
Compact Proportions, Good Handling, Great Gradeability
Not just the electric models, but all the other tandem rollers and compactors in the CompactLine have a very compact design. Its 3-point articulation ensures good handling. It delivers quality and safety by ensuring high driving stability and even weight distribution on both axles. In asphalt construction, this results in level surfaces without undulation formation, and a high level of safety against overturning when cornering. The main advantages for earthworks are the directional stability and effective shock absorption. This enables the compactors to compact safely on uneven terrain. Off-road, these small compactors also impress with their high ground clearance and gradeability – they can handle gradients of 60% and more. With a length of around 4.40 m, the H 70i is also the shortest compactor in the world in this weight class.
Compact track loaders are the most popular category of compact equipment in America. Learn why with loads of track loader features right here.
Easy to Use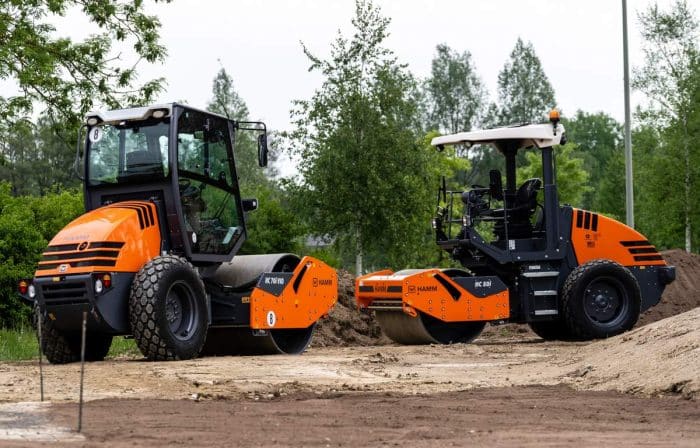 Drivers can immediately operate compact rollers from Hamm correctly without any need for an induction. It is particularly important to have a clear view and easy access to the few buttons on the dashboard, which is very similar in design for the tandem rollers and the compactors. Clear, language-neutral and logically arranged symbols prevent operator errors – even in the dark, because there are luminous buttons to help with orientation.
The ergonomically optimized workstations ensure good visibility, and drivers can adjust the seat to their height and weight very easily.
Diverse Models and Compaction Technologies
Hamm offers a wide range of models in the HD CompactLine series. There are tandem rollers with vibrating roller drums or oscillation drums (VV and VO respectively), combination rollers (VT) and a pneumatic-tire roller (TT). The operating weights of the HD 8 – HD 14(i) range from 1.5 to 4.5 t. They cover drum widths from 800 to 1400 mm. The fully electric rollers from Hamm can be recognized by the "e" in the model designation. The HD 10e (drum width: 1000 mm) weighs 2.5 t, whereas the HD 12e (drum width: 1200 m) brings 2.7 t to the construction site. The HD 10e and HD 12e electric models are available with two vibrating roller drums (VV), with one vibrating roller drum and one oscillation drum (VO) and as a combination roller with vibration (VT) or oscillation (OT). In the small compactor segment, Hamm offers models with smooth or padfoot drums as well as two-piece padfoot shells. The HC 70i is also available with a VIO drum. It can compact with either vibration or oscillation, which allows it to cover an enormous range of applications.
Special Rental Options
The numerous options for the HD CompactLine include several that are especially well-suited to rental. These include drum edge lighting, a ROPS cab, and chip spreaders for the larger models. For the compactors, for example, LED lighting and a telematics interface to the John Deere Operations Center are available for efficient fleet and service management.
Economical Engine Technology
The 30-plus tandem rollers in the HD CompactLine series with combustion engines operate with fuel-efficient power units from Kubota complying with Tier 3 (UN ECE R96) or EPA Tier 4/EU Stage V. The compactors in the HC CompactLine meet the requirements of EPA Tier 4/EU Stage V with their 55.4 kW engines. All compact rollers can be operated either with diesel or with HVO fuel. In addition, there is an automatic engine stop for the tandem rollers and compactors. This switches off the engine automatically if the machine is at a standstill for an extended period of time, thereby saving fuel. This reduces the number of operating hours, cuts wear and tear on the power units, and increases the resale value. Another plus point of the compact machines from Hamm is the thoughtfully designed maintenance concept. The few maintenance points are easily accessible, and all points for daily maintenance are conveniently located on one side of the engine.
Electric Rollers with Enough Power for the Day's Work
The eight electric rollers have a Li-ion battery with a capacity of 23 kWh, which provides the power for the travel, steering and vibration or oscillation drives via a 48-V system. Staff do not require any specialist training or qualifications to operate it. They are charged via a rapid-charge plug (400 V, CEE) or a plug with an earthed adapter (230 V). It takes about 4 hours to charge from 0% to 100% with the rapid-charge plug.
We'd love to keep in touch! Check us out on Facebook, Twitter and LinkedIn!