Turning sand, stone and gravel into something that can keep its form while withstanding the weight of a 2-ton structure or vehicle sounds like some Jedi mastery at work. Fortunately, thanks to vibratory plate compactors, contractors can achieve these results with no special mastery training required. But not all plate compactors are the same. To ensure productivity, efficiency and high-quality results are achieved, sharpen your plate compactor knowledge, you must.
How It Works
Plate compactors work on the same principles as their larger drum-roller counterparts. Two key criteria impact how deep a machine can compact — centrifugal force and frequency — which work together to produce a consistent compaction force. Centrifugal force is what gives plate compactors their power. It is created when the weights in the eccentric housing within the plate compactor rotate to enhance the amount of force being transferred through the plate to the material.
Frequency simply refers to the rate at which the plate compactors' weights rotate, which is measured in vibrations per minute (VPM). One might think the higher the frequency, the greater the compaction force, but the opposite is true. Lower frequency models are ideal for compacting medium to thick layers of materials, while the higher frequency models excel at compacting thin layers. Understanding how plate compactors work is just one layer of the selection process. To ensure the right model for the job, take a deeper look into the size of the project and the material being compacted.
The Right Impact
There are two types of plate compactors: forward and reversible. Forward plate compactors operate in the forward direction and excel at compacting granular soils, such as sand or gravel, within the 8- to 12-in. range. These units typically are small and light, roughly 100 to 300 lbs, so they are easy to maneuver next to obstacles and around tight jobsites. Forward plate compactors deliver centrifugal forces as high as 4,500 ft-lbs and frequencies around 5,700 vpm, allowing them to compact thinner layers of materials while minimizing the risk of over-compacting, which can affect the material integrity. Forward plate compactors work at a rate ranging from 1,000 to 3,200 cu ft per hour, so they are good for smaller repair and maintenance jobs on pathways and driveways.
Some forward plate compactors are also designed with water systems and tanks for compacting asphalt in addition to soil. This system provides water to the plate during operation, which minimizes the risk of asphalt sticking to the plate and helps produce a high-quality mat.
When working with medium to deep layers of granular materials around 16 to 32 in. thick, models that operate between 3,000 and 4,000 vpm are ideal. These units typically offer high centrifugal forces — some as much as 21,000 ft-lbs. Those characteristics are extremely effective at reaching deep into the soil for fast and efficient compaction. These types of plate compactors are often reversible models, meaning they operate in both the forward and reverse directions. The reverse capability also means operators can maneuver into tight areas and near obstacles and then back out rather than move around. They work at a rate of 1,600 to 4,600 cu ft per hour, so they are great for medium-sized projects such as driveways.
Reversible plate compactors are also ideal for compacting cobblestones. Like all plate compactors, they are a versatile alternative to drum rollers, allowing contractors to work in remote spaces thanks to their relatively compact size and easy maneuverability. They also cost less to purchase, making them a more economical alternative.
It's in the Details
In addition to considering applications and the types of material being compacted, take into account specific plate compactor features that can help ensure the chosen model will enhance efficiency, ease of use and productivity.
Plate compactors, by their very nature, operate on the principles of vibration. Those vibrations, when transmitted to the operator, can have a profound effect on the individual and, over time, cause fatigue. To prevent this, look for units that are equipped with vibration-dampening handles. This feature is available on many new models and allows operators to work more comfortably and for longer periods of time without fatiguing. Some models, particularly the heavy-duty units, eliminate this risk of operator fatigue with Bluetooth remote controls. The remote allows the operator to control the compactor as far as 100 ft away, which also enhances safety by minimizing the risk of injury from land slips.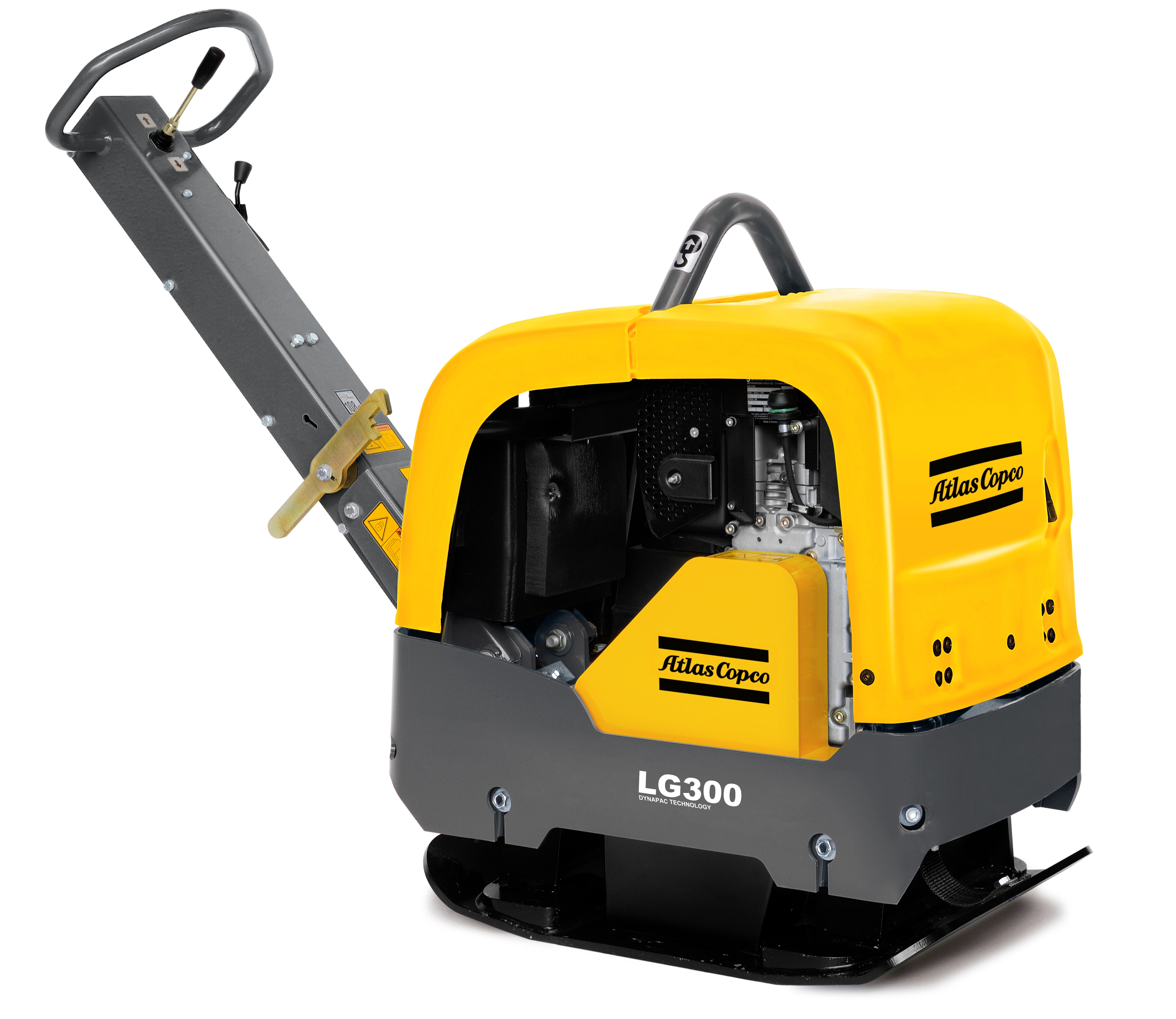 In addition to minimizing vibrations, manufacturers design handles for ease of use. For example, the Atlas Copco LG300 forward/reversible plate compactor features a fixed handle grip for easy adjusting; it can be raised for maneuvering around sharp corners. Some forward plate compactors, such as the LF60, also have fold-down handles for easy transportation and storage.
The overall design of plate compactors offers easy maneuverability, too. They are lighter than drum rollers and their small plate sizes, 13 to 26 in., make them simple to handle around obstacles, close to buildings and in confined areas. Another feature that some manufacturers offer for greater ease of use and efficiency is a compaction indicator. This tool gives operators real-time compaction results, allowing them to stop when the desired stiffness is reached. This eliminates the risk of over- and under-compacting materials, which can be costly and time consuming to correct.
Maintenance
Maintenance should also play a big part in the plate compactor selection process. Some units are designed to minimize maintenance and include features that enhance uptime. When looking for forward plate compactors to use on asphalt, choose a model with an integrated water distribution system that doesn't require piping. Tubeless water systems are ideal as they effectively provide even plate coverage to deliver a high-quality, virtually flawless mat since it prevents asphalt from collecting on the plate. Some plates also feature rounded edges, which make it easier for the operator to turn when compacting near tight corners or near obstacles without leaving a mark.
In addition, look for units that don't require eccentric housing maintenance. For example, Atlas Copco's range of forward plate compactors feature lifetime sealed bearings within the units' eccentric housings. These types of bearings never require oil or greasing, saving time and eliminating the hassle associated with oil checks and changes. Reversible plate compactors' eccentric housings, on the other hand, do require regular oil checks, but maintenance can still be minimized. Look for models that offer fast and easy access to the housing and always follow manufacturers' guidelines for proper maintenance intervals. Keep in mind large air filters can lengthen service intervals and flip-open canopies that provide full access to components can also minimize downtime.
Whether it's asphalt, gravel or silt that needs compaction, gaining a deeper understanding of plate compactors will ensure a choice that can go the distance, from ease of use to increased productivity — no Jedi mastery required.
Darrell Engle is the concrete and light compaction product manager for Atlas Copco Construction Equipment.
Tags:
April 2017 Print Issue
,
Atlas Copco
,
home
,
Plate Compactors