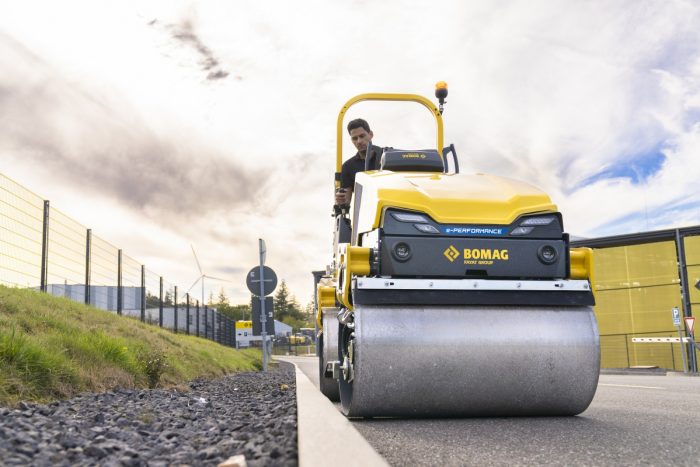 CONEXPO cometh. We're talking about the biggest tradeshow in America by physical size. It only happens every three years, and it's all centered around construction equipment. CONEXPO-CON/AGG will happen again March 14-18, 2023, in Las Vegas. We'll be there. So will everyone else. Follow our coverage right here. Here comes more important CONEXPO news…
In its largest show effort yet, BOMAG, together with the Fayat Group, will tell the story of "Building Better Roads" through the combination of sustainable machine design, equipment innovation and advanced technologies at CONEXPO-CON/AGG 2023. Boasting one of the industry's broadest lines of compaction, milling, paving and recycling/stabilizing equipment, the BOMAG exhibit is more than 40 machines strong, features a new autonomous single drum roller model concept and multiple new models from its zero-emissions e-PERFORMANCE line of compactors.  
Beyond better-electric models, innovative BOMAG technologies on display such as ASPHALT MANAGER, BOMAP Connect and Asphalt PRO help contractors to deliver a superior final product in fewer passes, using less fuel. BOMAG Americas welcomes show attendees to learn more about "Building Better Roads" inside its Central Hall exhibit #C30221 at the Las Vegas Convention Center from March 14-18, 2023.
Sustainable Power
Pure power meets performance with BOMAG's line of zero-emissions machines. These battery-electric compactors match their conventional model counterparts for performance, while relying on technology that protects the operator and residents nearby the construction zone as well as the environment. In the trenches or other enclosed environments, their zero-emissions operation is an added benefit for all site workers.
The CONEXPO-CON/AGG exhibit will feature three new models from the BOMAG e-PERFORMANCE line, including a tamper, single direction plate and tandem ride-on roller. The battery powered BOMAG BT 60 e tamper combines eco-friendliness with unmatched operator comfort. Its plug-and-play design guarantees easy charging without tools, and an optional quick charger allows for the battery to charge in less than 2 hours. A maintenance-free electric motor is protected against shock and dirt by a rugged casing to ensure its longevity.
Whether compacting soils or asphalt, the new BP 18/45 e single direction plate is a climate-friendly, all-around compactor that uses the same battery as the BT 60 e, improving machine efficiencies at the site. It can be used in deep trenches, buildings or tunnels to compact up to 10-in (25-cm) lifts of gravel/sand plus up to 8-in (20-cm) mixed soil lifts. Its optional water tank for asphalt compaction features efficient tool-free operation.
The innovative design of the new BW 100 AD e-5 tandem roller features two long-life rechargeable batteries that provide enough power needed for a typical workday. Two high-efficiency electric motors independently control the drum vibration and travel/steering, so only one motor is needed for travel mode to conserve power. Perfect for working at night or in urban areas with its low noise/zero emissions operation, the BW 100 AD e-5 offers a 39.4-in (1.000-m) drum width, 3,900/3,3360 vpm (65/60 Hz) drum frequency and 0.020-in (0,50-mm) amplitude.
Innovation by Design
BOMAG combines innovative equipment design with leading technology to boost operating efficiencies at the jobsite. Featuring 1.97-in (50-mm) crab steering to efficiently compact around buildings and other obstructions, the new BOMAG BW 120 SLC-5 combination roller on display boasts Intelligent Vibration Control (IVC) to alert the operator in real-time when optimum compaction is achieved to save passes and eliminate guess work. Its front vibratory steel drum provides a 47.2-in (1.200-m) working width, while the four rear smooth tires provide a kneading action for optimum compaction.
Three BOMAG ride-on rollers — the BW 161 ADO-5 tandem and single drum BW 211 DH-5 and BW 219 DH-5 – are displayed with the BOMAP Connect digital compaction control system. BOMAP Connect offers networked control and documentation of all machines involved in the compaction process, regardless of brand, across the entire site. This allows the site to be optimized, saving up to 30% on roller passes, cutting costs and lowering CO2 emissions.
In addition to BOMAP Connect, the highway-class BW 174 AP-5 AM and BW 206 AD-5 AM tandem rollers in the BOMAG booth feature ASPHALT MANAGER. The most advanced intelligent compaction management system on the market, ASPHALT MANAGER vectors drum vibration from true vertical to horizontal, helping the novice operator to achieve the same results as a seasoned veteran. Requiring only the asphalt lift thickness to be entered, compaction force is automatically adjusted relative to material thickness and temperature, and vibration direction is automatically matched to the roller's travel direction to prevent ripples in the mat.
Booth visitors will have a chance to preview BOMAG's flexible ASPHALT PRO cloud-based site planning and management technology. This innovative cloud-based solution permits companies to intelligently plan, optimize and digitally document the entire paving process in real time. The software calculates mix requirements, communicates with the asphalt plant, determines the fastest route to the construction site, and passes process changes to plant personnel and truck drivers.
A special preview into BOMAG's vision for autonomous compaction of the future will be afforded to show attendees. The ROBOMAG 2 concept roller on display is based on the BW 177 D smooth single drum compactor platform offering a 66.5-in (1.690-mm) compaction width. The roller combines BOMAG proprietary building block technologies with GPS, Lidar and state-of-the-art position sensors to offer safe, fully autonomous operation. Increasing flexibility, ROBOMAG offers remote control operation for loading/unloading as well as to complete manually entered movement patterns.
The Industry's Most Complete Range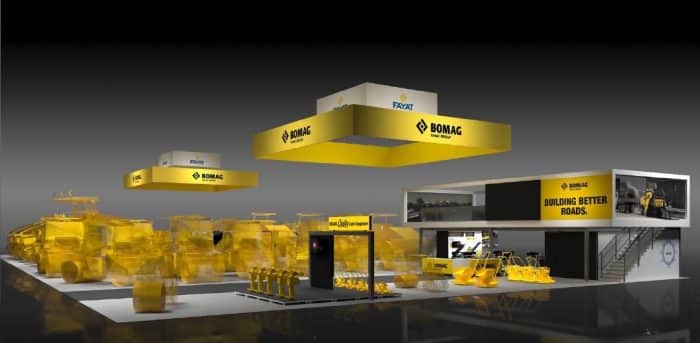 Rounding out the equipment display are the recently introduced BOMAG BM 2200/65 and BM 1200/35-2 cold milling machines, offering 86.6-in (2.200-mm) and 47.3-in (1.200-mm) maximum cutting widths respectively at depths reaching 13 in (330 mm). The BM 2200/65 is equipped with BOMAG's exclusive ION DUST SHIELD technology for effective reduction of fine dust and particulate matter generated by the milling process. Setting apart this BOMAG solution from the rest, the ION DUST SHIELD turns captured fine dust into course dust, improving environmental safety on jobsites.
From the full line of BOMAG pavers, the commercial BF 200, 8-ft (2,4-m) CR 820 Series and 10-ft (3,0-m) CR 1030 highway class pavers will be featured in the exhibit. The nimble BF 200 paver fits into the cut of a 4-ft (1,2-m) cold planer to boost mill-and-fill paving efficiency. Meanwhile, the powerful wheeled CR 1030 offers paving widths reaching 30-ft (4,0-m) wide for efficiently paving the mainline.
Representing BOMAG's heritage as the compaction specialist, the exhibit includes 20 tandem, pneumatic and single drum ride-on rollers. The heavy tandem BW 161 ADO-5 features the BOMAG exclusive TanGO Tangential Oscillation compaction technology, for risk-free compaction of joints, on bridges or around buildings. The BOMAG pneumatic rollers feature flexible weight adjustments and pivoting axles for superior compaction performance. The single drum rollers on display offer compaction widths from 47.2 to 83.9 in (1.200 to 2.130 mm), smooth and padfoot drum designs, high compaction performance and excellent gradeability.
Versatile BOMAG recyclers and stabilizers efficiently handle a broad range of applications from soil stabilization at construction sites, landfills and dam projects to recycling asphalt parking lots, roadways and highways. The display includes a range of BOMAG RS machines from the nimble 39,000-lb (17,690-kg) BOMAG RS 360 with its 78.9-in (2.000-mm) working width to the productive 643.7-hp (480-kW) RS 650 model recycling/stabilizing a 94.5-in (2.400-mm) width in a single pass. The RS 650 features BOMAG's unique FLEXMIX technology that delivers optimum mixing results in both forward and reverse travel directions to improve operating flexibility.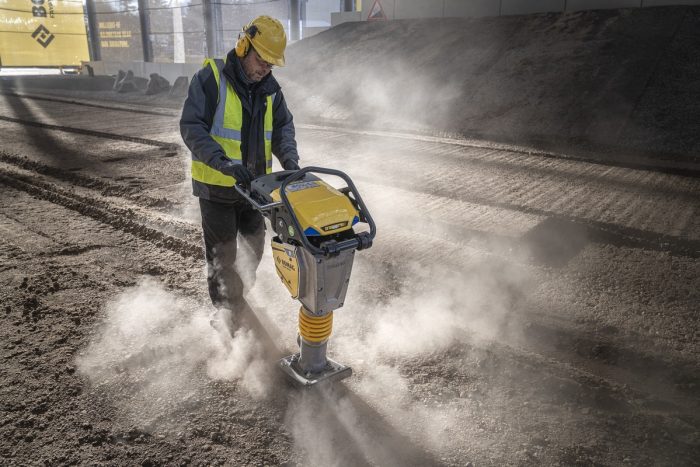 Beyond the new e-PERFORMANCE models on display, BOMAG's range of light equipment compaction solutions exhibited include vibratory tampers, single direction and reversible plates, and light tandem rollers. The display includes the market-leading BOMAG BMP 8500 articulated, radio remote-controlled multipurpose compactor, delivering outstanding compaction results in trench, sewer and pipeline applications. With its available ECONOMIZER feature the measures material stiffness, the operator knows when optimum compaction has been achieved.
BOMAG Americas invites all CONEXPO-CON/AGG 2023 attendees to visit its Central Hall exhibit #C30221 to find out how the company helps contractors with "Building Better Roads." For more information on BOMAG's full line of asphalt and soil compactors, pavers, milling machines and recycler/stabilizers, visit: https://www.bomag.com/us-en.
We'd love to keep in touch! Check us out on Facebook, Twitter and LinkedIn!