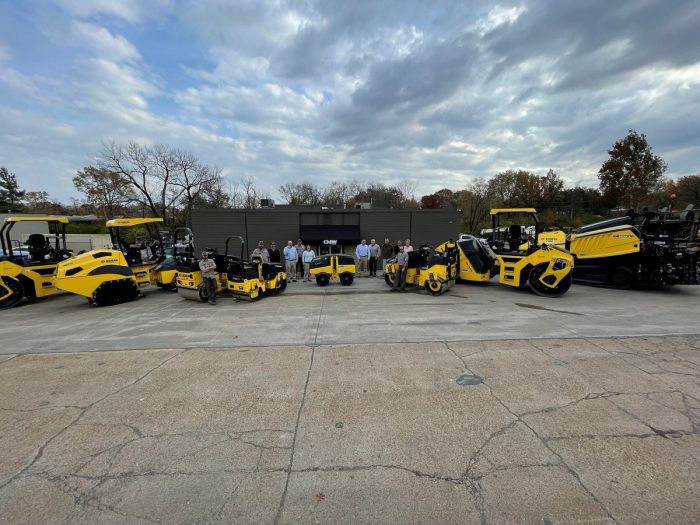 BOMAG Americas recently announced an expanding partnership with CMW Equipment in Missouri.
"Joining with BOMAG Americas to provide their equipment to our customers makes for a great fit for us and our customers. We are very excited to tell the BOMAG story and how the Fayat
family has combined great asphalt equipment lines such as pavers, soil stabilizers, milling equipment and of course BOMAG signature Asphalt Compaction Rollers to create the current offering. Adding these products to our current product lines creates even more value for our customers," says Larry Glynn, President of CMW Equipment.
Cole Renken, BOMAG Americas Vice President of Sales & Marketing adds, "CMW Equipment is one of the most well-respected equipment dealers serving their customers since 1956 through industry leading equipment, products, and aftermarket support. By combining BOMAG Americas and CMW Equipment together in Missouri and southern Illinois markets we can better serve the Paving, Milling and Asphalt Compaction for all current and new BOMAG customers."
Matt Nelson, Director of Sales stated, "CMW Equipment and BOMAG are continuing to support our customers in the local community with highly skilled and knowledgeable sales and service teams. We are looking forward to the continued success of our Dealer Network Partner; CMW Equipment."
What can we say? We love rental. So much so that we published a Digital Rental Guide covering everything you need to know when renting a machine. Check it out here!
CMW Equipment Celebrates 65 Years of Service
For 65 years, it's been all about service at CMW Equipment. Outstanding customer service has been the cornerstone of CMW since January 17, 1956, when three construction equipment salesmen and their trusted office manager left the security of the St. Louis based O.B. Avery dealership to start their own company. Their names were: J.L. Cummings, Thomas F. McGowan Jr., Victor W. West and Ethel A. Klein. Together they founded Cummings, McGowan & West, today known as CMW Equipment.
Because of their prior experience, relationships, and reputation for taking care of customers, this new group was able to quickly establish solid product lines and customers. Turns out, the timing couldn't have been better, because the largest road construction project in U.S. history had just
begun. The "Federal Highway Act of 1956" called for 41,000 miles of new Interstate roadways with an estimated cost of $41 billion.
"CMW Equipment has been selling asphalt paving equipment since 1956. We have been a specialized dealer for the industry in Illinois and Missouri providing paving, milling, compaction and maintenance equipment through the years. We have more rollers available in our yard than any other dealer in the territory. All of our people understand the industry and its unique
specifications," adds Glynn.
Tags:
Bomag Americas
,
CMW Equipment