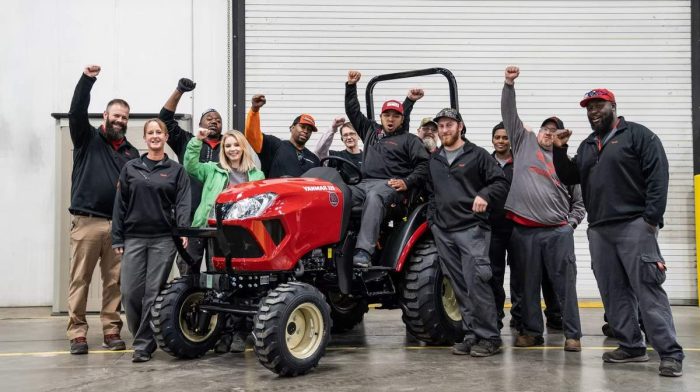 Yanmar America Corporation, a leading manufacturer and supplier of compact utility tractors, UTVs, generators, and equipment for the rural lifestyler, has celebrated achieving its tractor production target for fiscal 2022. This represents an increase of 53.8% compared to the previous fiscal year with production volume more than doubling since FY2020. The production target included a mix of YT, YM, and SA model tractors assembled at Yanmar America's manufacturing facility in Adairsville, Georgia.
"This achievement is a testament to the hard work and dedication of our team," said Jeff Albright, the President of Yanmar America. "We are proud of our accomplishments and look forward to continued success in the future."
Scott Shorrock, the Director of Operations, praised the team for their commitment to efficiency and innovation, saying, "Productivity increased with our focus on takt time*, which ranged for different models from a 46% to 53% reduction over the previous year, and was instrumental in helping us achieve our production targets. We are grateful to our employees for their hard work and dedication to our mission."
The celebration included a catered lunch for employees, as well as games and activities and culminated with the final tractor of the year rolling off the production line.
* Takt time is the product assembly duration required to meet customer demand.
We'd love to keep in touch! Check us out on Facebook, Twitter and LinkedIn!