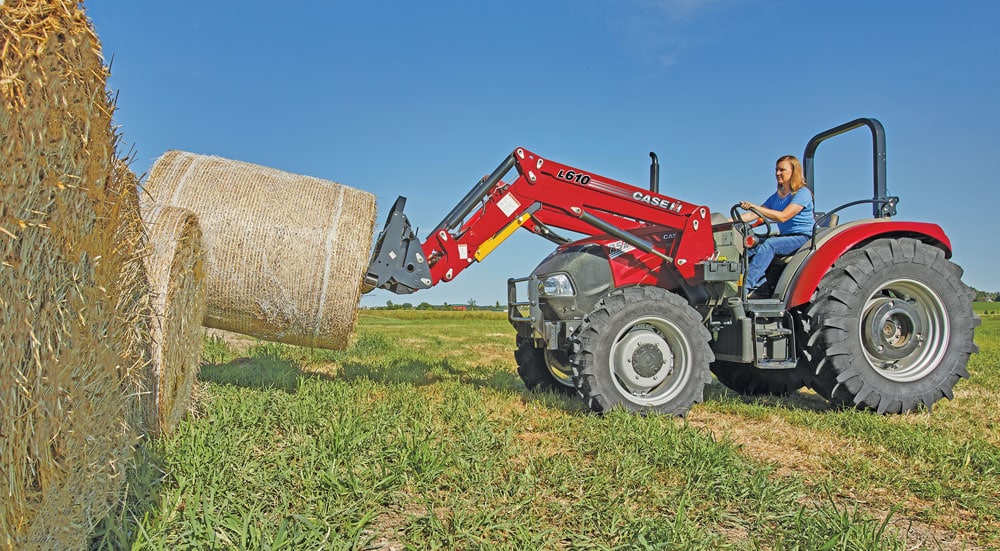 Whether you're a farmer, large land owner or even a contractor, you can benefit from the power and versatility of a compact utility tractor. These machines offer a variety of attachments to diversify your operations. Thanks to new models, updates and more, there's been quite some news coming out of the compact tractor market. To learn more, we talked to four major manufacturers about their histories, product lines and what's new for potential buyers.
Kioti
Kioti Tractor, a division of Daedong-USA Inc., introduced its first compact tractor, the LB2204, to the U.S. market in 1986. The company's current offering includes the CS, CK10, CK10SE, DK10, DK10SE, NX, RX and PX Series.
"Across the lineup, a wide range of features can be found on various models, including: hydraulic power steering, telescopic lower link and stabilizers, dual remote hydraulic valves, rear independent PTO, rear differential lock and four-wheel drive," says Tim Phillips, national sales manager for Kioti Tractor. "All Kiotis include a three-point hitch that allows operators to take advantage of a full line of attachments and implements to tackle most any job."
Kioti had a busy summer in 2018 with the release of not one, but two new series — the CK10SE and the DK10SE. In May, the company launched the CK10SE Series with four new ROPS models that join two cab models that were introduced in 2017.
"The HST models come with cruise control and a linked pedal that reduces fuel consumption over long periods, making them easy and efficient to use," says Phillips. "The HC models feature a panoramic view cab that comes standard with A/C and heat, front and rear work lights and front and rear window wipers for operator comfort in all types of weather."
In July, Kioti launched the DK10SE Series, which includes four cab models and four ROPS models. The series features tractors that offer an engine gross horsepower from 40 to 58 hp and PTO horsepower from 29 to 45 hp.
"The DK10SE has unparalleled convenience with easy access to the fuel filter, oil filter, coolant reservoir, dipstick and fuel tank," says Phillips. "This makes routine maintenance checks a breeze to do on your own."
Kubota
Kubota Tractor Corp. was founded in 1972, three years after the first Kubotas — the L200s — came to America. Today, the company continues to strengthen its compact tractor offerings for small agriculture and the residential market.
"Ranging from 17.5 to 62 hp, Kubota compact tractors are ideal for everything from estate maintenance chores to commercial landscaping and small farming," says Tyler Pittson, Kubota product manager, compact and utility tractors. "With a host of performance-enhancing upgrades, the B and L Series promise and deliver to increase efficiency, power and comfort."
Kubota's newest line is the BX80 Series sub-compact diesel tractors. The BX80 Series boasts four sub-compact four-wheel-drive diesel tractor models: the BX1880, BX2380, BX2680 and BX23S.
"The BX80 Series maintains unmatched ergonomics and operability, with Kubota engines delivering top-of-class power and fuel efficiency," says Pittson. "The new BX80 line, introduced in early 2017, is the perfect choice for first-time tractor buyers. The BX80 Series maintains owner-friendly versatility with attachments and implements for any job, including mid-mount mower decks, operator-friendly Swift-Tach front loaders, front- and rear-mounted snowblowers and a full line of industry-leading Land Pride implements."
John Deere
Of course, you can't talk tractors without bringing up John Deere. The company made its mark in the compact tractor market in 1937 with the introduction of its Model L tractor, offering a smaller solution to customers. John Deere currently sells four families of compact tractors, which are built in the company's Augusta, Ga., facility.
"On many of these tractors we offer our industry-exclusive drive-over Autoconnect mower deck, which makes attaching and detaching the mower deck quick and easy," says Jon Schebler, product marketing manager, compact utility tractors for John Deere. "Additionally, many of our compact utility tractors offer Quik-Park loaders, allowing the operator to quickly remove or install the loader implement."
In 2017, John Deere released four redesigned models: the 2025R, 3025E, 3032E and 3038E.
"The 2025R machine offers the versatility operators need to tackle a variety of jobs," says Schebler. "TwinTouch foot controls reduce fatigue by allow ing the operator to select speed and direction of travel with the touch of a toe. Additionally, optional Auto-Throttle allows the operator to increase or decrease engine speed by simply pressing on either of the TwinTouch pedals. Equal forward and reverse ground speed, combined with the TwinTouch controls, allows for faster direction changes."
To add even more value to the 2025R, John Deere outfitted the tractor with a redesigned operator station to increase comfort and visibility, including color-coded controls, thicker full-suspension seat and standard cruise control.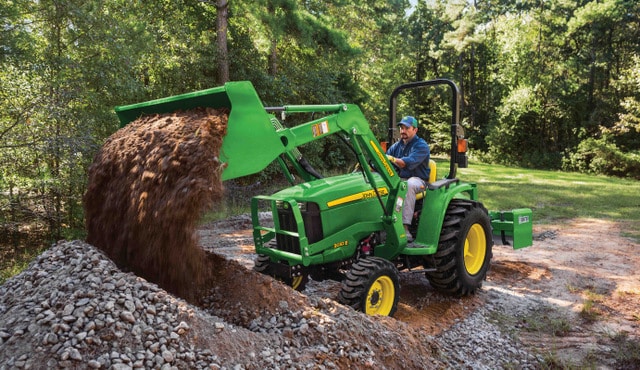 Case IH
In 2004, Case IH relaunched the iconic Farmall brand, offering operators a compact, do-it-all tractor they could depend on. Today's compact Farmall tractors are available in two Series: the Farmall compact A Series and Farmall compact C series — for a total of six models. Case IH says that both of the series were recently updated to increase their comfort and productivity.
"The entry-level Farmall compact A Series is a fit for any compact tractor chore, without breaking the bank," says Denny Stroo, Case IH Farmall tractor marketing manager. "The deluxe Farmall compact C Series is available in gear and hydrostatic transmissions, as well as cab or non-cab options for ultimate comfort."
In 2018, Case IH released three new tractors in its utility A Series — the 55A, 65A and 75A. According to the company, these new models help fill out the Case IH entry-level Farmall lineup with cab and non-cab options, delivering the strength and productivity needed for any job in any weather.
"Case IH is building on the Farmall legacy with a lineup that meets demands for chores around the farm," says Stroo. "Farmall utility tractors are dependable workhorses suitable for a multitude of uses, proven by the fact that more than 2 million Farmall tractors have been sold around the world."
A mechanical contoured seat, tilt steering wheel and an optional air ride feature just add to the enhanced ride. The new Farmall utility A tractors also feature new wrap-around lighting and movable dynamic fenders, which improve the machine's turning radius, as well as telescopic stabilizers and optional flex-end lower links — allowing operators to easily switch out attachments.
Case IH and similar manufacturers all over the industry continue to release new and interesting products, and we'll continue to keep you updated.
---
Fan Favorites: Kioti and John Deere Discuss Their Most Popular Units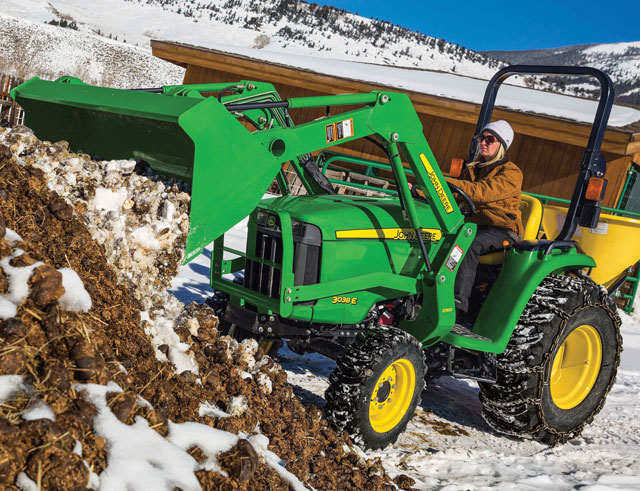 Despite new and updated machines hitting the market, there are certain tried-and-true tractors operators rely on from manufacturers. Both Kioti and John Deere point out some popular tractors in their product lines.
"There are two models that we'd consider the most popular — the compact CK3510 and CK4010," says Tim Phillips, national sales manager for Kioti Tractor. "The horsepower on these machines [35 to 40 hp] hits the sweet spot for most people. The body size is comfortable. It's not massive so it doesn't feel overwhelming or overpowering, which is important as folks want to feel fully in control."
"The 3E Series continues to be one of the more popular models, due to the versatility and durability of the machines while being very affordable too," says Jon Schebler, product marketing manager, compact utility tractors for John Deere. "The tight turning radius makes the machine extremely maneuverable, which is ideal for a variety of tasks. Additionally, customers appreciate the ease of use, praising the ergonomic and intuitive operator station, which features color-coded controls. Customers also like the independent PTO system, two-range hydrostatic transmission and TwinTouch foot controls."
Tags:
Case IH
,
home
,
John Deere
,
Kioti
,
Kubota
,
October 2018 Print Issue