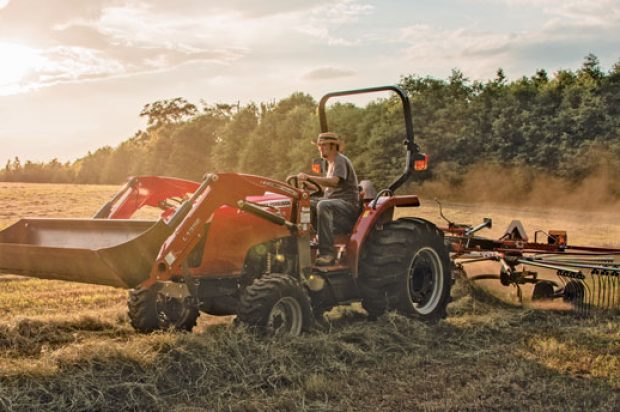 Tractors have traveled long and far to become the sleek, modern machinery they are today. The first powered farm implements came out in the early 19th century and used portable steam engines. In 1892, John Froelich invented and built the first gasoline/petrol-powered tractor in Iowa. The Fordson was the first mass-produced, general-purpose tractor manufactured by Henry Ford and Son Inc. from 1917 to 1920. Harry Ferguson applied for a British patent for the three-point hitch in 1926. Four-wheel drive tractors began to appear in the 1960s. In 2002, John Deere brought the first electronically controlled hydrostatic transmission to market.
For about 200 years, tractors have been evolving, and in the smaller sizes of that evolutionary scale, the compact utility tractor has become a popular and sophisticated tool for a variety of customers — hay and dairy crews, universities and parks, sundowners and large estate owners, hobby farmers and real farmers. While utility tractors are not used for row cropping, they are used for just about everything else — mowing grass, digging trenches, augering holes, blowing snow, grabbing bales and picking and placing large piles of dirt or gravel using implements that are powered off the tractor's power take-off attachment system (PTO) or via a hydraulic system or kit that runs hydraulic implements (like a backhoe).
Attachments are just the beginning. Attachment systems, transmissions, cab environments, maintenance protocols, automated operational features and connection to the cloud are changing the experience of owning and operating a utility tractor, which we'll randomly categorize as units between 40 and 60 PTO hp and below.
"No doubt, today we are in a technology-driven era," says Stephen Barcuch, ag product marketing director for Kubota. "Looking ahead, there are many concepts that are being discussed in the industry — like autonomous vehicles. We see that opportunity in larger tractors, but for compact tractors, most owners get a lot of enjoyment out of actually using their tractors, so we see a limitation there. In terms of smart vehicles, we see apps for the owner to use for items such as how-to videos, owner's manuals, access to parts look up, service intervals and machine health. On top of that, our industry today is full of new cab versions, a variety of high-tech transmissions and a slew of unique technologies that are changing the tractor market in lots of unique ways."
Power Take-Off Systems
Today's compact tractors are defined as small tractors equipped with (usually) a 540-rpm PTO and a three-point hitch designed for Category 1 implements. The PTO has been around since the 1920s, and it's evolved into an efficient means of transferring mechanical power between tractor and implement. Power transfer is accomplished by connecting a drive shaft from the machinery to the tractor's PTO stub shaft. The PTO and drive shaft rotate at 540 rpm (nine times per second) or, for bigger tractors, at 1,000 rpm (16.6 times per second) when operating at full recommended speed.
PTOs come in lots of flavors. A transmission-driven PTO is the simplest form of PTO in that it is driven directly off a gear in the transmission. A live PTO is a dual clutch system that allows direction and speed change without disturbing power to the implement. There are two major types of independent PTOs: mechanical and hydraulic. An independent PTO means that the PTO shaft is controlled with a separate clutch. As with a live PTO, this allows for full control over the tractor while separately controlling the PTO.
"There has been greater adoption of independent PTOs," says Warren Morris, tactical marketing manager for under 140-hp tractors at Agco North America. "This can include PTO modulation for low-impact startup and fender-mounted controls which allow operator access from the ground. This is a new feature to help attach implements more easily. All Massey Ferguson models for 2017 feature an independent PTO. This allows the PTO to run regardless of clutch position and to operate when the tractor is not in motion. This comes in handy for jobs such as operating stationary augers. Modulation reduces the impact of starting rear-PTO-driven implements such as rotary cutters and tillers."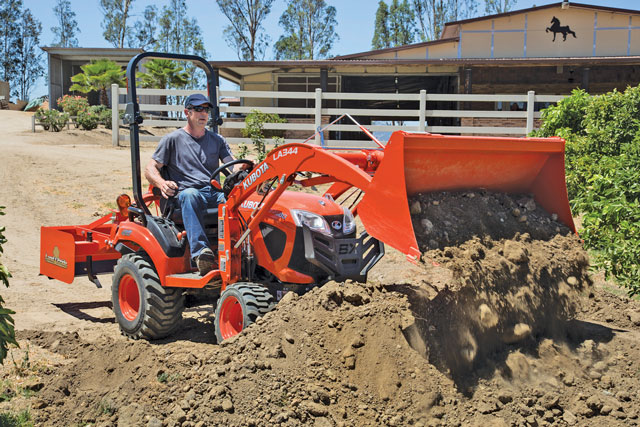 Kioti offers a PTO Cruise function on several models with electronically controlled engines. The PTO rpm can be maintained at a set value even under variable load conditions. With one touch, engine speed can be set to maintain steady PTO rpm to maximize working efficiency. When engaged, the operator may change the engine rpm by simply pressing a switch to increase or decrease the rpm.
"Kioti Tractor also offers a unique Auto PTO function on several models," says Tim Phillips, Kioti Tractor eastern regional sales manager. "The Auto function allows the PTO to be controlled by the height of the three-point hitch system. As the three-point lever is lowered, the PTO will automatically engage. As the three-point lever is raised, and the arms reach a pre-determined height, the PTO is automatically shut off. This is both a convenience and safety feature. It also helps to protect the integrity of the PTO driveline to the implement by eliminating sharp angles on the PTO shaft and couplers."
Pros and cons? Well, advantages for a transmission type of PTO is its simple design, low initial cost and its low cost to maintain. Live PTOs are a relatively simple design, operator friendly in function and safe but are more expensive to repair and require more muscle to depress the clutch. Independent PTOs offer ease of operation and maximum flexibility but have higher acquisition costs and are more complex and difficult to troubleshoot and repair.
"Operators can choose between two types of independent PTO — mechanical or hydraulic," explains Jared Lowe, product marketing manager for compact tractors at John Deere. "Mechanical-style PTO clutches are typically located inside of the flywheel housing on the back of the engine, and they turn the PTO on and off through the use of a dry clutch that is operated by a hand lever. While the operator has control of the engagement of the PTO clutch with this system, it takes more effort to engage, requires more maintenance and typically provides less life than a hydraulic clutch. A hydraulic independent PTO is more user friendly, requires less effort to engage, has built-in cooling by being constantly flushed with oil, requires less maintenance and lasts much longer than a mechanical dry clutch. Hydraulic PTO clutches are far superior to mechanical-style clutches in many ways, but they are a bit more expensive and are typically found on the more premium tractor models."
Attachments and Implements
While attachment categories haven't changed a whole lot in the last few years, the way attachment systems work is a big focus for manufacturers right now. John Deere introduced its iMatch AutoHitch and iMatch Quick-Hitch years ago, which allow customers to hook up the PTO shaft and attachment without leaving the seat of the tractor. Kubota's newest tractor series is the BX80s (the BX1880, BX2380, BX2680 and BX23S TLB), which offers similar technologies.
"Two of our newest items are our Swift-Tach Loader and our Swift-Connect Backhoe available on our new BX80 Series," says Robert Cockroft, Kubota sub- and compact-tractor product manager. "The Swift-Tach Loader allows the operator to completely remove the front-end loader without ever getting off the operator's station, something no other manufacturer can claim on a sub-compact tractor. Also, the Swift-Tach Loader has another industry exclusive for the subcompact market, and that is our single lever hydraulic coupler. This allows the operator to disconnect and re-connect all the hydraulic hoses for the front-end loader using one single lever."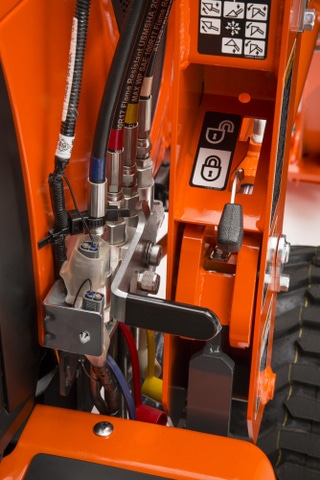 Quick attach systems are being matched to PTO and hydraulic kits for front-use implements (as most tractor attachments run off the back). Yanmar America recently offered a front hitch kit and matching attachments for the recently introduced YT235 model. The front hitch allows you to attach a front snow blower, hydraulic-turn snow blade or a rotary broom. The ease of attaching mid-mount mowers has become a thing for manufacturers too. For example: Deere's AutoConnect deck and Kubota's Easy Over Deck allow the operator to drive a tractor onto or over the mower to attach or detach in seconds. Overall, the attachments themselves are evolving with toughness.
"Implements are now offered in a range of durability levels tailored to the needs of different users — from standard- and light-duty implements for more casual users such as homeowners to extreme-duty implements for everyday commercial or municipal use," explains Phillips. "In December 2016, Kioti introduced a new line of implements offering various options in 19 product categories — many in multiple-duty classes giving users their choice of purchases based on intended use and price point."
Cabs and Onward
The operator experience for compact tractors continues to change with cabs and automotive-style environments. Customer-inspired features include tilt steering, three-point hitch controls, stereo systems and charging stations. Technology has also advanced tractor controls. The first machines featured manual levers that were strenuous to operate. Today, electric-hydraulic controls allow tractor operation and attachment usage with the use of joysticks and a simple push of a button.
"Cab model offerings in the past were largely limited to higher horsepower ag market tractors," explains Phillips. "One of the biggest changes is that full featured cabs are available on smaller compact units. Hobby farmers, acreage and estate owners also need and want the ability to maintain their property in a climate-controlled environment. This includes snow removal chores, mowing or just general property maintenance. Cab environments have improved over the years with sound and dust control, heat and air conditioning, rear defrosters and front and rear work lights."
From the cab, operators can enjoy and employ loads of systems and features. Tier 4 Final engines offer greener operations with high pressure common rail fuel injection systems, diesel oxidation catalysts and diesel particulate filters. "Electronic engine management technology makes the fuel consumption more efficient for models that run DEF [diesel exhaust fluid]," says Morris. Telematics technologies and apps are creeping down into smaller tractor models (like Massey Ferguson's Fuse service), allowing owners to geofence, track maintenance intervals and ensure machine longevity. From LED lights to digital displays, utility tractors continue to become more advanced yet easy to use and maintain. And let's not forget to mention the increase in service intervals and maintenance access for units.
"From easy-to-remove engine side panels that speed up access to the engine compartment to onboard self-diagnostic capabilities, we simplify service for our customers," says Lowe. "Look for machines that have longer service intervals — which reduces downtime — easy access to service areas to speed up routine maintenance and features such as air restriction indicators that automatically alert the operator when it is time to change their air filter. While maintenance is unavoidable, manufacturers are constantly looking for ways to reduce downtime and simplify machine maintenance to improve operator productivity."
Tractor Transmissions
Utility tractor customers are often owned by non-professional equipment operators (like large estate owners). In response, brands now offer loads of easy-to-use transmission options for novice and middling users. Traditional gear variants (slide, synchro, collar shift and power shift) are increasingly being replaced by hydrostatic transmissions (HST).
"Hydrostatic transmissions provide operators with an easy-to-learn system that offers quick directional changes and infinite control over ground speed," explains Jared Lowe, product marketing manager at John Deere. "With a hydrostatic transmission, there is no clutch — just a hydraulic pump and motor that are connected to each other in a loop. In order to function, the engine turns the pump, which provides flow to the motor, which provides rotational input into the transmission to make the wheels move. Speed can be varied by either increasing engine rpm, which will turn the pump faster and provide more flow, or by pressing on the hydrostatic drive pedal which changes the angle of the pump to provide more or less flow to the motor."
Each brand of tractor seems to have cool and unique transmission options and features. In its larger compact tractors, Kubota offers its Glide Shift transmission — a middle ground between and HST and a basic gear transmission. HST transmissions are easy to use, but they have a higher parasitic horsepower requirement than basic gear transmissions. Gear transmissions transfer more horsepower to the ground but often require a clutch to use, and many customers find that cumbersome.
"The GST becomes the best of both worlds," says Robert Cockroft, Kubota product manager. "A GST is basically a gear tractor shifted hydraulically. Essentially, it works like a mechanical powershift transmission. There is no clutch required to change gears but without the parasitic loss of an HST transmission. This is a great option for many of our customers."
Among Massey Ferguson customers, adoption of the power shuttle transmission is growing versus the use of standard gear transmissions; while moving forward, a power shuttle allows drivers to pull a lever that makes it stop and go backward at the same speed.
"Hydrostatic transmissions are still number one for compact tractors but with new twists such as cruise control and AutoThrottle capabilities," notes Warren Morris with Agco North America. "AutoThrottle allows the engine to increase revolutions to meet torque demands."