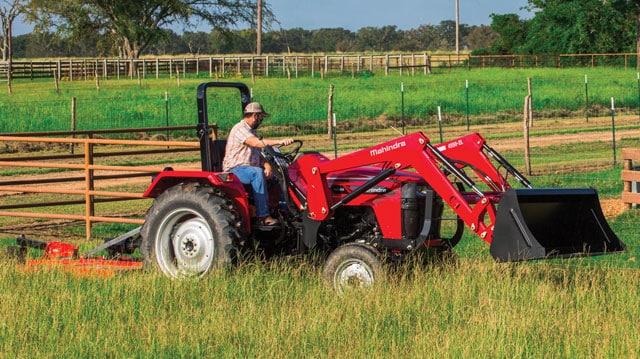 Machines Designed to Tackle Tough Tasks
Mahindra & Mahindra began manufacturing tractors through a joint-venture with International Harvester in 1963. Mahindra's Tractor Division was established in 1977 as a full research, development and production unit and is now the No. 1 selling tractor in the world, based on units sold, says the company. These units meet the Tier 4 guidelines and feature the exclusive mCRD engine technology that was a $30 million investment. mCRD technology is a hassle-free solution that does not require the use of a diesel particulate filter (DPF) nor system-downtime or regeneration while providing peak performance and fuel-savings.
Mahindra's professional-grade tractors range from 22 to 105 hp with more than 40 model offerings — and include the Max and eMax Series tractors. Mahindra says the Max 24 leads the way in the sub-compact market and features true tractor performance and capabilities. The Mahindra Max 24 is joined by the industry's first mid-compact tractor, the Mahindra Max 26 XL, which has compact tractor performance and versatility in a near compact tractor size.
All Mahindra tractors are built with heavy-duty components that allow them to outperform other tractors in their class and are designed to provide consumers with the ability to push more, pull more and lift more, so they can do more, in less time, says the company. Combine the performance of a Mahindra and a standard seven-year limited powertrain warranty — on sub, mid- and compact models — and you have a rugged workhorse at your disposal.
Advice to Buyers
"You have to take into account several factors when selecting the right tractor for your needs — the type of land it will be used on; what applications you plan to use the tractor for, such as loading, hauling, lifting, cutting, digging; transmission options [HST or Gear/Shuttle]; power and lift capacities for the hydraulic system; loader and three-point; an open station or cab model; and product safety features," explains Martin Cisneros, marketing communications manager for Mahindra. "How easy is it to perform routine service and maintenance on the unit? What are the standard features versus what are optional when building the tractor to meet your needs? What is the warranty policy and will the tractor be able to handle all of the tasks you want to perform? Ultimately, it comes down to making sure that you have the right tractor for your current needs and also has the ability to meet any future needs."
Mahindra North America
9020 Jackrabbit Rd., Ste. 600, Houston, TX 77095
281-449-7771 | mahindrausa.com
Click on table to enlarge
[prettyPhoto title="Mahindra Specs" link="https://compactequip.com/wp-content/uploads/2017/08/mahindra-tractor-specs.png" type="link" ]
[/prettyPhoto]
Tags:
2017 Spec Guide - Tractors
,
July/August 2017 Print Issue
,
Mahindra