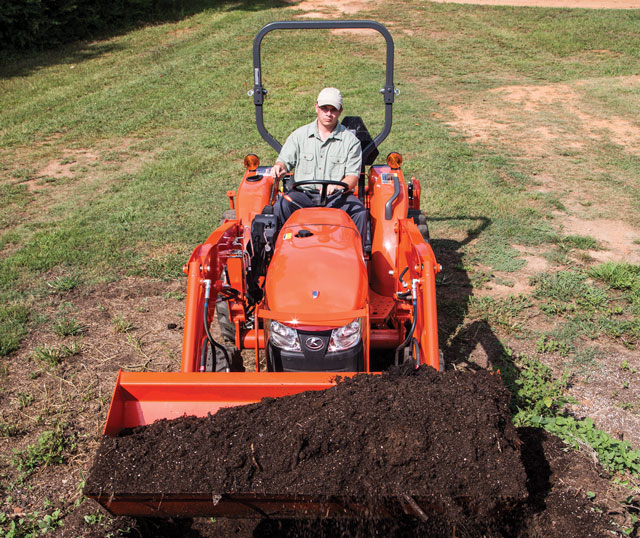 The No. 1 Selling Compact Tractor Brand in the United States for More than a Decade
In 1972, Kubota Tractor Corp. developed the first compact utility tractor in the United States, the 12-hp L200. Shortly thereafter, Kubota introduced all of its primary tractor lines — the BX-, B-, L- and M-Series — and according to EDA Data, Kubota is the No. 1 selling brand of compact tractors in the United States for more than 10 years.
In the last three years, Kubota's L2501 compact tractor has blazed a trail to tractor ownership for first-time buyers. With 24.8 hp on a larger chassis, cleaner emissions and modern styling, the L2501 compact tractor has the performance and features to get the job done right, at an outstanding price. The model features deluxe styling with plenty of extras for a more spacious, ergonomic and comfortable ride. Beyond its affordability, the model sets itself apart from the competition with smooth operation and maneuverability, designed to deliver a higher level of performance, says Kubota.
No matter the season or weather conditions, the Standard L-Series has a versatile range of implements to handle virtually any job — from the LA525 front loader and the BH77 backhoe, to pallet forks, bale spears and rear snow blowers. Also, thanks to Land Pride, a Kubota-owned company, customers have access to many other Kubota performance-matched implements such as rear rotary cutters, rear rotary tillers, rear blades and much more. All of Kubota's compact tractor lines — from the B-Series to the Grand L60 Series — stand out with Kubota engineering, quality and durability, says the company. The Grand L60 Series offers the features and comforts of a deluxe tractor on a compact frame, providing high performance to commercial, residential and farm jobs.
Advice to Buyers
"My advice to buyers is to plan ahead," says Robert Cockroft, Kubota product manager. "Think hard about what you want to do now and in the future and choose the tractor that best fits your needs. Your tractor will be a part of your family for a long time. Make sure you consider the long-term benefits of quality, reliability, comfort, versatility and price when making your buying decision."
Kubota Tractor Corp.
1000 Kubota Dr., Grapevine, TX 76051
888-4-KUBOTA | kubota.com
Click on table to enlarge
[prettyPhoto title="Kubota Specs" link="https://compactequip.com/wp-content/uploads/2017/08/kubota-tractor-specs.png" type="link" ]
[/prettyPhoto]
Tags:
2017 Spec Guide - Tractors
,
July/August 2017 Print Issue
,
Kubota