Leading the Pack with Five Compact Tractor Series
Headquartered in Wendell, N.C., Kioti Tractor, a division of Daedong-USA Inc., is a market-driven company that has been supplying tractor models in the 22- to 110-hp range to the U.S. and Canadian markets for more than 30 years. Within the last three years, Kioti introduced three new series (CK10SE Series, PX Series and DK10 Series), expanded four series (PX Series, CS Series, CK10 Series and NX Series) and introduced a new line of implements.
Kioti currently offers five series of tractors in the featured 40-and-under PTO hp range. The first, Kioti's CS Series, features two hard-working sub-compact tractors. The second, Kioti's CK10 and DK10 Series, are the company's value tractor lines. These series boast Kioti's quality and power for the budget-conscious customer. The Kioti NX Series offers Kioti's premium quality with enhanced standard features to deliver power and performance on the job. A contemporary design, easy access to maintenance and service points and a variety of operator comfort features round out each Kioti tractor model. Each series is also compatible with Kioti's extensive line of attachments and implements, including front-end loaders, backhoes, hay tools, mowers, field option cabs and tillage equipment.
Most recently, Kioti introduced two new special edition cab models to its CK10SE Series tractor line. The CK3510SE HC and the CK4010SE HC feature the same hydrostatic transmission (HST) and minimal vibration experience that low-maintenance operators know and love about the CK10 Series with added features and benefits of a factory-installed cab. The CK3510SE HC and the CK4010SE HC provide a PTO of 29.4 and 31.9 hp, respectively.
Advice to Buyers
"One of the main questions customers need to answer during the tractor search relates to PTO power," explains Jimmy Lee, Western regional sales manager of Kioti Tractor. "PTO power is crucial if you plan to run PTO-powered implements like mowers and tillers. The PTO power availability determines the size implement that you can run efficiently with the tractor."
Kioti Tractor
6300 Kioti Dr., Wendell, NC 27591
877-GO-KIOTI | kioti.com
Click on table to enlarge
[prettyPhoto title="Kioti Specs" link="https://compactequip.com/wp-content/uploads/2017/08/kioti-tractor-specs.png" type="link" ]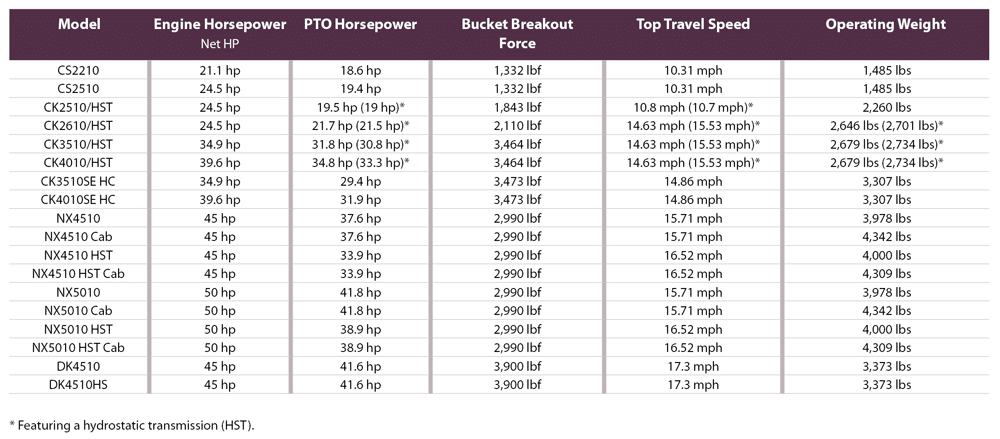 [/prettyPhoto]
Tags:
2017 Spec Guide - Tractors
,
July/August 2017 Print Issue
,
Kioti